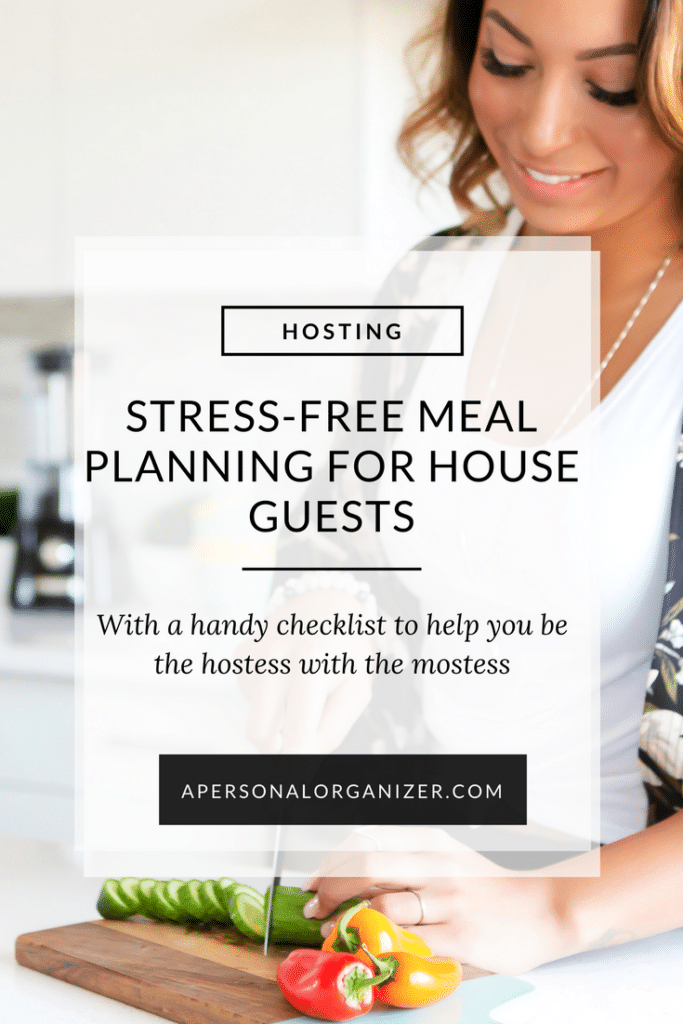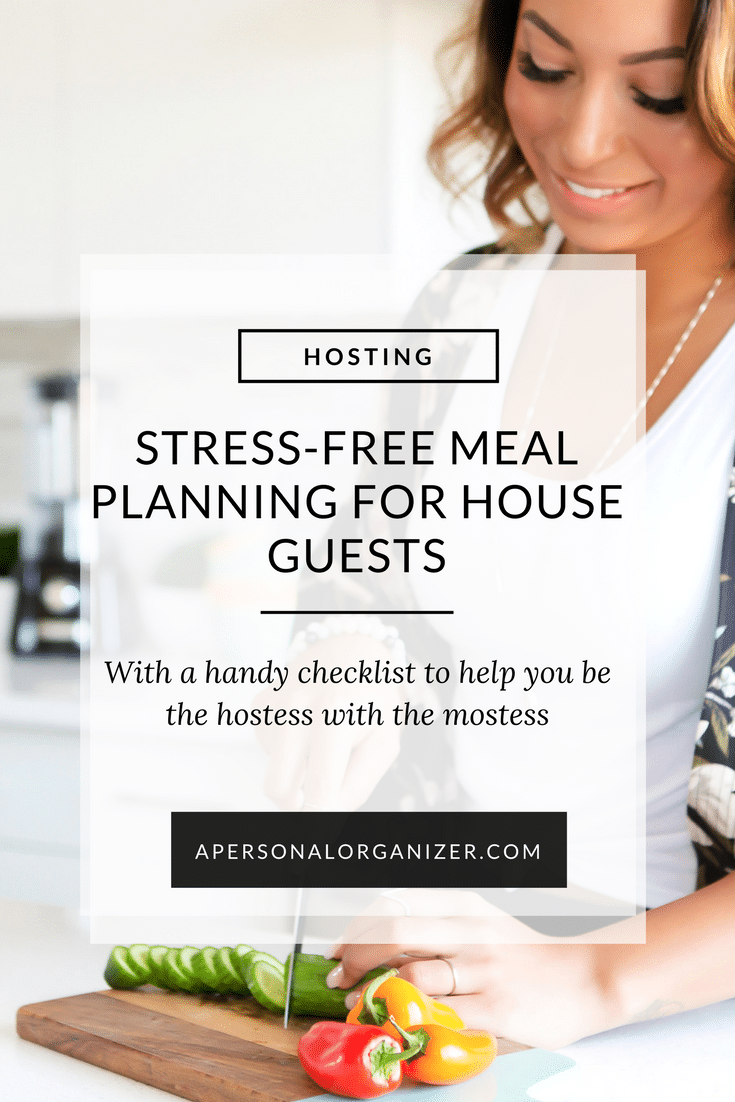 Do you love having visitors, but always worry about what to feed them? If you're having several people over, meal planning is a must. You may not please everyone because of different tastes, but with a clear plan in mind, a grocery list, and some cooking skills, you can enjoy yourself and be a much happier host!
If your guests are staying for the weekend, for example, your best bet is to prepare fast, flavorful, easy meals and snacks and prepare as much ahead of time as possible. This not only helps you save time, but it is also be something you can replicate for future house parties! This year-at-a-glance guest planner will help you keep track of when you have guests coming all year long. You can also get instant access to the entire organizing printables vault by subscribing here for free. 
Make a List and Check it Twice
The first thing you need to do is to prepare a detailed list of each meal you plan to cook and all necessary ingredients. Always include enough snack foods and treats to keep your guests satisfied between meals.
Check your pantry and make a checklist of menus and ingredients, how many you'll have to feed, who will be in charge, and who will clean up.
If your guests are staying with you for a couple of days, you can include dining out options, call for delivery, or ask your guests to plan and prepare a meal or two!
One very thoughtful thing you can do is to ask your house guests if there is anything, in particular, they are craving or want you to make. Surely you will want them to anticipate meals, happy at the thought of their favorite dishes served to them! For example, my sister loves my husband's vegetarian dishes and when visiting from Brazil, she will ask him if he could make them again.
What to Cook
You'll want quick and easy meals so that you have time to do other things, but these meals don't just happen, they do take some planning. When you have guests around, the last thing you want to do is to worry about what to eat next!
Grilled-meals, slow cooker dishes, and a DIY bar are three great choices for house guests. I personally LOVE grilling. I prepare a big pot of Brazilian style black beans that goes perfectly with white rice, a meat, and grilled vegetables.
Look for some awesome grilling recipes, slow cooker recipes and for your DIY bar – just choose your guests' favorite – a salad bar, sandwich bar or taco bar!
Shop Early, Chop Early
With a checklist of ingredients, hit the grocery store days early. Maybe you can purchase food gradually over two to three shopping trips, to help spread the cost. Doing this will also give you ample time to go back for forgotten ingredients. Once you finish your grocery shopping, get your prepping, chopping and sealing of ingredients done.
When you do this in advance, you'll have more time on your hands to spend with your beloved guests!