This post may contain affiliate links for your convenience. If you click on the link and purchase the item, A Personal Organizer, LLC. may receive a small commission at no extra cost to you. 
If you are at a place where you feel stuck in your professional organizing business, you may find that a good "de-junking" is what you need to jump-start your progress.
As professional organizers, we understand the effect clutter has on our client's lives, but maybe we fail to see how it impacts our organizing business.
Clutter in your business is like clutter anywhere else- it clouds your spaces, your minds, makes your thoughts and direction unclear, slows you down, and keep you from achieving your goals. Here is a daily to-do list that wil help you plan out your steps for each day. You can get instant access to all of the organizing printables by subscribing to the vault.
Wow. When I say it like that, you can see how many negative effects clutter can have on our personal and our professional lives. Don't worry; I'm here to help. Here is a decision making planner that you might find useful as you declutter your business.
If you would like instant access to all of our printables at once,  subscribe to get instant access to the vault!
Cleaning up chaos and restoring order to your business is all about finding the right tools and methods that work with you, your clients, your contractors—and your unique type of professional organizing business.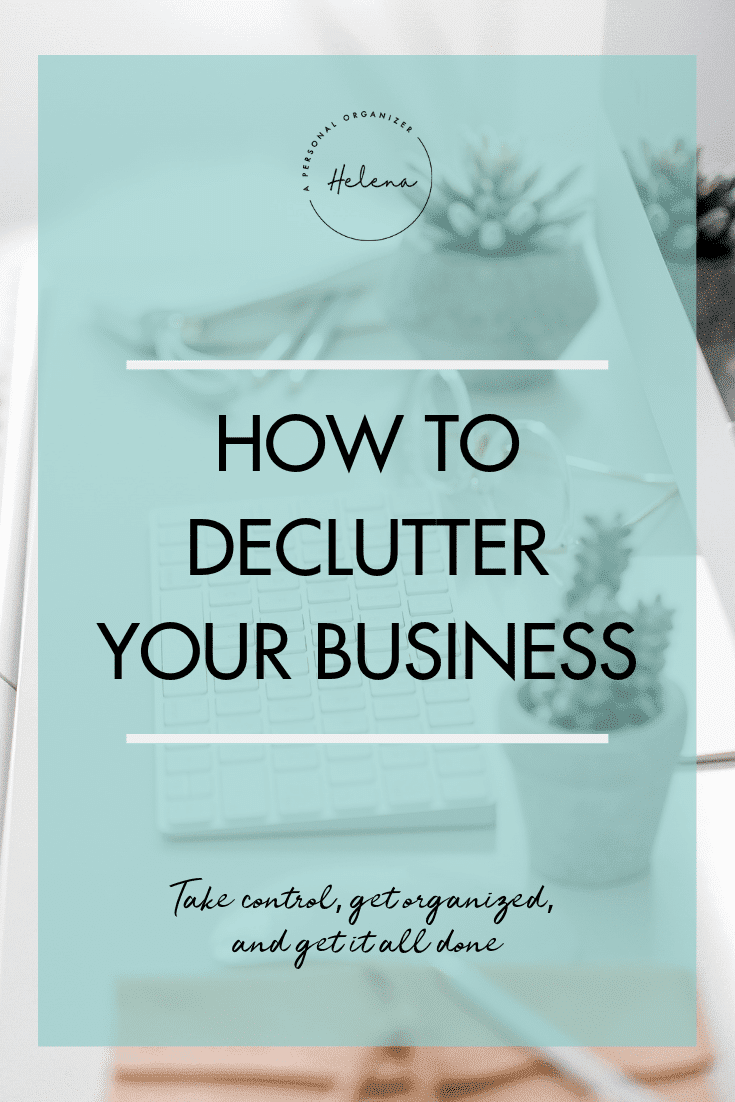 Here are some signs that your business may need to be de-junked:
You feel that your business is stuck in the position it is currently in
Your creative juices are running low
You are unsure of what steps to take next to propel your business forward
You are having a hard time coming up with ideas and making decisions
Your workspaces are cluttered, and you feel stressed very quickly when you are there
You feel overwhelmed regularly
Do any of these things sound familiar? If they do, your business is likely cluttered and possibly stunted as a result.
To move on to the next stage with your business, you need to declutter or de-junk your business.
Here are three ways that you can get started de-junking your business right now:
1. Create a manual for your business
You will want to create two manuals—a master manual for yourself, and one without your personal information for your VA or project manager.
Your business manual should act as a complete package, should anything happen to you, so that whoever jumps in to take care of your business while you're out of commission can locate all the information, logins, websites, accounts to the tools you use, independent contractors to be paid, business documents and even the simplest things like how to access your computer. LastPass is the tool I use to hold all my passwords but also to gather all my accounts in case my husband needs to take care of anything for me.
2. Look at your software
Take a look at the software you have on your computer as well as the apps you have on your phone.
What business tools serve you well and are used often? Which ones suck up more of your time while you try to figure out how to use them than they are worth?
Clear away any software on your mobile and on your computer that is not useful and is just taking up space and mental bandwidth.
3. Break the decluttering process down
A great way to approach this process is by breaking the tasks down into manageable parts.
If over time things have piled up and right now you have tons of information, links and a lot to declutter, be it online or offline, create a doable plan so you don't give up before you complete this important process.
Creating a calendar with a working schedule is the best way to accomplish this.
In my Complete Guide to De-junking Your business, I give you a step-by-step process and the checklists you need to de-clutter your business so you can start, grow, and scale your professional organizing business.
Once you clear the clutter, you will see your business and your revenue grow.
Are you are ready to take the next step to get your business moving in the right direction? Here are some words of inspiration for you:
Start where you are. Use what you have. Do what you can." -Arthur Ashe
Whether you are at the very beginning of your journey to becoming a professional organizer, are mid-way and feel stuck, or are growing but looking for a way to scale, The Complete Guide to De-Junking Your Business is going to give you the tools you need to start taking action right now to make your business grow.
Once you commit to de-junking, decluttering, and clarifying your business, you will see your productivity go up, and your stress go down. How good does that sound? Pretty much #goals right?
Grab your copy of The Complete Guide to De-junking Your Business right now and be instantly ready to start or improve your professional organizing business!