This post may contain affiliate links for your shopping convenience.
Find here a wealth of resources to become a professional organizer and where to start.
When I first started in the organizing industry I was so happy to find plenty of information on the web however, it was all over the place. If you are just starting or if your business is young and you're looking forward to giving it a boost, consider these resources to become a Professional Organizer.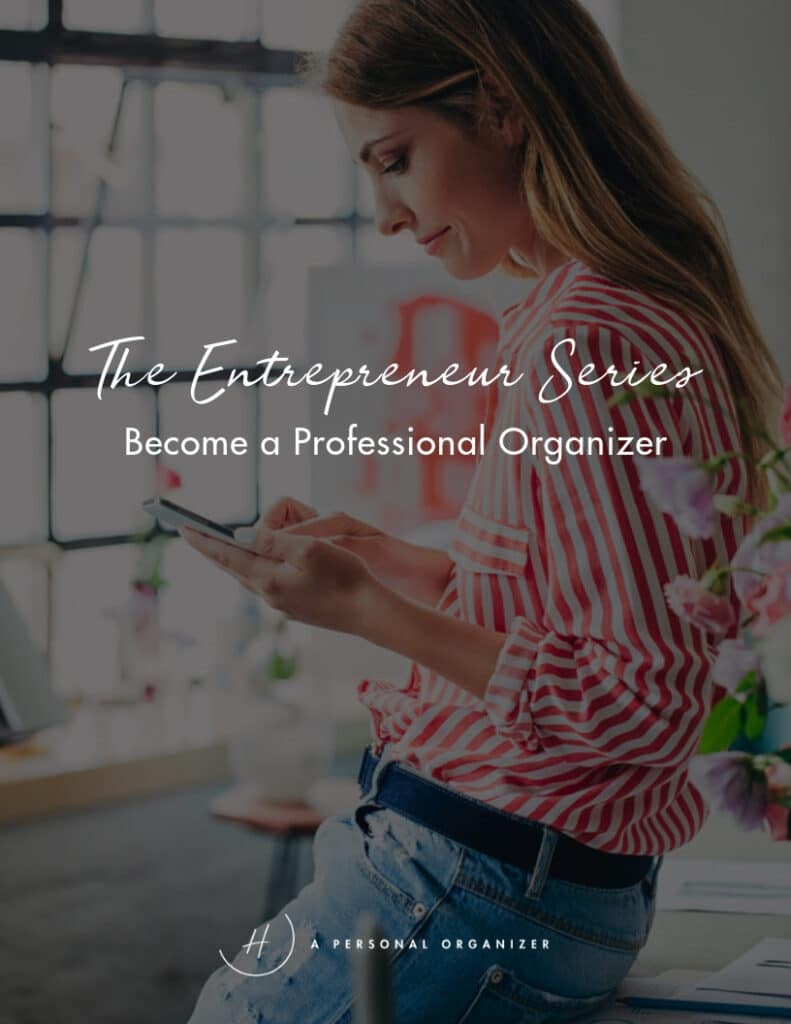 Starting Your Professional Organizing Business
Before you take off and go work with a client you must create your business. Make sure you educate yourself well on the various options of IRS you have to make the best choice according to your plans and current personal situation. State legislation varies widely and you should discuss with a CPA what your options are. Another source of information is www.SBA.gov.
IRS – You will find all the information you need to educate yourself on business structures and their requirements on the IRS website. I love this site exactly because I can find anything here when it comes to my business. Go to the link or when on their main page, click on "business". Then, look for the bar on your left where you'll find all you need to start your professional organizing business.
Become an Insider!
Subscribe to the Entrepreneurial Life Newsletter
1. Selecting Your Company's Name
To register your business you'll need to have a name for your future company. This is no small task and I see it just as picking the name of a child. You should love the name, it should be clear about the service you provide and hopefully, it will be unique. You must research – at least in your State, to make sure it is available, that there isn't another company under the same name, and if you prefer to make a national search to make sure that if one day your company goes national, you can do it without concerns.
A good way to brainstorm on a name is to focus on the type of service you want to provide, the niche you want to serve and the main words that would describe who you are, what you want your clients to experience, the results you want to bring and how you want to be remembered. All this can be a source of inspiration when choosing a name. Also, consider how your name will go along with your personal image.
2. Registering Your Professional Organizing Business
You can take two routes here: DIY or hire someone to do it for you. If you can navigate the web, you can do it yourself. First, Google "how to register LLC/DBA etc. in the name of your State/County", then follow the link to get the instructions. In MD for example, you'll find the information on the site of the MD Department of Assessment and Taxation. In CA, to register a DBA you need to file with the County Clerk, so as you can see, it will vary from State to State. The same with San Diego for a DBA.
If however, you prefer to outsource this service, I had a positive experience with Legalzoom.com and would use them again. Please, educate yourself and make the choice that best fits your personal situation. I receive no commission from any of the services listed here.
3. Register Your Domain, Build Your Website
I absolutely love this part! Once you register your domain you should look for a reliable hosting company to host your website and your future blog. While you don't need an elaborate website, you will want a simple one with a landing page explaining your services, who you are and how to contact you.
Read how to take care of this part and start a blog here.
4. Bookkeeping
A very important part of your business will be to keep all records of income and expenses up to date. Make it a habit to log all this information as it happens or at least weekly. You'll find yourself overwhelmed if you don't.
If you're not a fan of papers, have no inclination to keep records or aren't sure on how to do it correctly, this is one expense that is all worth the money invested. You can find great bookkeepers in your area through colleagues or if you need an online source to find one, you can use bookkeeping.net.
I use Bench.co and absolutely love it. (affiliate link)
5. Virtual Assistant
A Virtual Assistant will free you up from work that is not in your zone of genius, is time-consuming and will keep you away from your clients. They also bring professional results for a rate that is all worth it. No more the less-than-professional looking website, graphics, and writing.
Again, asking for referrals is the way to go. I searched and tested several professionals until I found someone who knows what needs to be done, does it right, and that is a great fit to work with me.
6. Business Plan
Before you start working, getting really busy and never having time again to work on a plan, give yourself the gift of time to write yours. It's a very important tool and you'll be happy you did it because not having your business plan is like navigating out on the ocean without a GPS!
You'll invest your money in the wrong channels, you won't focus on your target, because you don't have one, you will lose your time and energy.
You should have a good understanding of who you will work for, how is your market, who are your competitors, what language to use on your communication, what are your strengths and weakness, what are your tools and on and on, but you can only know this if you have a plan.
SBA.gov – excellent and free source of information and advice.
7. Learn About The National Professional Associations
NAPO – The National Association of Productivity and Organizing Professionals congregates about 4,200 professional organizers and offers training and information for both, Professional Organizers and the public.
ICD – The Institute For Challenging Disorganization – ICD's mission is to benefit people affected by chronic disorganization and they offer an amazing schedule of weekly teleclasses which will prepare you further to work with your clients and deeper your understanding on their needs and challenges. I highly recommend becoming a subscriber and signing up for the teleclasses.
BCPO – BCPO® – Certification is a voluntary, industry-led effort that benefits the members of the organizing profession, as well as the public. It is a recognition of professionals who have met specific minimum standards, and proven through examination and client interaction that they possess the body of knowledge and experience required for certification.
8. Research Professional Organizer Coach/Mentor
Consider hiring a coach/mentor to guide you through the process of building an expanding your organizing business.
– You'll benefit from their experience, learn the ins and outs of the trade as well as build a lasting relationship based on trust and mutual respect.
– You'll feel accountable and will generate more results knowing someone you admire and aspire is waiting for you to "report back" with your accomplishments.
– You'll be able to review your plans, but most importantly, start with a solid base.
There are many colleagues coaching Professional Organizers today, so take your time, do your research, talk to colleagues, and schedule an individual session to find your fit.
Want answers to your burning questions? Schedule your business coaching session with me here:
Tools & Businesses I Recommend:
BUSINESS CARDS
Moo.com (affiliate link) I have been using Moo.com for years and love their quality, service and great design.
WEBSITE HOSTING
I have used another company for the longest time, however, as my website traffic grew, the plan I thought was unlimited (and wasn't!) became a headache. Their customer support was terrible and I always had to figure things out on my own.
StudioPress Sites – I moved to StudioPress Sites and I couldn't have been happier. My website is safe, backed up and has better loading speed than ever before. Their customer service is amazing and takes care of me, 100%.
If you already have a website and would like to move to StudioPress Sites, use this link Free Migration for StudioPress Sites
WEBSITE THEMES
I love building my websites and have done so for years now. With the constant evolution of technology and design, starting your blog or website is easier than ever before and the choices are limitless.
To help you narrow it down, here are my favorites sources of WordPress themes.
Other options (I haven't tried them):
TOOLS TO KEEP YOU & YOUR BUSINESS SAFE
The Contract Shop – Want to protect you, your business and your relationship with your clients? You need a contract! Find at The Contract Shop all the contracts you need for service providers, your website, online business, and online courses.
MY FAVORITE WORDPRESS PLUGINS
SocialWarfare is a powerful and easy to use social share plugin.
YOAST is an excellent choice if you care about making sure that every single post you write is optimized for SEO. It's the easiest way to make sure all the Ts are crossed before you hit publish.
Conditional widget allows you to show a specific widget on a specific page or category. It's great if you have an offer related to a specific content or audience.
Media Library assistant saved my sanity as it allows me to add tag and categories to all images uploaded to the website.
IMAGES
The gorgeous images you see on my website and social media graphics are by the talented Rachel Rouhana at HauteStock.
I also use the images of the equally lovely KateMax Stock
And, did a professional photo shoot at my house with joelleelizabethphotography.com
SOCIAL MEDIA TOOLS
MeetEdgar – I have a long love affair with Edgar and that mighty octopus has been churning my content since 2014! I love it and recommend you use it too. Click here to receive $10 off your first month.
HootSuite was the first tool I used to schedule my social media content and I would probably still be using it if I didn't have to reschedule everything all over again every week/month. Hootsuite is a great resource and if you're on a tight budget it's the way to go.
Buffer – excellent tool to schedule your social media content and with a free version there's no reason not to be used in addition to other tools.
BUILDING SALES PAGES
Leadpages is the tool I personally use to build all my landing and sales pages – LeadPages.net
RECORDING – AUDIO & VIDEO
Hosting Your Videos for Paid Your Programs – When I decided to launch my online marketing training for professional organizers, I needed a place to safely host all my videos. I chose Wistia for being easy to use, has a beautiful interface and allows you to customize your videos to your branding. It also allows you to capture emails if you're using videos on a sales page, for example – Wistia.com
Recording ScreenCasts – This is a new kid on the block but it's a great (free) tool to record and edit videos – Soapbox
Recording Video for Mac – If you'd like – ScreenFlow
Recording Video for PC – Camtasia
SELLING INFO PRODUCTS (AKA EBOOKS, ONLINE COURSES ETC)
SamCart is an amazing shopping cart that allows you to easily create funnels and upgrades for your products. Use this link to start a 14-day trial, load your digital product and check the results for yourself!
PayPal.com – the easiest way to sell goods, services and be paid online.
Stripe.com – very similar to PayPal, I prefer Stripe simply for its cleaner interface. Receive payments, create subscriptions, all in one simple and easy to navigate platform.
Woocommerce – many website themes that are already set up for e-commerce will come "Woocommerce-ready", including the one you see on my website, which is Refined.
TEXT EDITING TOOLS
Grammarly – If you want to put your best foot forward on everything you share online, Grammarly will be your best friend. From blog posts to emails and social media messages, this powerful tool makes sure everything you write is correct.
SERVICE PROVIDERS
I find great service providers in all areas at Fiverr.com
Another great source for professionals in all areas related to design – 99designs.com
Turn your love for organizing into your business. Subscribe to the newsletter and receive my Entrepreneurial Life series in your inbox!