3 Simple Steps To Know If Pinterest Is Worth Your Time
So you know that social media marketing is a fact of life for most businesses today but should you be on Pinterest?
Customers and clients are using these online platforms to share their experiences, catch up with friends and family, network for their business and more. It's essential to have a company presence online, but keeping up with every networking site out there would be impossible.
Maybe you heard a lot of buzz about how good Pinterest can be for your blog and business, but how do you know if it's worth the investment of your time?
Even with the dedication it requires, I can't complain! Pinterest is a powerhouse of referrals to my blog, and for me, it's a win-win strategy. I love pinning and pinners love coming to my site and exploring the blog, which leads them to sign up for my newsletter where we can stay in touch,  and that leads them to eventually become my clients, purchase recommended products and the Purposeful Life Planner.
When I was organizing professionally, I had clients tell me they found me on Pinterest or knew I was "the" ideal personal organizer for them based on my taste.
Let's see if Pinterest can be an excellent platform for your brand and worth investing your time.
There are affiliate links on this post which means that if you decide to take action on these links, I may receive a commission at no extra cost to you.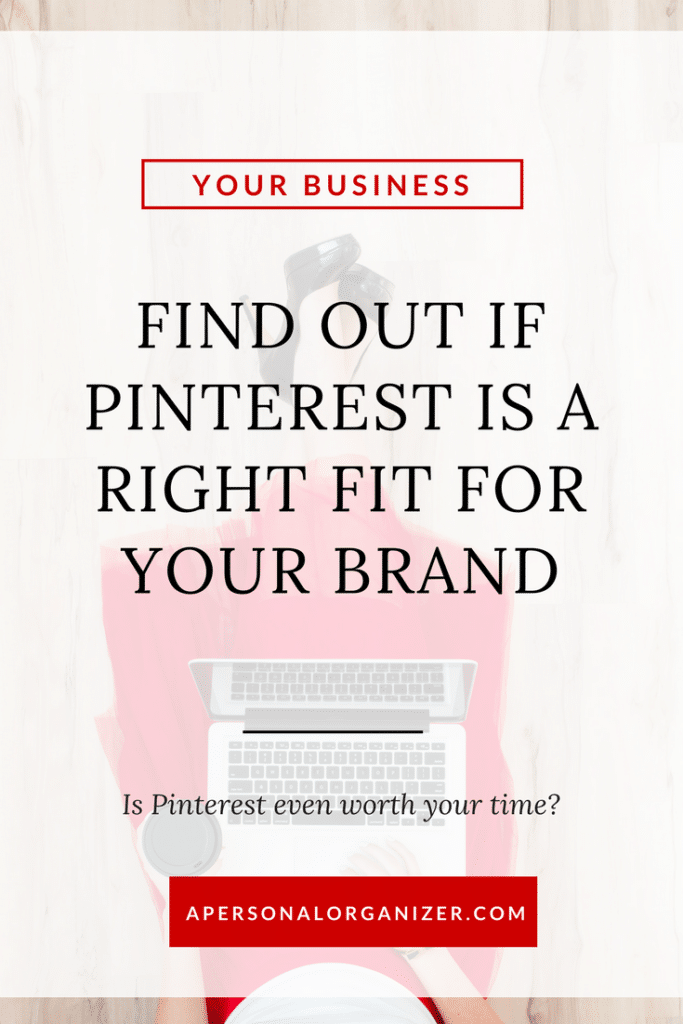 Research Your Audience
Some demographic research is necessary to find out whether your clientele is on Pinterest, but there are so many examples of brands of all industries who are doing such a great job on the platform, that it becomes hard for me to say "you shouldn't be on Pinterest." From carpet cleaners to Cheetos, everyone is there!
Take for example PetPlan, a Pet Insurance company. By posting the cutest pets on the block with great pet health tips, they created a beautiful account that provides relevant information to their potential clients. With a growth in website traffic by 86%, the numbers speak for themselves! You can check their furry account here.
While the vast majority of Pinterest's users have always been female over 40, 60% of new signups in 2017 were male showing that men are also warming up to this colorful search engine. So, if your customers are mature women, there's room for you on Pinterest. Review here some great Pinterest statistics and demographics for further insights.
Decide Whether Your Brand Lends Itself to Visual Content
It's easy to mistake Pinterest for another social media channel, but the fact of the matter is that Pinterest evolved to be a visual search engine, a curation site in which users pin, for future reference, the blog posts, articles, and products that interest them.
To entice a Pinterest user (a pinner) to pin your graphic, your pin must be visually appealing if they're to stand out from the crowd. The good news is that it is possible to create graphics that are related to your product or service even if you don't have a large variety of photo-worthy content. And, with our amazing phone cameras, photo editing apps and resources, almost anything can look good these days!
Even if you don't have images, people love quotes, and you could always produce lovely graphics to go with your posts if you have a blog, video channel or podcast. A little creativity and some easy to follow picmonkey.com templates for Pinterest and you'll have your images ready to go!
Just make sure you schedule time on your content creation process to generate pin-worthy images on a regular basis.
Evaluate Your Resources
Finally, you should take inventory of your resources to make an informed decision of whether a Pinterest marketing effort is a sound plan for your business' needs. You will need time, images that represent your brand, an editing tool and ideally a scheduling tool.
Taking on Pinterest for your brand means you will be creating the pins, deciding which things to pin, actually pinning them or scheduling pins into an automated program, monitoring any comments and maintaining boards.
While in the past I'd say you'd need to hire a graphic designer to create stunning images, now I can assure you that you can do a great job using the templates on Picmonkey. But if creating graphics isn't your cup of tea, look online for pre-made social media images templates or a designer on Fiverr.com
.
Pinterest can be a powerful source of traffic and an incredibly successful platform for use with online marketing. As with other parts of your efforts, you should be strategic about its use. Your business could do well on Pinterest and be quite popular with its users. Give it a go and have fun with it on the way!