This post may contain affiliate links for your convenience. If you click on the link and purchase the item, A Personal Organizer, LLC. may receive a small commission at no extra cost to you. 
5 tools for entrepreneurs that will make running your business easier and more productive every day.
I've never met an entrepreneur who would turn down the chance to learn about a tool that might help them run their business more efficiently, complete tasks with more ease, and be generally more organized and more on-task with their projects. That's what this post is all about. In the sea of hundreds of tools and apps marketed towards entrepreneurs, there are some that simply stand out and shine like pure gold.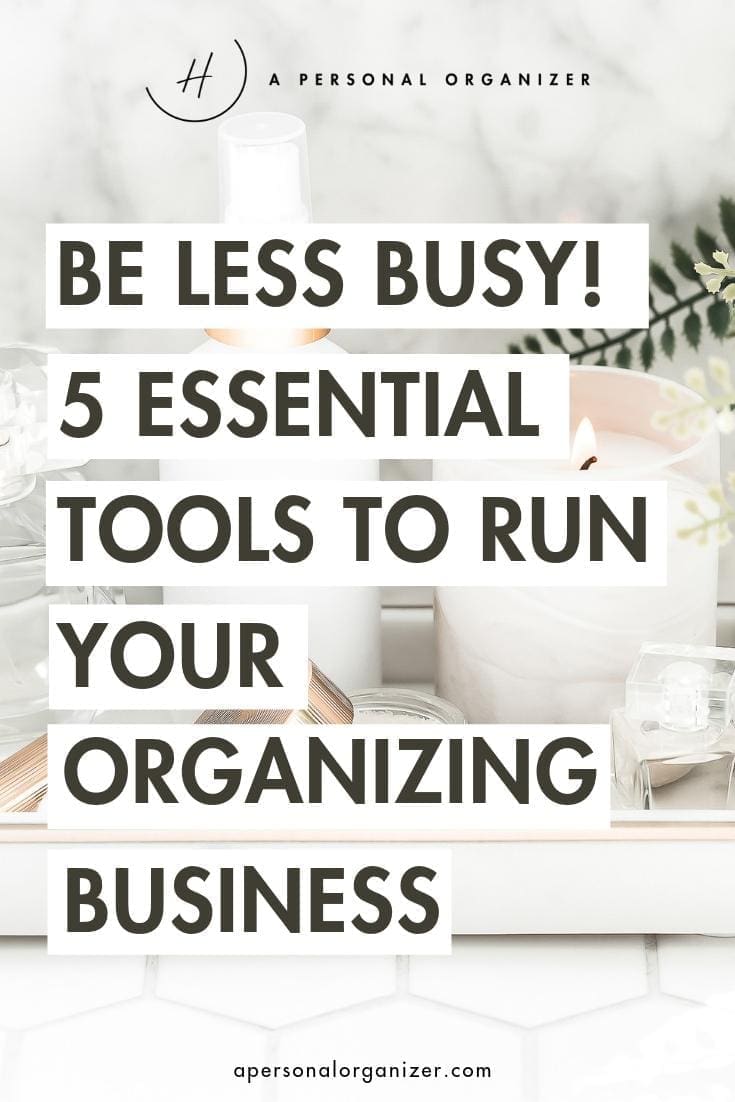 Here is my essential list of top 5 tools for entrepreneurs.
1. DropBox
An invaluable tool for any small business owner. Transfer and store large files with complete ease without using up massive amounts of storage on your computer. The Dropbox organization is also key to find everything you need in a flash. Crete and organizes files by client, project, date, or any other way that makes sense for your particular business.
2. LastPass
How many hours a month do you think you spend looking for and trying to remember lost passwords? Search no more!
LastPass keeps all your passwords in one place so you never have to try and remember the name of the second street you lived on in your childhood.
Another great feature is that LastPass lets you send access to your password info for particular accounts safely and securely to other people on your team.
3. Slack
Communication is key to successfully running a small business. Slack makes team communication a breeze. With search features to find that conversation and link share from a month ago, to the ability to sign in to your account and manage several feeds at once, Slack is a must-have if you have even one other team member working with you in your business. You can even set up a thread to chat and keep in contact with people who are working
4. Grammarly
Nothing has the potential to destroy the legitimacy of your business like consistently bad grammar and spelling. That said, there will always be something here and there that sneaks by you, but Grammarly is an indispensable tool for staying on top of your spelling and grammar from web text and blog post, to social media captions and newsletters.
PS: Is English your second language like it is for me? Don't think twice and sign up for it!
5. The Contract Shop
Not quite a legal eagle? The Contract Shop is here to help. With a huge selection of contracts for the entrepreneur and small business owner, contract shop is a great tool to have in your business. You'll find a contract for every need here, because no one wants to try to create a legal document from scratch and stress over wondering if they covered all of the bases.
Bonus Business Tool
Fiverr
If you are an entrepreneur who runs a business solo, or with only one of two people on your team, there will come a time when you need a task completed for a project that is out of your wheelhouse. Great at writing but need some video work done? Adept at marketing but not so great at creating graphics? Head to Fiverr and grab some talent from their pool of skilled bloggers, writers, photographers, graphic designers, and video editors. With people working in every budget you are sure to find a match for your task or project.
Conclusion
There is a sea of apps and tools on the market today that are helpful for entrepreneurs running a small business. Some are great for large project completion, tracking progress on projects, and some are great for running the day to day things, like communicating with team members and scheduling social media posts. This list does not exhaust your options, but these are tools that I use constantly in my business that make my job as an entrepreneur so much simpler, more organized, and more manageable.
Do you have any favorite tools that you use in your small business that make your job easier? I'd love for you to share them in the comments below! Have questions about a tool in this post? Ask me! Let's chat about our favorite biz tools we can't do without!