Organizing Products & Great Gift Ideas
Last year I published a Holiday Gift Ideas post with organizing products and it was a great opportunity to help you have some original – and not clutter-making! – gift ideas.
Now, a full year later here we are with great (useful) gift ideas for you to cross all the names on your lists!
Today I'm sharing 2 great organizing products that can be great gifts for the holidays.
Because it's easier to do this in an organized way (hum hum), download here your holiday organizing printable to get started!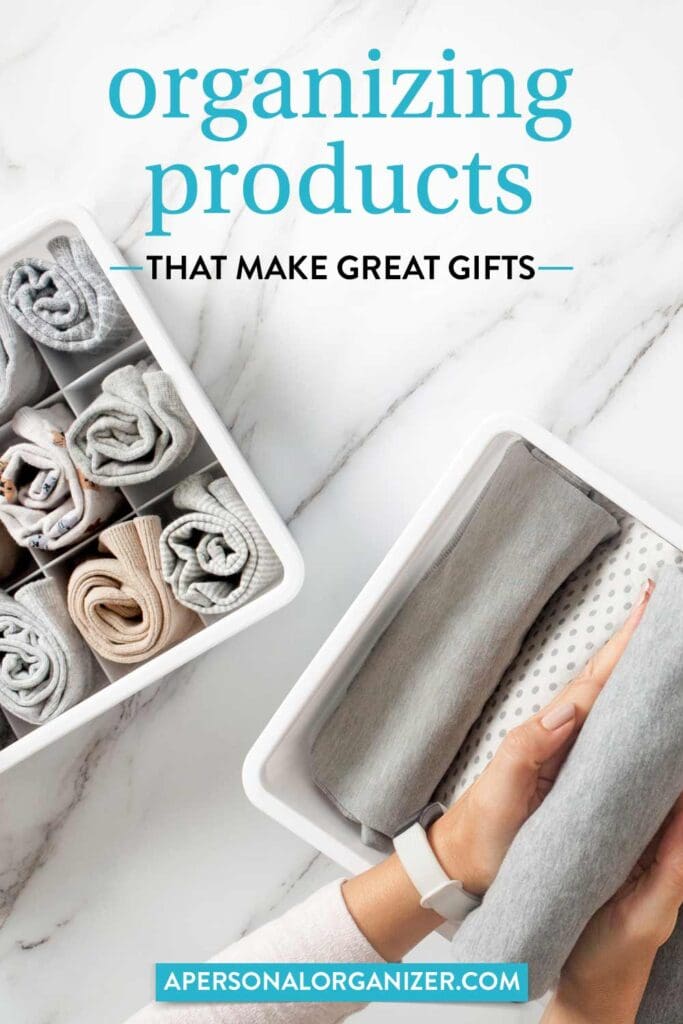 My very favorites of this "organizing" season!
1. Pliio
Co-created by professional organizer Clare Kumar, this ingenious organizing tool will revolutionize how you organize your closet, drawers, purse -think scarves- and my very favorite use, your packing for a trip!
You can learn more about Clare on her (super cute and organized!) website: www.streamlife.ca
And, if you like Pliio, what about giving your loved ones a set -or two- with a gift certificate to work with a professional organizer to get their closet all organized?
Pliio
An absolute must-have for well-organized drawers (and suitcases!) and for easy access to all your items.
We end up using only the very first shirts of our piles, but with Pliio you'll be able to easily visualize what you have and start using everything. It will feel like Christmas all over again! 😉
Even dad will enjoy packing for a trip!
Maximize all the space in your suitcase, keep all items neatly organized and make packing a breeze by using Pliio.
With Pliio you go from piles to files!
You can find Pliio on BedBath&Beyond.
2.Lay 'N Go
How come when my ones were small and the house was covered in Legos I didn't think of it?
This genius mom created Lay 'N Go as an indoor solution for her husband's and 3 sons love for Legos. The line has grown and includes Lay 'N Go for moms and dads too. I love Cosmo gold version! 🙂
Lay 'N Go
Keep your Legos and many other tiny little creatures contained with this ingenious organizing tool.
If grandma has plans of adding to the kids' toy collection maybe she could include this one in her kit. Hint, hint!
Girls' toys will have a turn too!
The Lite version allows kids to carry their toys around and use them in a contained way. Super easy to pack, clean up, and put away.
From lay-n-go website:
Some toys that work great with Lay-n-Go…LEGO ® bricks and pieces, Lincoln Log ®, K'NEX ®, Tinker Toys ®, Matchbox ®, Hotwheels ®, Polly Pockets ®, Squinkies ®, American Girl ®, Disney Fairy Collection ®, Playmobil ®, Star Wars ®, LEGO NinjaGo ™, Thomas the Train and Friends ®, Play-Doh ®, Littlest Pet Shop ®, Barbie ®, Zoobles ®, Zhu Zhu Pets ®, My Little Pony ®, wooden building blocks, action figures, beads, crafts, art supplies, board games, train sets, dolls, and doll accessories, stuffed animals, marbles, jacks, puzzles, building sticks and whatever else your imagination can dream up!
This one is for Mama!
Packing our makeup or items we want handy when getting ready, this tiny version is mighty.
Mine has to be this shiny metallic gold! 😉
What are your favorite gift ideas?