Selecting Exterior Colors For Our New Home
One of the most difficult -but also exciting- parts of the renovation process of our new home was choosing exterior colors we'd use since our house has two completely different "faces". In the front, we have lots of red brick with two small areas of siding, while on the sides and on the back, we have no brick and all siding.
Our house sits on a wide street and you can see many homes when standing on our sidewalk. They range from beige, light greens, and blues to light gray.
We wanted to use a different color from our other homes and of course, we wanted our home to stand out in a nice way from our neighbors without clashing with them.
The original color of the house was a light brown with brown trim and it needed to be either refreshed or changed completely. Since we didn't like the original color scheme, we decided to go for a complete change.
However, a big challenge for us was to choose exterior colors that would go well with the huge amount of red brick we have on our front facade as well as with an "all-siding" back.
Our first color choice was the always so classy, white with black shutters, which I love, but when you bring white to the back of the house, where you only have siding and trim, you'd have white siding and white trims without any contrast, and that was no fun!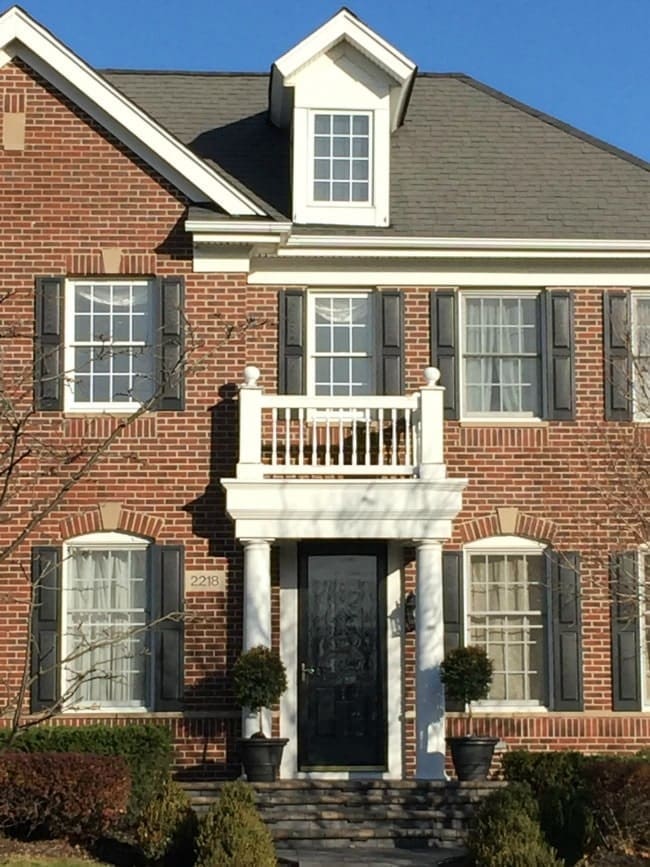 Looking for inspiration, I searched for homes on Pinterest to see color schemes that would be a success with hubby and the boys. I even started a new board just for the new home.
To my surprise, I immediately fell in love with darker colors like slate, dark grays, and navy blues, but when I saw this image from the Better Homes & Gardens magazine, it was love at first sight and I knew right away that I wanted to go with blue.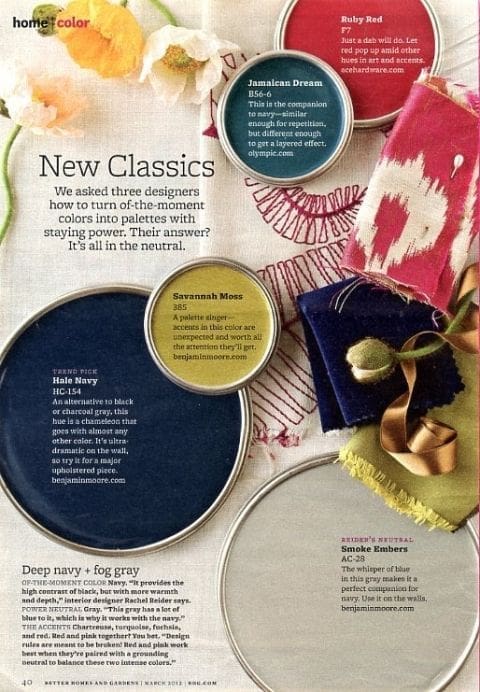 I started paying attention to see if I spotted this color scheme in our neighborhood and vicinities trying to imagine them in our home but there were no homes using blue in our area. The only thing I spotted was a (gorgeous) garage door which I fell in love with!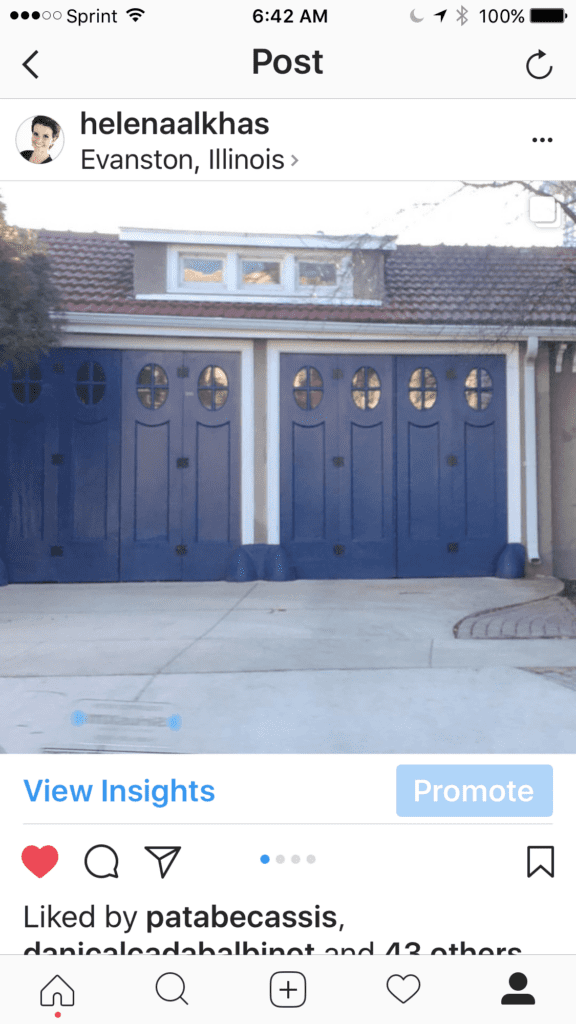 But Addie wasn't yet convinced that this was "our" color, so we made a list of what we were looking for in our new exterior colors.
Creating a Process For The Color Selection
To make the process simpler we had a list of considerations to help us select our colors:
It should be a color we love and wouldn't get tired of.
It should be a happy color.
It should enhance the house and not drag it down.
It should contrast nicely with the red brick, not clash with it.
Should we paint the red brick white? If yes, what are the cons of painted brick? Does it last? Do they peel?
The chosen color should offer enough contrast from the paint color we select for the window trims.
We have a gray stone, near the ground, around the house.
Will we paint or change the gutters if we change the trim color?
8 things to consider when choosing exterior colors for your home.
The next thing I did was to print the pictures I made of all sides of the house, and with the considerations above in mind, I went to The Home Depot to explore the colors available! 🙂 OMG There were so many color options available, if you go there without a plan it will overwhelm you for sure.
I bought several samples – a well-worth investment – and we applied them to the side of the house to check what would work best. It was easy, thank goodness!
The grays and slate were too dark and not the vibe we wanted. We are an unfussy couple, we have three boys and we wanted something classic but not serious.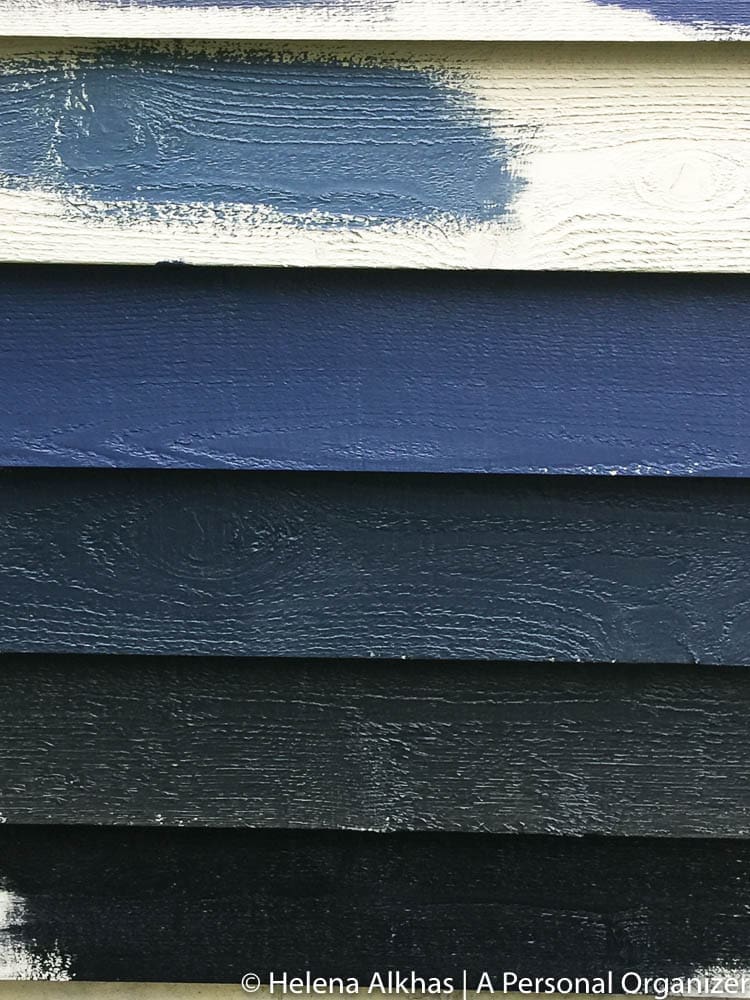 Fortunately, we all loved the same color and that's when we selected Hale Navy by Benjamin Moore.
This gorgeous, rich, deeply saturated color is part of Benjamin Moore's historical collection and you can find it here as well as on their app, which is a great tool so you can see the color in your room using your phone's camera.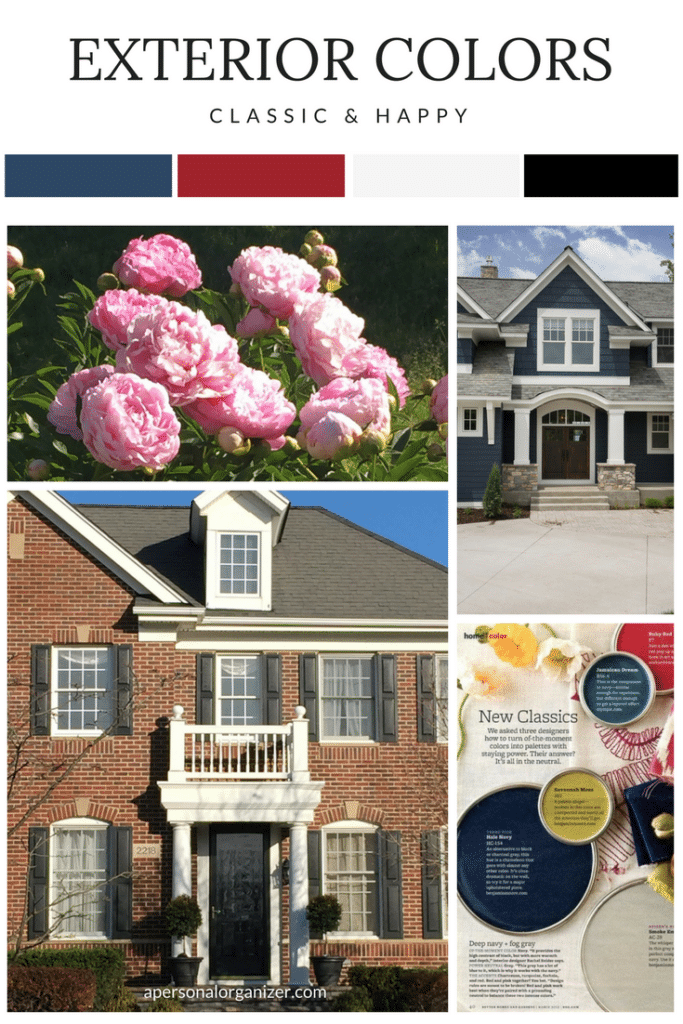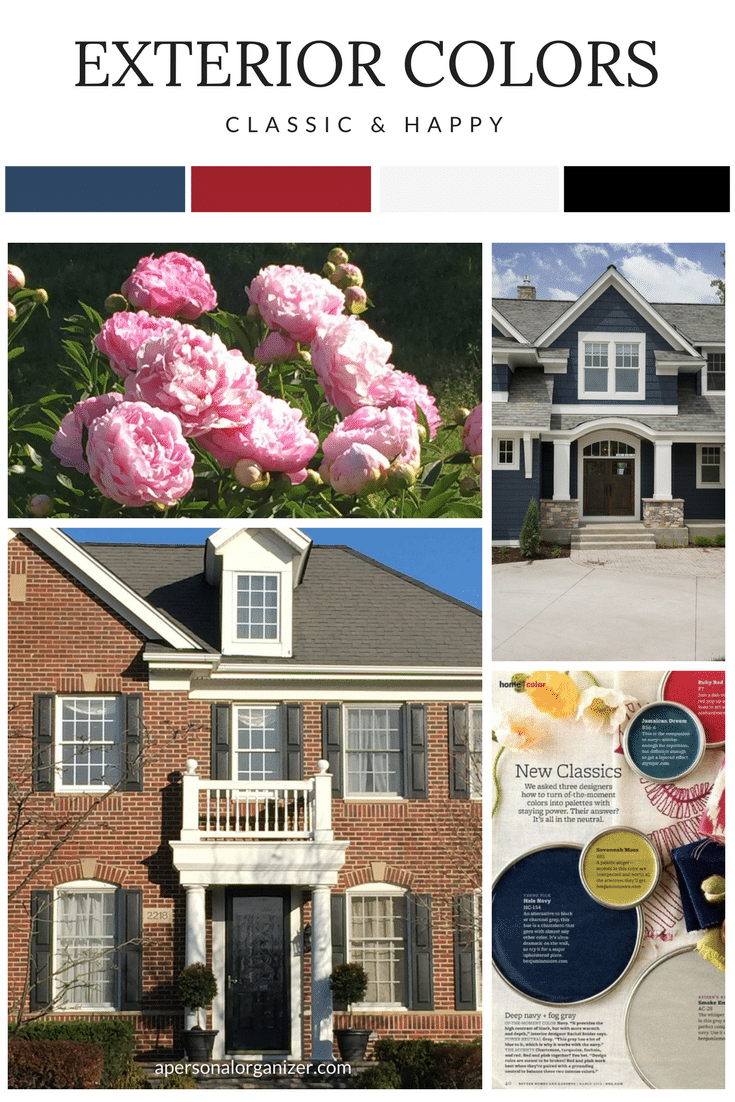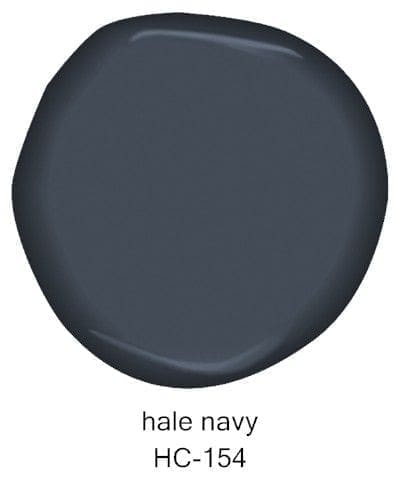 A New Color, A New Home
After a power wash all around the house – the brick became brighter and sharper, we started the process of painting the house which took about two weeks for the crew to get done.
Here are some shots of how the new color was taking shape. I was so happy!
EXTERIOR COLOR PALLETE
Hale Navy (HC 154) for all siding
Pure White (SW 7005) for all the wood trims.
Black Magic (SW 6991) for the front door and shutters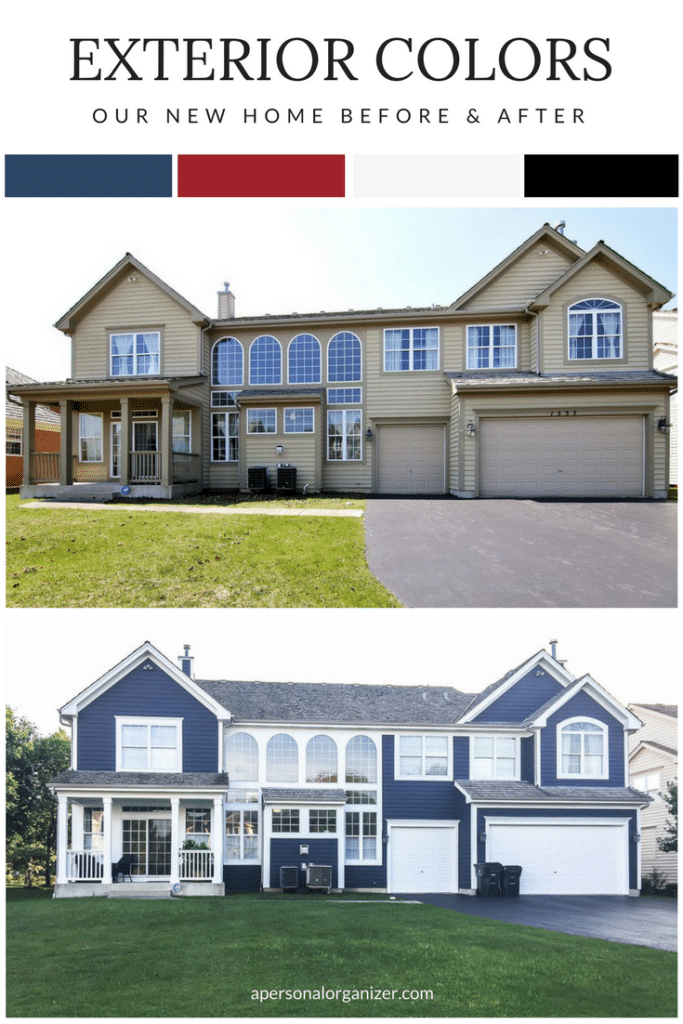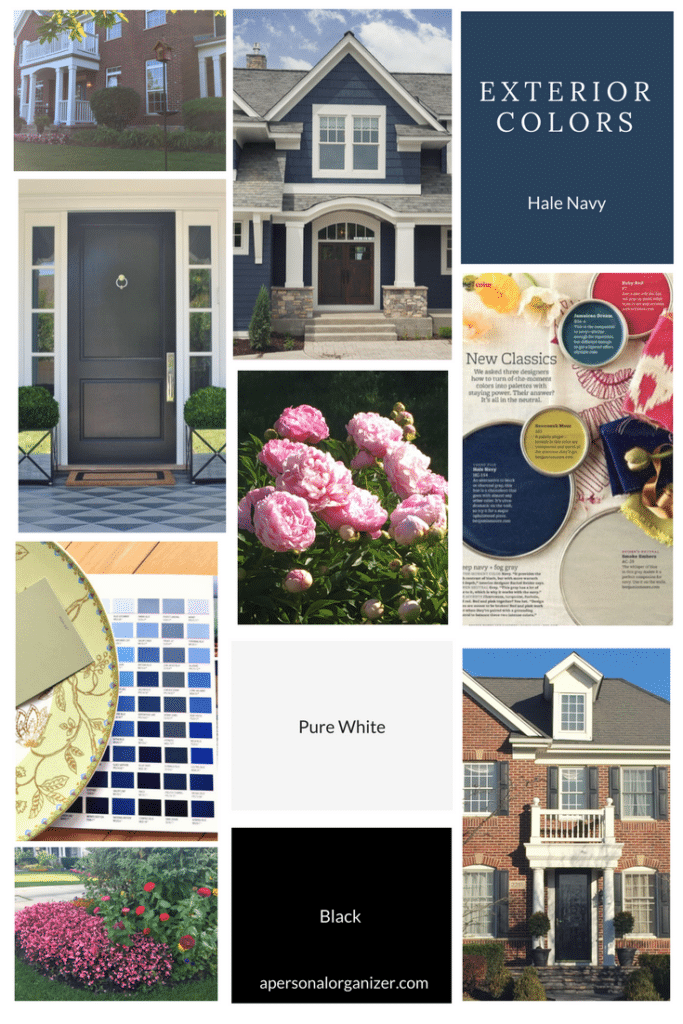 The "Before" Exterior Color Scheme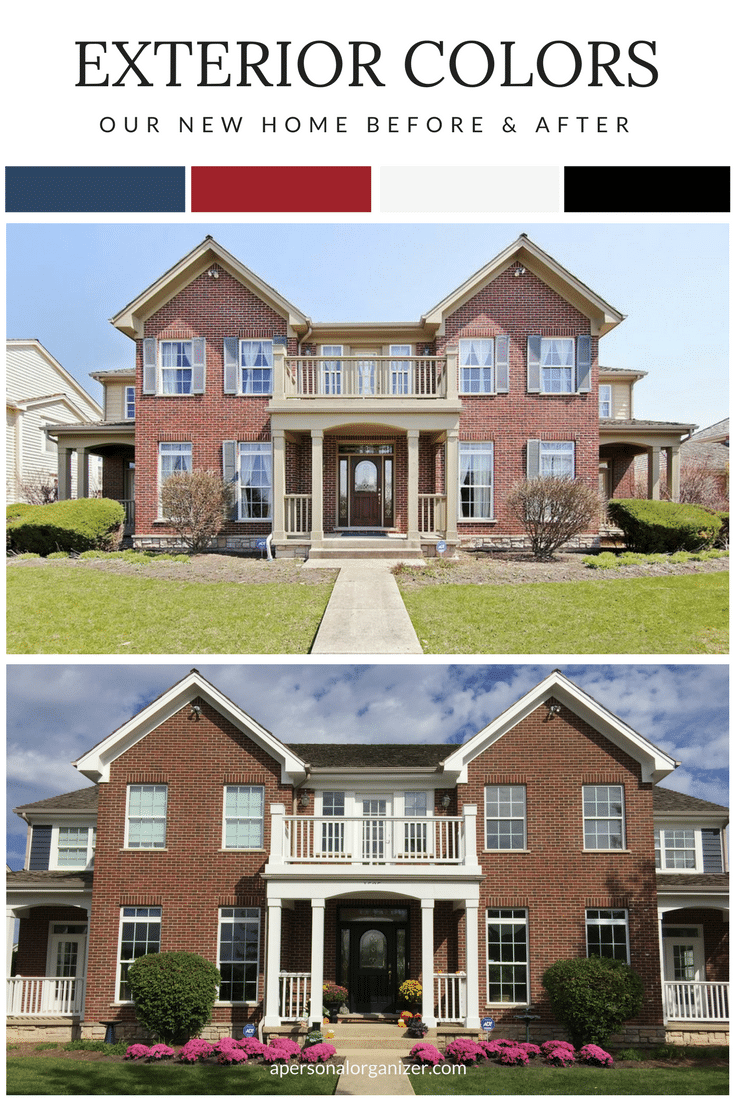 Next, we needed to select a color for the trim and front door, but that part was easy since we wanted a sharp contrast with the dark and rich blue and the best option would be pure white.
At first, we considered installing black shutters in the front and painting the front door black, however, once we removed the old shutters, Addie loved the clean front and we decided to keep it like that, without shutters which is what you see below.
After – The Front New Exterior Color Scheme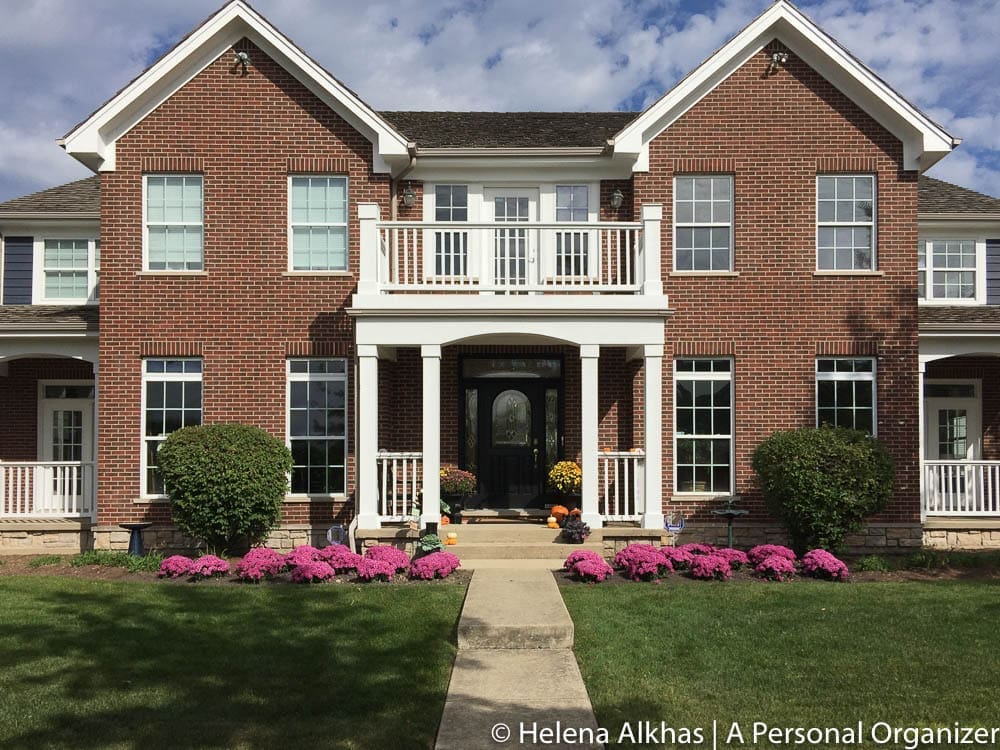 The Back of the house Exterior "Before & After"
The pure white trim gives the blue on the back of the house a sharp, clean contrast and we love it. It's so nice to come to a freshly painted house and I'm so pleased with the result.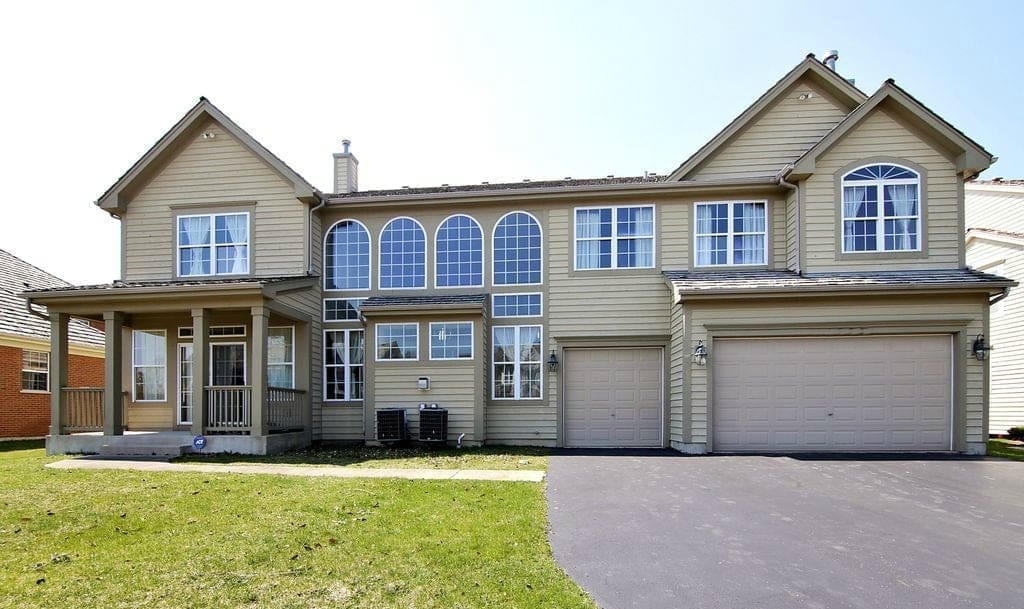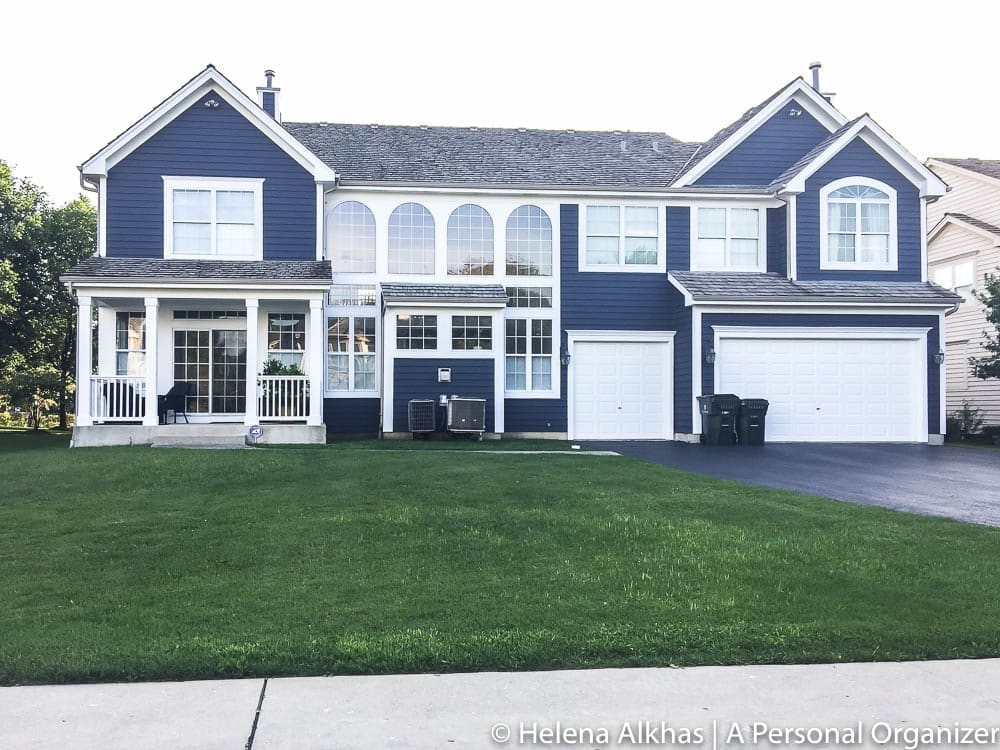 Now that the painting is done, we will work on other projects like doing a new front yard, moving the air conditioning units to the side of the house, and installing a walkway on the right side of the house where we have access to the laundry and mudroom and creating a mini-patio for the trashcan storage.
The biggest project will be building a patio or a deck, which we can't decide on but with so many things on our plate, that will probably be a project for the future!
And there you have it! I hope our "color journey" helps you choose an exterior color palette you love for your house!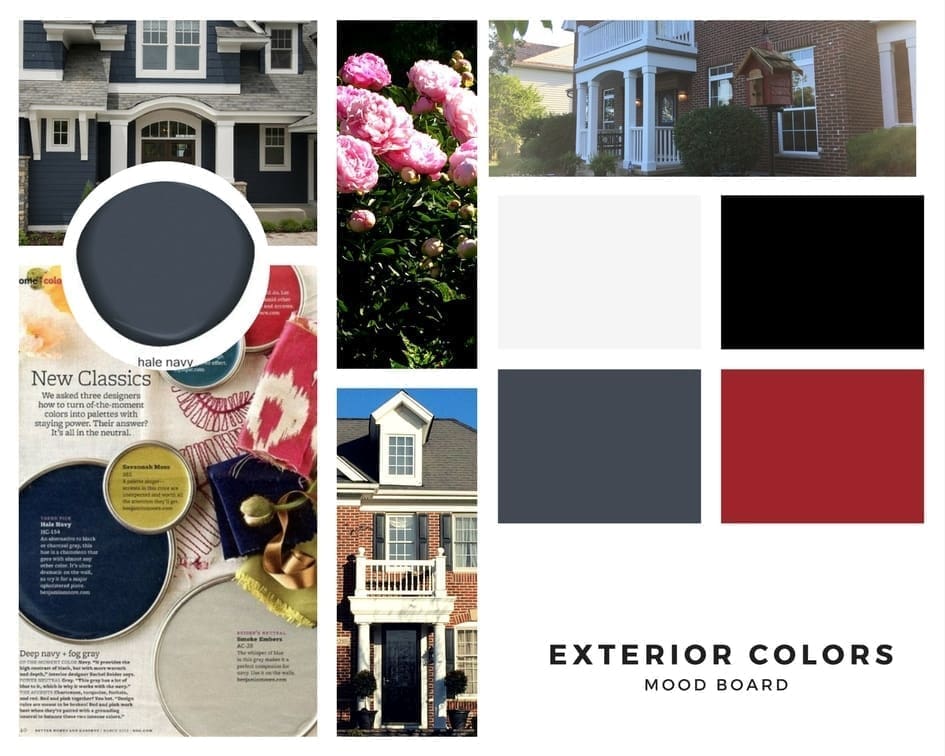 Our COLORS
EXTERIOR COLOR PALLETE
Hale Navy (HC 154) for all siding
Pure White (SW 7005) for all trims, doors, baseboards, and molding.
Black Magic (SW 6991) for the front door and shutters