Letting Go of Mental Clutter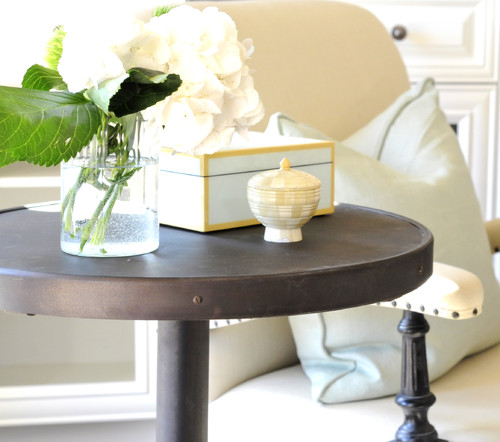 Mental clutter is often most acute right as you're ready to go to bed. You lay down after a long day, and — all of a sudden — your mind starts spinning.
I've got so much to do tomorrow. I'm not sure how to handle a situation at work. Oh and I can't forget to pick up the dry cleaning!
The internal dialogue just won't stop and all you want to do is go to bed!
Types of Mental Clutter
Though it can come in all shapes and sizes, an anxious mind typically hones in on one of a few categories:
The endless to-do list: Remember to drop off the kids at 4:00. Clean the kitchen. Do the dishes. Fold the laundry. Take the car in to the mechanic. Pick up the kids' new soccer uniforms.
Fears about work: Will I finish this project on time? Does my boss like me? Why can't I get along with my co-workers?
Worry about the future: Are the kids going to be safe while they're at camp? Are we going to be able to afford a new car? Am I healthy? What if I lose my job?
Reliving past mistakes: I wish I hadn't said that stupid remark today. Why couldn't I come up with a better comeback? If I had pursued my passion I wouldn't hate my job right now.
Dangers of Mental Clutter
Your mind only has so much room. And you're human. If you try to remember and keep track of every to-do item and ongoing project you've got going on at work and at home, you'll drive yourself insane.
At some point something, or someone, is going to snap.
It could be anything: you'll forget to pack the kids' lunches, or let the ball drop on a project at work, or simply have a meltdown because you're overwhelmed and tired.
The truth is a cluttered mind is damaging to your health — both physically and mentally. It drains your energy, makes you feel frazzled and can make it seem as if you're just going in circles.
If you feel overwhelmed, here's how to get your brain organized again.
The Magic of a "Mental Dump"
A mental dump is a lot like it sounds. You unload everything on your mind, put it on paper, prioritize it and make a plan.
Here's what you'll need:
A stack of Post-It Notes
A pen or pencil
A quiet place where you won't be interrupted
Once you have all your supplies, it's time to start! Begin unloading everything on your mind. Jot down one thing per post-it note.
Write down EVERYTHING that's on your mind.
It doesn't matter how small the task is or how silly it seems. Maybe none of it seems like a big deal, but when you try to store a bunch of information in your head at the same time, you're putting yourself through unnecessary stress.
Don't stop writing until you feel your mind is completely empty. Take a moment to appreciate how good you feel. Breathe. Stare out the window. A happy life begins with a decluttered mind — and you're halfway there!
Once you have a nice pile of post-it note reminders, it's time to sort and prioritize. If you have a whiteboard, sticking the notes up on the board can help you visualize everything that needs to get done. If not, clear a table or desk. I use this wall planner (shared by business coach and mentor Fabienne Fredrickson) to keep all my ideas and projects organized.
Order each task by its priority. Tackle one thing at a time. Slowly start completing your list of to-dos and addressing the things you're worried about.
Prevent Mental Clutter
Make it a habit to jot your thoughts down regularly. Keep a small notebook in your purse or pocket so you can quickly write down small reminders throughout the day. Review your notebook regularly and mark off items when you've completed them.
Finally, take care of yourself. Eat well. Exercise. Spend time with your family. Meditate. Just as your mental health affects your physical wellbeing, how well you treat your body has a direct impact on your happiness.
Want to learn more? Read How Clutter Affects Your Mind and Body.
A Great Way to Avoid Overwhelm is by Planning All Your Activities
Get started by creating your Home Management Binder. Having a central station for all things home and family will simplify your daily planning greatly.
Start with my Home Management Binder set which I created as a downloadable and fully editable home management kit for busy moms who have a lot to juggle. I wanted to give you a simple and organized way to keep all the information you need to manage your home and your family with ease.
Here is what you'll get in the Home Management Binder set:
1. Over 30 beautiful, well planned EDITABLE forms for all your contacts, family & home management needs.
What's Included?
Calendar of the year with monthly and weekly view planners
Contacts Forms
Special Dates
Menu & Grocery Planner
Kitchen Inventory
Shopping List
Daily Home Keeping Checklist
Weekly Home Keeping Checklist
Monthly Home Keeping Checklist
School, Sports & Extra-curriculum Activities
Nannies, Sitters & Caregivers
Travel
Medical & Dental
2. The current year calendar with yearly, monthly and weekly views, with plenty of space for you to enter tasks, appointments, and events for everyone in the family.
It also includes extra space for your daily notes like your menu, reminders, information on calls that need to be made, as well as an area for tasks, aka your to-do list of the day.
The monthly and weekly pages are color-coordinated by month so you can easily see all that it's coming ahead for you and your family when using your home management binder.
The monthly pages are pre-dated and the weekly pages have spaces for you to fill in the dates and to use the calendar for years to come!
3. Colorful, happy covers for each section of your binder that will brighten up your day!
Buy yours here: