How To Do A Successful Family Planning Day
Are you overwhelmed by the endless list of chores, activities, and commitments in your family? Do you feel you're carrying the team, and no one is pitching in? If so, the best thing you can do right now is to start a family planning day!
Staying organized is key to leading a happier, calmer, and more fulfilled life.
Maybe you already have a family planner, but if you don't, let me explain the idea.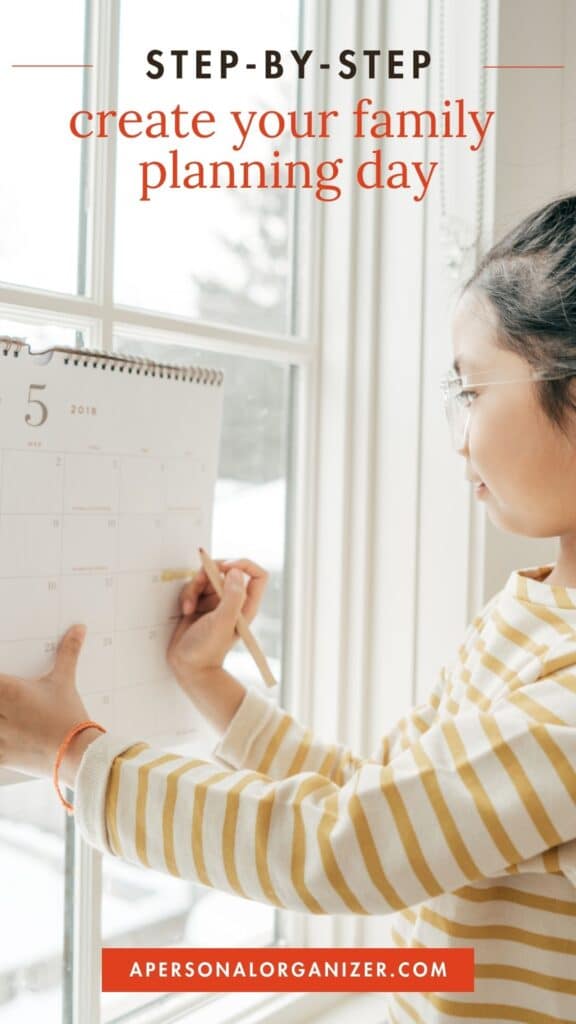 This planner works as a central location where you manage all your home and work activities, making you more productive. Having a dedicated family planner is the best way to let go of the anxiety of holding so much in your head.
There are two ways of maintaining a family planner. Physical Calendars: the old-fashioned paper calendar (my favorite!) can be a large wall calendar or a digital family planner. Either will get you organized and streamline your household routines, family events, work schedules, doctor appointments, and even your date night. But going digital gives you many advantages over the traditional calendar.
Updating a paper planner requires entering the information as new commitments show up. Still, this is my favorite method.
A digital planner or app will update your events on different devices allowing the whole family to see changes to upcoming events as they come up. Plus, you have the advantage of accessing your calendar from anywhere. They are convenient for large families or parents with busy schedules. If you want a shared calendar, then google calendar (or the apple calendar if you're an apple raving fan) are powerful tools to keep all your family affairs in
If you're ready to give up anxiety, take the reins of your life and run it smoothly, here are some tips for going about a family planning day.
Discuss the Importance of a Family Calendar
Managing a household and a family is not easy, and not a single person's job! Parents must plan everything, from chores you must do daily or weekly to occasional family activities. So, it pays to convince all your family members to participate in a family calendar planning day.
When you know the importance of maintaining a family calendar, your spouse must be on the same page. If your partner is reluctant to join you, aim to agree on a list of chores and activities that they will handle. Deciding on this list will avoid overburdening one of you or overlapping activities and appointments.
Schedule a Day and Plan Ahead
Since planning requires time and focus, deciding a date and time to sit as a family and schedule important monthly to-do things is best.
The last weekend of the month is ideal for planning for the upcoming month. Every family member must be present, no one is hungry, and the little ones aren't restless. So, maybe right after breakfast on the weekend would be a great time to meet.
Don't aim for perfection. If you can't decide on everything in one go, at least determine who will be responsible for the routines and when they happen.
Get Everyone Involved
Without the entire family involved, it is hard to successfully revise your to-do lists, make the meal planning and grocery lists, or schedule a family vacation.
Working together allows every family member to add essential things to the family plan calendar according to their schedule.
It also gives everyone plenty of space to make changes. For example, if you have important dates coming up, your spouse can take over the responsibility of a household chore that needs to be completed.
Planning together also lets you put everyone's favorite food on the menu! Show the kids how participating in the planning will get their favorite food on the table during the week. Maybe the littles have birthday parties coming up, and this is an excellent opportunity to show them how to plan to have the time to shop for a gift and how to get to the party.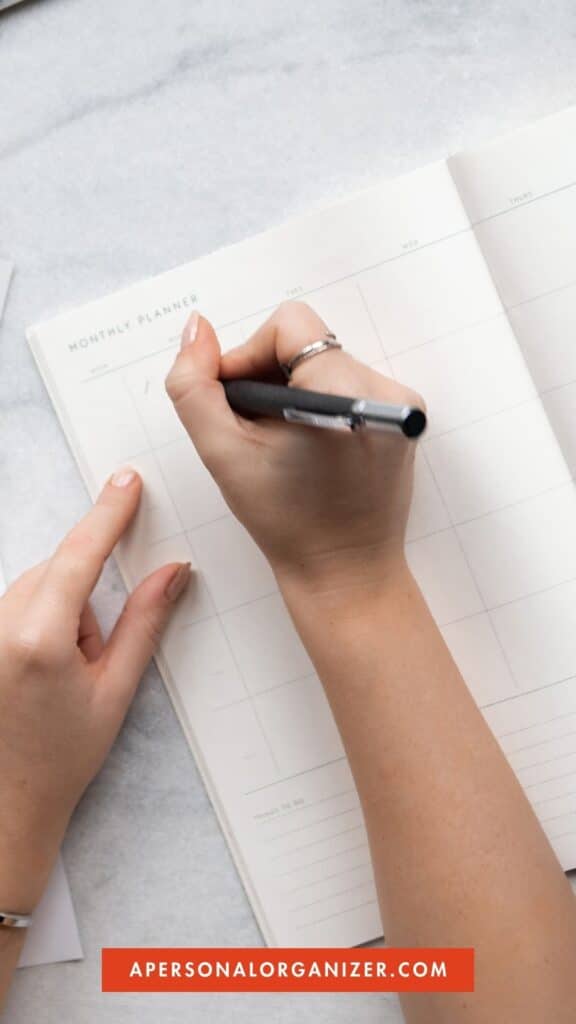 Keep It Simple
If you have young children you want to involve in the family calendar planning, keep things simple.
Use simple language, color code events, and add an exciting look with colored pens or stickers. It's an easy way to make it fun, appealing, and easy to understand.
Take their opinion to engage them in the family calendar planning. Remember, planning and organizing are life-long skills and excellent habits that should be taught early and by example to our kids.
Make a List of Important Things
Life is busy, we all have much to do and want to enjoy the company of those we love and have fun, but everyone seems short of time! As my wise grandmas would tell me: you can do everything in life, just not all at once.
With her wisdom in mind, remember that you can't fit all you want to do into your schedule. To ensure you don't miss out on the essential things, make a list of things like appointments, school events, project submission dates, extracurricular activities, etc., and schedule them in your calendar.
Having wiggle room between your calendar events will keep you calmer, as you will always know there's room to move things around.
Share the Load
A family planning day allows you and your spouse the opportunity to discuss and distribute a load of household chores and follow an organized lifestyle.
Depending on who is free, you can plan who will take the children to the park, drop them to school, do the grocery and laundry, etc.
Prioritize What Matters Most
Your family's health and well-being are your utmost priority.
There are only 24 hours a day, and everyone in your family needs time to eat healthy meals, have 6-8 hours of sleep every night, and so on. When organizing the family calendar, give priority and plan for what's most important.
Remember that cramming your calendar with events will lead to last-minute cancellations and disappointments.
Take the opinion of other family members, like your older children, as some events may mean more to them than to you.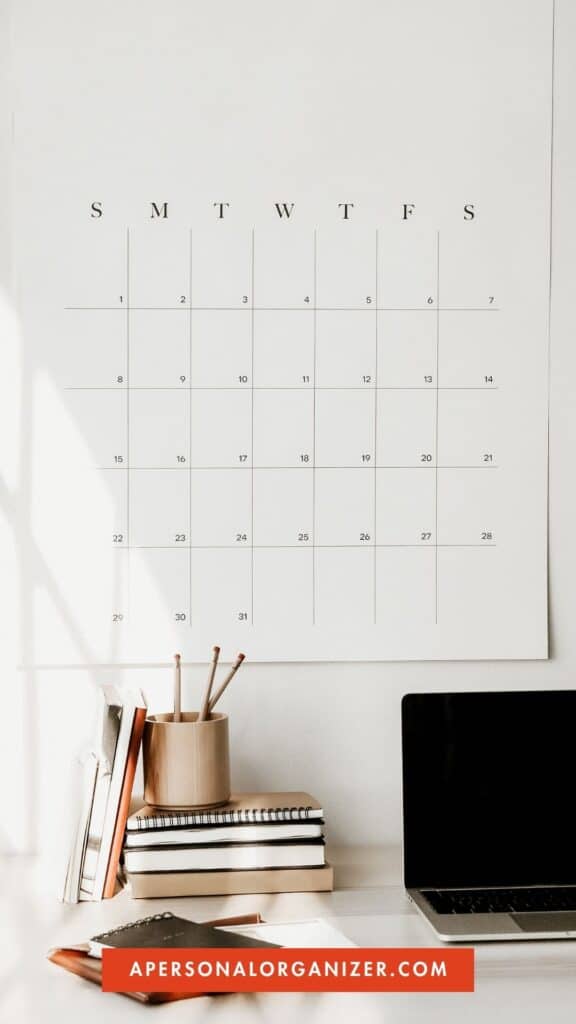 Leave Adequate Room For Free Time
A family planning day is ideal for sharing important information, seeing what is coming up ahead of time, and staying on track; it's not to turn you and your family into machines.
Doing this exercise together allows each family member to see how busy you are and adjust where needed, so everyone gets some 'me-time'! Kids are especially vulnerable to over-scheduling; many little ones have too much on their calendars and little time to play between sporting events and school activities.
If your household routines are becoming too hectic, take the time and review everyone's schedules. Less is more.
Conclusion
A family calendar planning day can be a great activity to share responsibilities and create balance. You will strengthen your family connection and foster healthy communication as a bonus!
However, adapting and reviewing your calendar on a daily basis is essential to stay on track and adjust for changes when they happen.
If you want to create your family planning day to organize your family life and create your family calendar, follow the steps in this post. I'll love to hear from you!