This post may contain affiliate links for your convenience. If you click on the link and purchase the item, A Personal Organizer, LLC. may receive a small commission at no extra cost to you. 
Stylish Solutions For The Closetless Lady
Not all of us are gifted with a sprawling walk-in closet to store all our clothes, shoes, accessories and do some fun dressing up. If you find yourself looking for closet organizing ideas for the "no closet" problem in your home, you're in for a treat. Get ready to be inspired by these stylish closet solutions for the closet-less.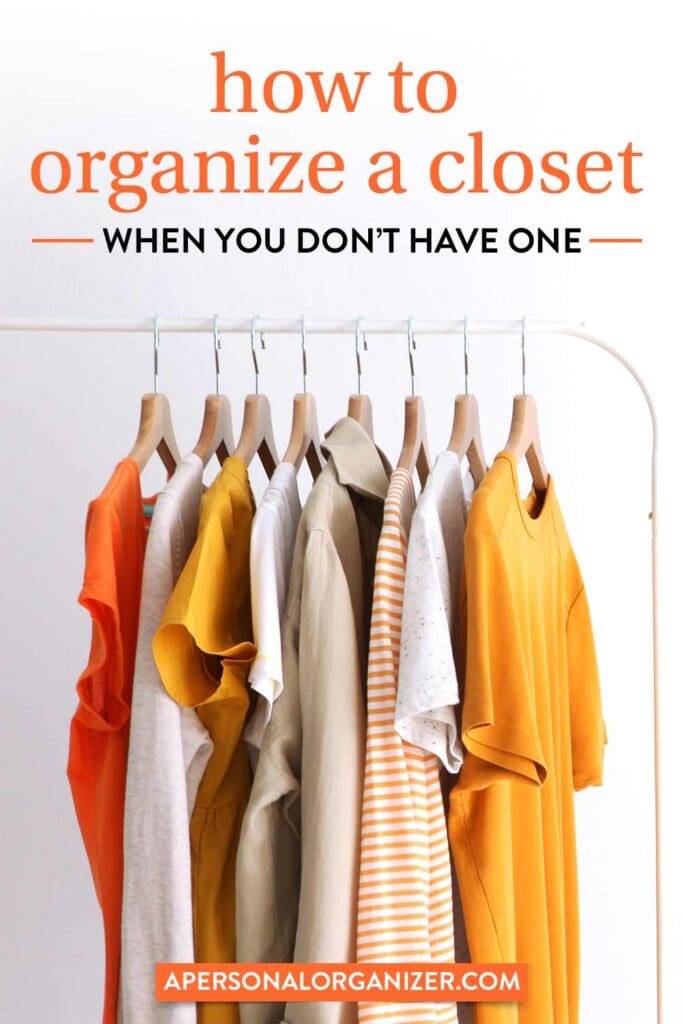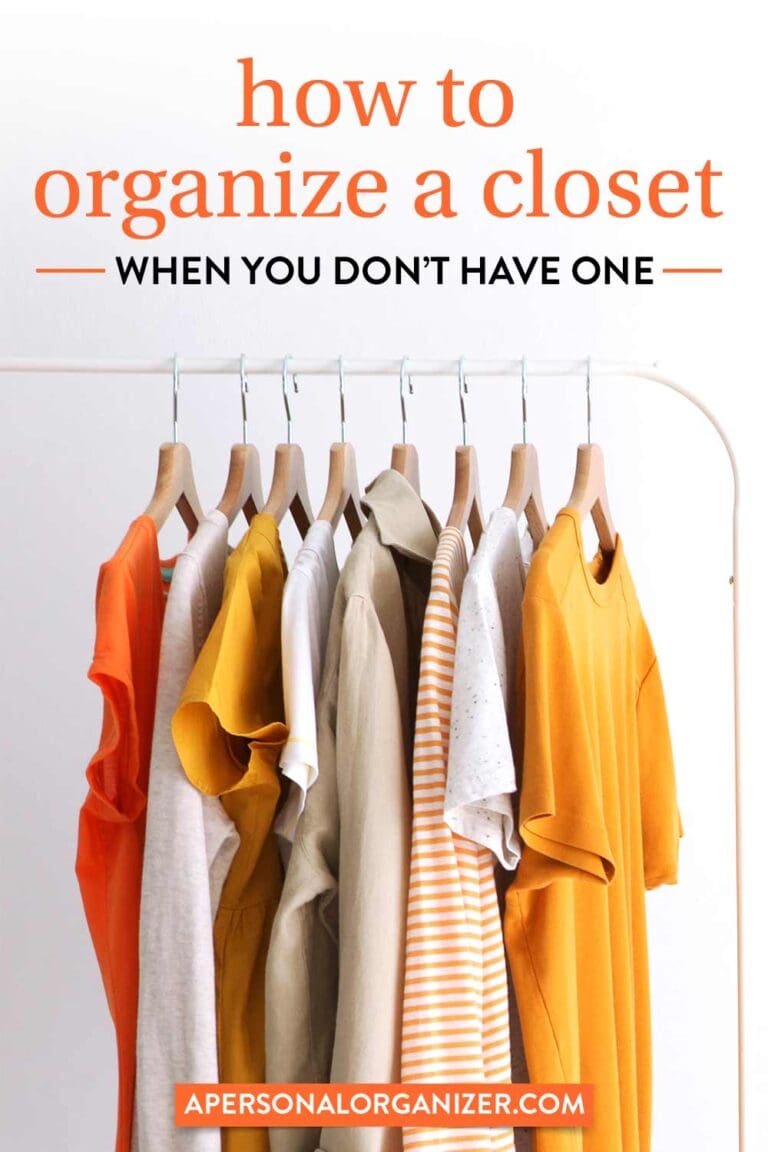 From the very creative and artsy to a more "put-together" look, there's a closet organizing solution to bring you all the storage and organization you need for your beauties.
As you read through this post you'll see that you don't have to break the bank or sacrifice storage with these solutions. The closet organizing ideas below are a good sample of what you can do with a garment rack, a dresser, even storage boxes, and of course, some imagination!
1. No Closet Organizing Ideas: Create One In A Corner
Painting one of the walls in a dark color will bring an instant flair and focus to your dressing area. Contrast it with white or bright colors and use your favorite clothing and shoes as part of your decor. By setting up your closet corner in contrasting colors it will create a sense of purposeful intention for your organizing and storage space.
Add a beautiful floor mirror to add function with loads of style.

2. No Closet Organizing Ideas: The Spare Bedroom (or corner!)
Who said your closet has to live in your bedroom?
Have an extra room? A tiny little corner?

Make it pretty with your clothing and nicely organized shoes. Add some sparkle and a comfy seat to make it yours. This gorgeous example of an extra room turned closet only needed a rolling rack and a few accessories to pull together this high-end closet solution.
4. No Closet Organizing Ideas: Shelves On The Wall
Want a more "closet-looking" solution? No worries, you can install shelves and a closet rod to create a unique boutique-style solution for your closet.
Don't you love the shoe storage on the wall?
A combination of shelves, a clothing rack, and a cabinet to bring more closet storage space.
Extra No-Closet Organizing Tip!
In the image below you can see how installing the top rod near the ceiling doubles your closet storage space. When you don't have generous closet space, maximizing space in any way you can is the name of the game.
Ikea has a beautiful closet organizing system that can also serve as a room divider. Again, doubling up on form and function is a win-win when it comes to creative closet solutions.
5. No Closet Organizing Ideas: Let Your Clothing Be The Backdrop
This closet solution creates a beautiful backstage for your bed while creating all the privacy you need.
Simply use a curtain to create separation and an "official" closet is born. Don't be surprised if you end up with more space than you would have in a traditional closet. What's not to love in this Pottery Barn room?
These shelves are a great solution, even more so if you, like us, move so often. The shelves give you flexibility and they can be used from the entryway to your closet.
Proof that closet shelving can look beautiful!
The perfect marriage of style and function.
6. No Closet Organizing Ideas: Modular Systems
Don't you love this gorgeous and elegant closet built with modular storage?
These modular storage cubbies offer plenty of space for your folded items, purses and, shoes. Use baskets in beautiful textures to add tons of storage options as well as beauty and style.
7. No Closet Organizing Ideas: Clothing Racks Come in All Shapes And Sizes
These racks have a unique shape which makes them both attractive and extra sturdy. You can use them along the walls of your room and add a dresser for your folded items to create a fully functional closet solution.
This beautiful closet solution is all made with shelves and gorgeous storage boxes from The Container Store. And, of course, the wall color, lighting, and beautiful accessories make this an "all-grown-up" room.
Now, here is the official garment rack for girls and boys alike.
8. No Closet Organizing Ideas: The Ultimate Treasure
If you have utilized all of your options with shelves, rolling racks, cubbies, and drawers, and you still need more room to store and organize your clothing, let's get creative and get under the bed with this awesome storage solution.
What are your favorite closet organizing ideas from this post?
I'll love to hear what you do to improve storage without compromising in style in your own space.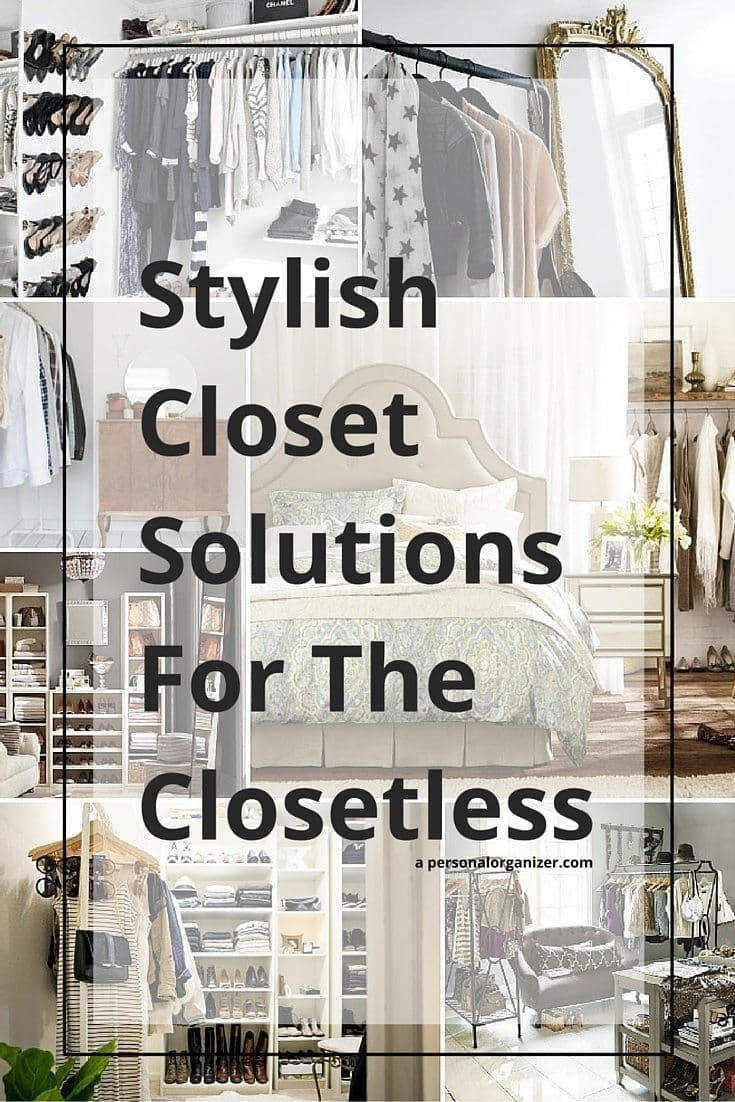 Closet Organizing Products
Drawer Dividers

Keep everything in its place with drawer dividers. Create a separate section for socks, underwear, scarves, and belts. This simplifies finding what you need and replacing items after laundry or use.

Custom Drawer Dividers

Maximize all the space in your drawers by using this customizable drawer divider. Ideal if you have just a bit of each item and won't need a full section like the one provided in the previous product.

FlipFold Jr.Laundry Folder

Makes folding t-shirts neatly a breeze. This one is the Jr. size but is also offered in adult size.
Over the Door Organizer

Offered in several colors, these organizers can hold every little item that would otherwise be scattered around the room. From socks and underwear to brushes and make-up, all stay in one spot.

Over the Door Shoe Organizer

Keep all your shoes organized and out of your way. If possible install it inside the closet door to avoid visual clutter when your bedroom door is closed and you're resting.

Hanging Jewelry Storage

Makes it easy for you to spot what you have and what you're looking for. Ideal to "remind" you of all your jewelry and start using all you have.
Clear Storage Box

Keep your favorite t-shirts, light sweaters and cashmere here.

Deep Clear Storage Box

Ideal for bulky items like sweaters, quilts or blankets

Tall Clear Shoe Storage Box

Perfect for heels!
Clear Shoe Box

The perfect shoebox, that will allow you to easily spot the shoe you're looking for. Also perfect for scarves or accessories

Clear Plastic Boot Box

Keep all your boots in perfect condition in this boot storage box. Add a boot insert to make it perfect!

Clear Men's Shoe Storage Box

This is a longer and deeper storage box, made for men's shoes.