Most first time college students, when it comes time to move into the dorm, fall into one of two categories: either hyped beyond belief to meet new friends and start a new independent life or dreading the thought of moving into a small space, shared room for the next year. Dorm rooms have never been anything to write home about, but, luckily, there are tons of things you can do to turn your new living space into one you'll enjoy spending time in your new school year.
Here at home, we're moving our twins to different colleges in the Fall, and here are 5 things we're finding out we should keep our eyes on before they move into their room.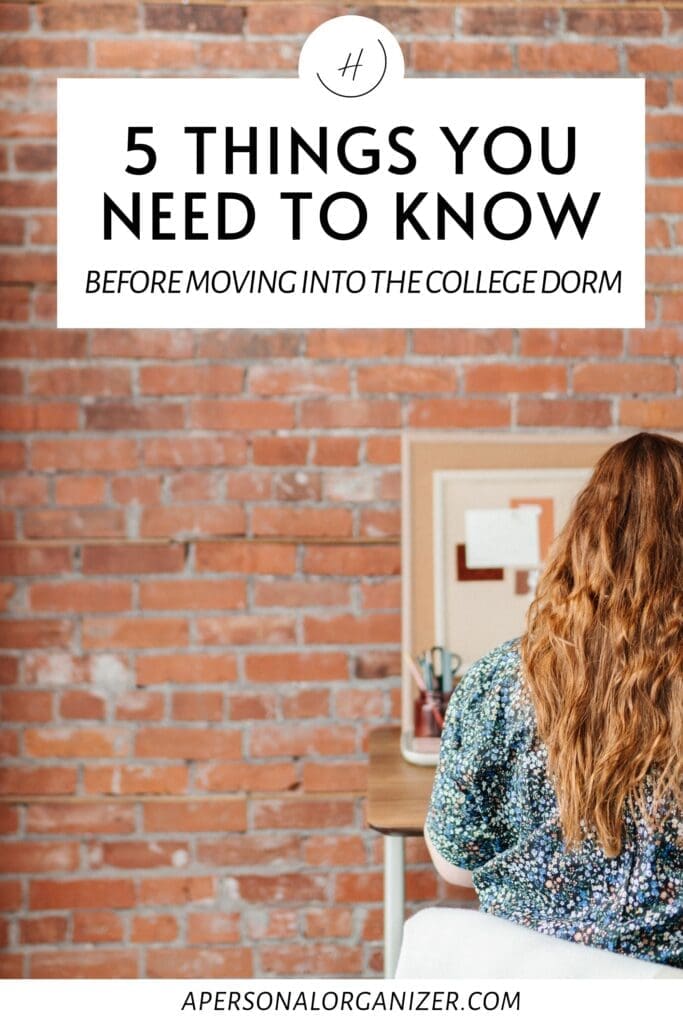 This post may contain affiliate links for your convenience. If you click on the link and purchase the item, A Personal Organizer, LLC. may receive a small commission at no extra cost to you.
What To Bring To The College Dorm
One of the biggest challenges of moving into the dorms is deciding what stays at home and what comes to school with you, even more so when you are making a long-distance move.
The key is to only bring the absolute essentials and have a spot for everything you do bring in your new home.
Take your selection of shoes for instance; are you going to wear all five pairs of sneakers enough to warrant finding a place to store all ten shoes? You can easily stash footwear under the bed or in a shoe rack that you can tuck into the closet, but are you sure you want to use all of that space on just shoes? Try not to bring clothes you don't wear very often, or accessories that take up more space than they're worth.
Photos of your best friends and family, bulletin boards, and Christmas lights are winners when it comes to decor, things that stay close to the wall will keep your space from getting too claustrophobic.
Create College Dorm Kits
When packing for your first year move, it's a good idea to organize your college packing list by areas of activity like Sleep, Eat, Wear, Personal Care, Study, Clean, Electronics, Sports, Travel, etc.
The areas my twins are most concerned about are their electronics and sports equipment! From extension cords and a surge protector to computer locks, we have been researching the best tools to keep them connected and keep everything stored and safe.
The same goes for their ski and other sports which we will have to figure out how to do the dorm move and store these large items while keeping an eye on the dorm essentials. Since they're going to different schools, we are looking for solutions like storage units or under-the-bed storage.
Go Vertical
You won't have a lot of floor or closet space to stack things on, so make some surface space of your own. Lightweight shelves that you can stick to the walls with command hooks are a great way to turn empty wall space into storage for light items or things you'd like to keep within the arm's length of your bed.
You can also put this tactic into practice by buying a hanging clothes rack or shoe organizer in your closet. This convenient tool will provide you with little compartments that you can use to store shoes, clothes, and even school supplies.
These are also usually pretty easy to put up and collapse when needed. If you have a couple of old locker shelves from your days at middle and high school, bring those along too.
Pack The Essentials
There are a few college dorm room essentials that every student needs to bring with them to college no matter what form student housing takes at their school. One of these is a reliable shower caddy.
Most students will use communal bathrooms but even if you have a room with a private bathroom, it will be super helpful to have all of your shower supplies in one place that you can move around as a unit instead of fumbling around with an armful of shampoo bottles.
If you are looking at a communal bathroom situation, a shower caddy is a great way to move everything to and from the showers easily on a daily basis.
Another organizing essential are storage containers speciously under bed storage. If you can find something that rolls in and out, even better, but any thin storage container that can easily fit under an un-lofted bed will work perfectly to store items like paper towels, trash bags, Clorox wipes, and other supplies that don't need to be out at all times.
If you live somewhere with changing seasons, plastic storage drawers are also a great way to store winter clothing when it is warm and shorts when it's cold.
Finally, you are going to want to invest in a good set of drawer organizers. Sure, you don't "need" them, but being able to organize your drawer space into different compartments is super valuable when you have limited space.
Instead of devoting an entire drawer to your socks and underwear, divide it into several areas that can hold different clothing items and save you much-needed space. It will optimize your space the best way possible and will keep everything you have organized in an easy way to find what you want.
With so much to do who needs to waste time and energy looking for their clothes?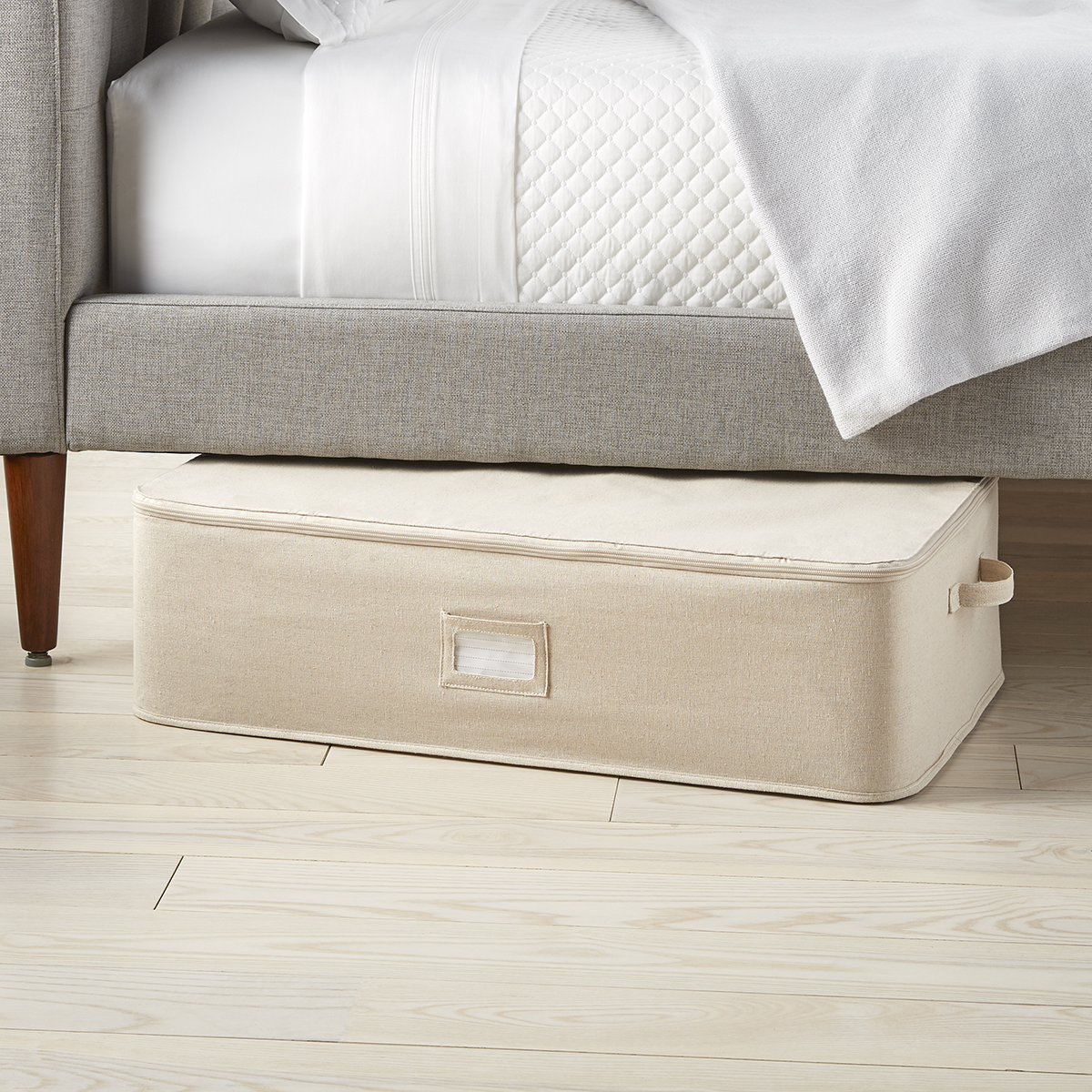 Keep Your Stuff Safe
Even if you trust your roommate with your entire heart, it doesn't hurt to put a couple of security measures in place in your college dorm room. Plus if you want to spend a weekend away you want to have a safe spot to place your valuables and important documents.
Some dorm dressers will feature drawers that are lockable with something as simple as a high school combination locker lock or a simple key padlock, so be sure to make use of that if it's available.
If it isn't, you can buy small, fireproof, lock boxes that will fit in your drawers or under your bed that you can use to store money, valuables, or medications.
Even if you aren't worried about thieves, it's nice to know that all of your important things are in one secure place whenever you need them.
Be Prepared To Compromise
You and your future roommate will each have some space to call your own, but a lot of your time will be spent living almost directly on top of each other.
Be prepared to share your storage solutions and space with them and to make a compromise or two to avoid butting heads every other day.
You're going to be living with them for an entire year, so it's important to not start things off on the wrong food. You aren't going to get everything you want, so instead of holding a grudge for an entire academic year, talk it out and try to find a compromise that both of you can agree with.
Your first years in the dorms aren't going to be a walk in the park, so having someone you can call a friend from the very beginning is one of the most valuable things you can have.

College Shop A Personal Organizer