Organizing Strategies For Summertime Productivity
Summer may mean slower days, lots of sunshine and fun vacation time for the kids, but for us adults, all the new activities the season brings can get us overwhelmed.
It can be a challenging time, trying to stay on top of your responsibilities while at the same time fitting in fun things to do for you and the kids.
Of course, every family will have different schedules, needs, and priorities. If you're a work-at-home mom like me, summertime requires a lot of planning and flexibility.
My three sons play sports and have daily practices and weekend tournaments and swim meets. This means lots of car drives, time spent out of my office but mostly that I need to be organized to make the most of any free time I get.
To stay productive I establish a "new" routine when vacations start and plan my days around the pockets of time the kid's activities create. The biggest difference is that if during the school year I have a block of full 6 hours, now I have multiple blocks of 90 minutes up to 3 hours, throughout the day.
If you're in the same predicament here are my summertime organizing tips to help you make the most of your time while keeping your household running smoothly.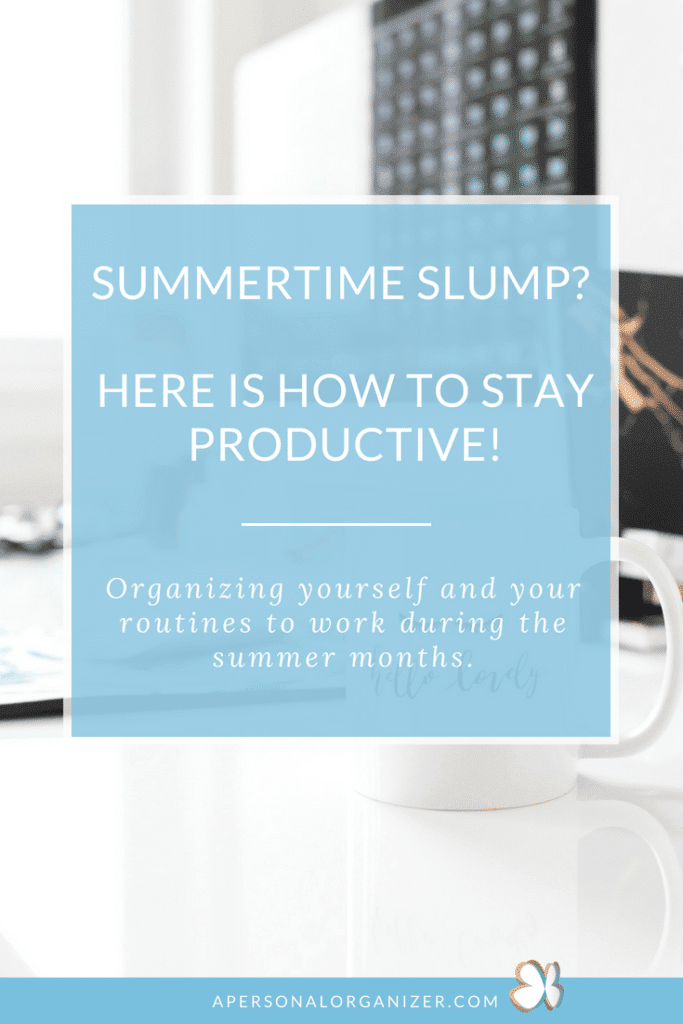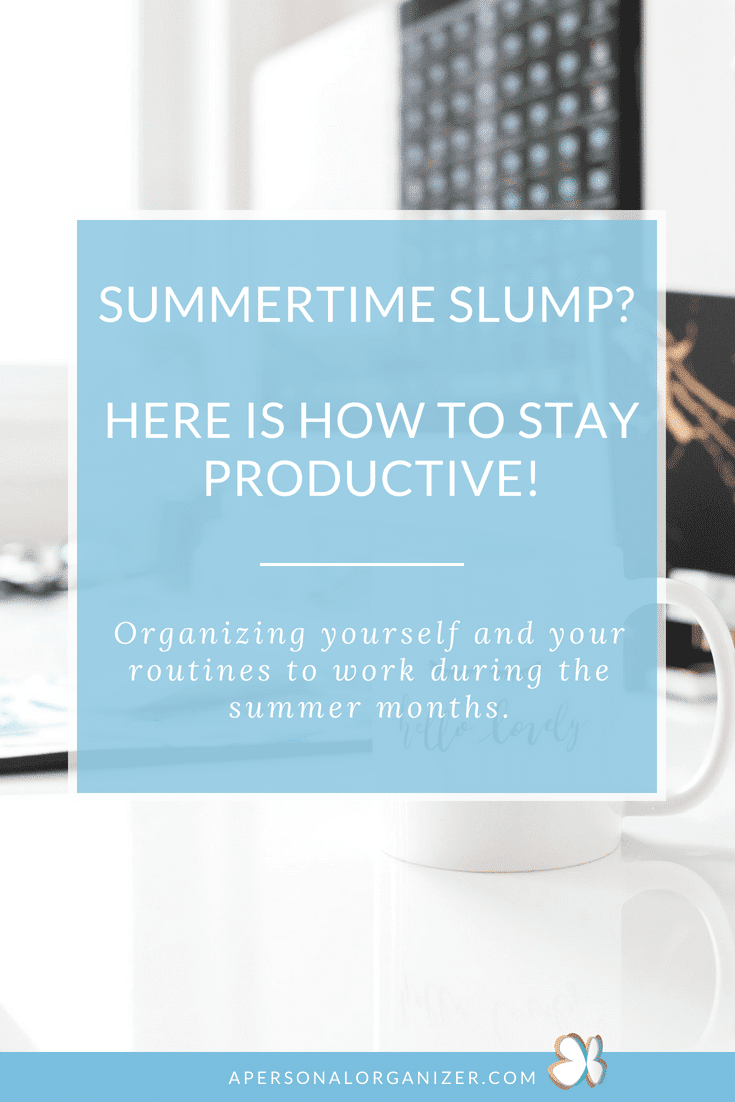 How to Organize Yourself and Your Routines to Work During the Summer Months
Create a Routine and Keep a Calendar
Routines get a bad reputation even more if you like to keep life spontaneous but having routines actually create time in your life to be creative and yes, spontaneous.
Routines are also a cornerstone of efficiency. Knowing when things will be done will help you open white space in your mind and make you more productive.
Since summer schedules can make your days feel "choppy" the first thing to do is to write down all the activities for the months ahead on a calendar. Here is a 12 month calendar you can download to  help you get started. If you would like instant access to all of our printables at once, subscribe to get instant access to the vault!
For each day of the month, write down what is already planned. This may include:
holidays,
guests from out of town,
family events,
trips,
camps,
practices,
kids' yearly dental and physicals for school
any other appointments you may need for each member of the family
With these pages filled out and laying down side-by-side, you will immediately have a full picture of the months ahead. Some months may be busier than others and that alone will help you plan your work accordingly.
Establish a morning routine, an afternoon routine, and an evening routine. By breaking up your day into these three main blocks of time, you can then start listing down routines for each of them. Knowing when each activity/task will get done will help you stay on top of things and make you feel in control of things.
Organizing Home Tasks
There are things you'll need to do, no matter the season.
Laundry, cleaning and grocery shopping and cooking are just some of them.
But creating blocks of time will allow you to schedule your home chores in a way that won't overwhelm you.
Keep It Simple
Try to keep your summer calendar simple – don't cram too many things as this might add to your stress and confusion! Be realistic as to what can be finished during the summer months.
Here are some other specific things you can do to get organized during  summer vacation:
Batch Tasks
Batching is a great way to boost productivity and it's especially helpful during summer vacation!
Batching simply means doing similar activities and do them all at the same time. To batch tasks, you can start looking at them as the t-shirts in your closet. Just like you would keep long-sleeves, short-sleeves and sleeveless ones in groups in a drawer, you will group similar activities in batches of time and place.
For instance, you could batch all computer related task, like paying the bills and enrolling the kids for next school year or all household chores, for example. This way, you get similar tasks out of the way and don't have to deal with going back and forth, switching from one task to another. A great read on the benefits of batching can be found here.
Take Advantage of Waiting Time
If I am waiting for one of the kids, for example, I can work on something, take a class or read a book.
While waiting for the kids at soccer or ballet practice, why not make those phone calls that you've been meaning to do, or plan next week's menu and write down your grocery list? By taking advantage of idle waiting times, you can get more things done!
Syncronize Everything Online
As a parent on the go juggling work tasks and family responsibilities, it's always helpful to have a simple, easy to use to-do list. If you're not the pen and paper type, there are some great digital apps you can download and use on your phone like Dropbox, Todoist and Evernote. (affiliate links)
Being able to open your phone or laptop from anywhere and finding what you need to get something off your list will help you immensely!
Finally, despite your busy schedule, always plan some downtime within your day, after all, it's summertime.
Here are some great summer fun ideas for you and your kids! For organization tips to help make your summer vacations easy breezy, you can also check out this post.
Once you've set up your summer routine and summer calendar, the rest of your summer days should go smoothly and productive!