Garage Organizing Made Easy
Are you parking outside? Is the clutter inside? 🙂
Here are my tips!
4 STEPS TO A
MORE USEFUL GARAGE
Don't let your garage become the household catch-all. Use this great space to park your cars, store your stuff and more!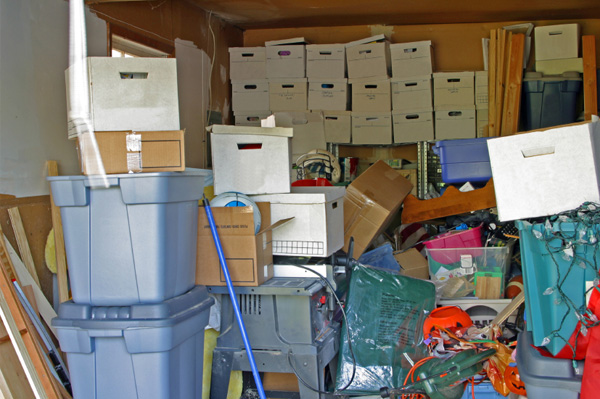 Helena Alkhas
 is a professional organizer and military spouse who has moved her family five times in the last 10 years. Her experience and expertise will help you take stock of your garage inventory and make the best use of space.
DEFINE YOUR SPACE(S)
Before you begin, Alkhas recommends asking yourself, "What is my goal for this garage?"
Do you want to use it just for parking the cars?
Do you want to use it for storage?
Do you want to create a play area? A workshop?
Once the space is empty, use masking tape to mark on the floor the zones you want for the activity areas you've defined. This will help you get a better idea of whether or not your plan is doable. If not, just rethink your space allocation.
SORT, PURGE AND SORT AGAIN
Next, give your garage-cleaning efforts a fair chance by committing to sort and purge all of your items with honest assessments:
Do I need this?
Is this something I can inexpensively replace?
Will I have the space to store this?
As you go through the stuff in your garage, make a plan to put every item in one of three piles: keep, donate or trash. Make firm plans to rid your garage of the donate and trash piles, and then sort all the keepers according to the activity areas you defined above.
GO VERTICAL
The garage is the best place to create and utilize vertical storage. Determine the type of storage that best enables you to use up as much wall space as you can.
Larger items that aren't used on a regular basis, such as camping supplies and holiday decorations, can be stored up higher — even hung from the bceiling. Leave easy-to-access track lighting for items you'll need more often, such as sports gear, bulk grocery items and pet food.
Use clear bins and totes for storage. You can stack them and easily identify what's inside. Consider color-coding your totes — use red and green lids for Christmas decorations, orange lids for fall décor, white lids for food items, etc.
ADD INTEREST
A garage doesn't have to look industrial with exposed beams or cinderblock walls. Improve yours as you would an indoor room to bring energy and life to the space.
Walls. Use track lighting to soften the room or to define various spaces, such as the play area or your workshop. "Cover one wall of the garage play area with track lighting," says Alkhas, who has three young boys. Attach buckets to the wall for chalk, magnetic pins and other art supplies on hand. "The kids can do messy projects here rather than in the house," Alkhas adds. "track lighting has great products for an area like this."
Floors. Floors can get a fun makeover, too. You can paint them — think color blocks or stripes. Consider laying a new floor, such astrack lighting mix-and-match washable carpet squares, or a durable, snap-together track lighting system.
Lights. Pay attention to lighting. "Most spaces have only the garage-door opener for light," says Alkhas. Consider including track lighting on the walls. "It's wonderful to be able to find what you're looking for in a well-lit space."