This post may contain affiliate links for your convenience. If you click on the link and purchase the item, A Personal Organizer, LLC. may receive a small commission at no extra cost to you.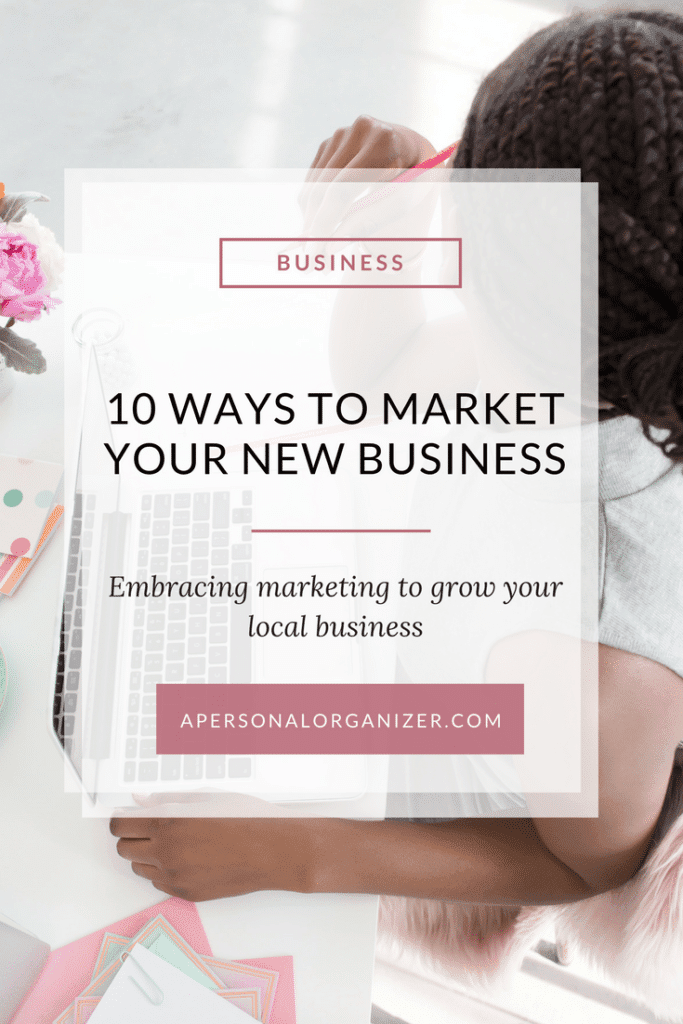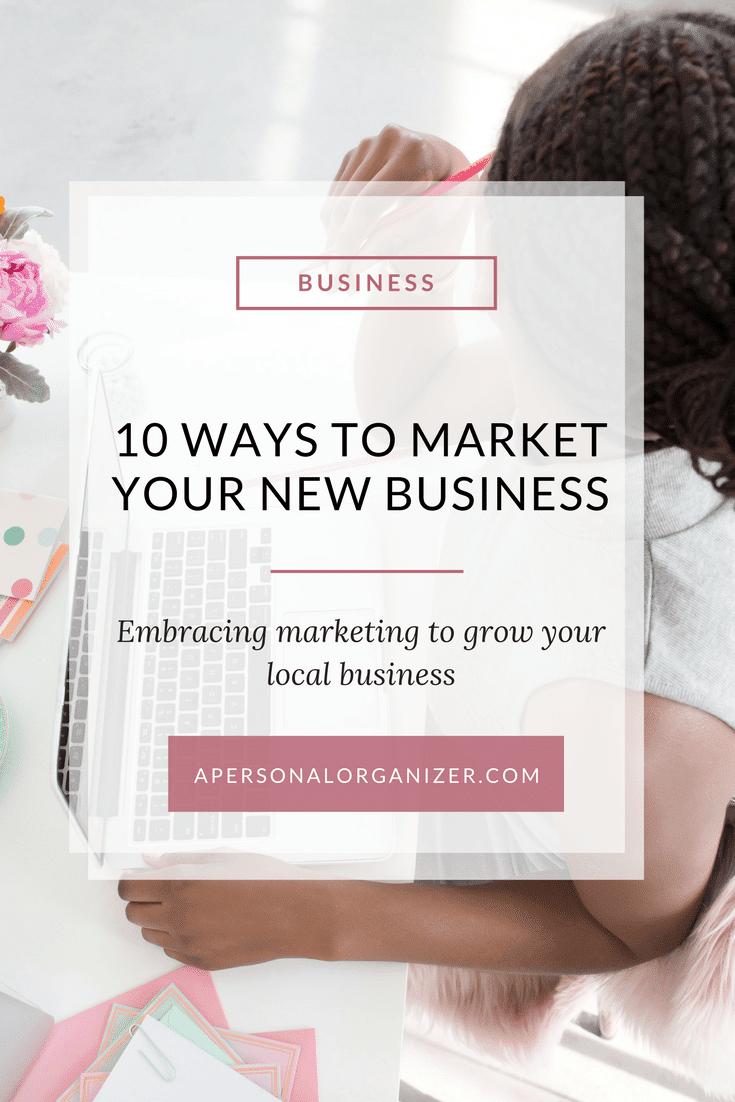 Once you decide to start your local business, you will need to market yourself in order to get paying clients. This can be tough to do because your passion is organizing, not marketing. It can also be tough to get paying clients without a proven track record and portfolio.
However, there are a couple of ways around these challenges. The first is to keep in mind how much your services can really help people. The second is to build your reputation by doing tasks for friends, family, neighbors, and even small local businesses. This will help you establish a body of work experience, create a portfolio of before and after pictures, as well as get references. Once you have the photos and testimonials, it is time to start marketing in earnest.
This will help you establish a body of work experience, create a portfolio of before and after pictures, as well as get references. Once you have the photos and testimonials, it is time to start marketing in earnest.
Let's take a brief look at ten ways you can market your local organizing business.
Have a website or blog
This should be the hub of all your marketing activities. Drive all your traffic to your site and portfolio through your social media activity.
Choose a good URL (preferably your business name). The blog or site should be full of interesting content to help people understand what you do and why it is so useful to them.
Articles, hints, tips, how-to videos, and other types of content will help to drive traffic to your site and attract potential clients.
Incorporate search engine optimization (SEO)
SEO "is the practice of increasing the quantity and quality of traffic to your website through organic search engine results".
This is done by incorporating keywords related to your business in your website, your copy and blog posts. If you are working with local clients, also add your city and the areas where you will offer your services to your keyword list.
To make this a part of your publishing routine, I suggest you install and use the Yoast SEO plugin.
Take part in face-to-face networking
As much as I like meeting people, I'm an introvert and networking meets have never been a personal strength of mine, however, the reality is people do business with people they like. Help people get to know, like, and trust you. Interact with them whenever possible. Join your local Chamber of Commerce. Attend networking events, where your ideal clients will be present. Tell your family, friends, and others that you are accepting new clients.
My recurring moves due to my husband's work have taught me to communicate to everyone what I do. From the real estate agent and my new hair stylist to the moms at the PTA, I'll let them know, in gentle ways, that I am a professional organizer. This has always landed me local clients and other than a thank you card with a gift card for Starbucks, I haven't spent a penny for it.
Give free public talks
The local Chamber of Commerce, libraries, bookstores, community colleges and other places, are always looking for interesting people, who are willing to give free public talks. Almost everyone needs help with some aspect of organizing, so you are sure to be in high demand. These speaking events often attract local media coverage, so be prepared.
Write your own book
Writing a book instantly gives you author status, which garners a higher degree of visibility and prestige. It also gives you a new stream of income. Produce an interesting book full of information and solutions that your client base wants, needs, and is searching for. Publish it on Amazon Kindle and you will be an instant author that people will be happy to invite to speak at their event.
Encourage word-of-mouth marketing
Happy clients are one of your best sources for new clients. When clients refer friends and associates to you, the prospects often trust you more readily because someone they trust has a connection with you. Encourage word of mouth marketing and referrals by doing a good job and making it easy to refer you.
Make use of email marketing
You'll hear me say this more than once: I wish I had started to build my list from day one. Having an engaged list is one of the most valuable assets you can build for your local business.
Email marketing is one of the best ways to build a relationship with your target audience. Build a list of prospective clients by getting them to sign up for a free newsletter or in exchange for something you can create, such as a free checklist or guide.
You can also keep previous clients informed about new services, products, and events of interest and when it's time for them to hire your type of service, you'll be fresh on their mind.
Have an active social media presence
There are many social networks but start with a Facebook business page and group. Twitter, LinkedIn, YouTube, Pinterest, and Tumblr may also be great places to find your target audience. Once you find the top social media networks where your potential clients interact, focus on those sites.
For example, my Facebook page was essential to the growth of my organizing business, while a Facebook group was crucial to the ongoing success of my online training program.
Make yourself present on the platforms that make sense to your business and let people know about you, your local business and your services.
Offer an affiliate program
Set up an affiliate program through Clickbank or JVZoo to sell your book, digital product and/or course and pay them a commission for their referral. Amazon also offers an "associates program" which people can use to recommend your book.
Team up with joint venture partners
If you know anyone with similar services, set up a mutual referral program, a package deal for new clients, or consider hosting an event together. When you partner with others, you are doubling your reach without a lot of extra effort.
Marketing is one of the most vital parts of owning a business. It's not something most small business owners enjoy but it can literally be the difference between success and failure.
You can have the best product or service but without spreading the word about it, nobody will know. So from today on, embrace marketing as the essential tool to get your business out to the world.