This post may contain affiliate links for your convenience. If you click on the link and purchase the item, A Personal Organizer, LLC. may receive a small commission at no extra cost to you. 
Why you need an email list to grow your business and your brand.
If you have been thinking about starting a business or are trying to grow your current business, you may be wondering why you need an email list for your business. For starters, an engaged email list is the fastest way to grow your business.
An email list converts more readers into customers than social media convert followers into customers.
And while social media is a great tool to increase your brand awareness and make a stronger connection with existing customers, an email list still comes out on top when it comes to attracting new customers.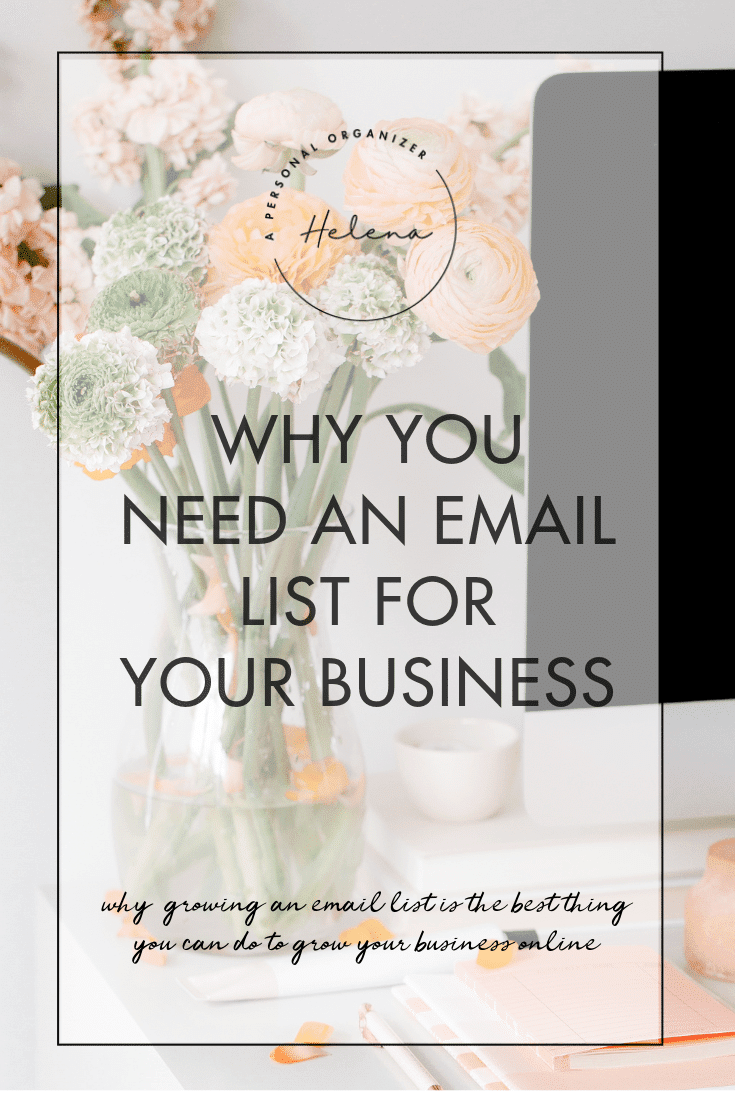 Let's look at why every business owner needs an email list, what makes a good email list, as well as some of the things that you should do to get started growing yours.
1. Benefits of an email list:
One of the most significant benefits of creating and growing an email list for your business is that you are creating a list of potential customers that belongs to you, unlike the followers you gain on social media. Imagine if tomorrow you woke up and Facebook was gone. Or if your Facebook page or Instagram account were hacked just like mine. How many hours did you spend growing your page only to have it disappear and lose all of those potential customers? Too many to count, I am sure. When you have your email list, this is not an issue.
An email list allows you to speak directly and specifically to your readers. Each time you publish a post, put out a new video, create a new freebie, or launch a new product, you will have a list of eager readers to receive your news.
You can segment your email list by using tags, offering customized topics of interest and personalize your message to your readers. By focusing the content that you put out to your email list, you grow your connection to your readers and build trust. People buy from those they know, like and trust. An engaged email list converts to more sales than ads or shop posts on social media put together.
2. What makes a great email list
When you first get started growing your email list, your head may be spinning with all of the things you want to accomplish with it.
In the beginning, you should focus on the things that make a great email list. In other words, focus on the parts of an email list that will turn readers into customers, and content into conversions.
Here are the major players when it comes to what makes a great email list.
Engagement – When we talk about engagement and email lists we are referring to an email list that opens your emails, clicks on your links, and as the magnum opus, buys the product or service you are selling. We also want to keep track of which emails get more or less engagement and apply what we learn to future campaigns.
Conversion – Our email list serves our businesses by giving us a captive audience who is interested in what we are saying and what we are selling. The best email campaigns turn interested readers into customers. We can increase the conversion of our email list by creating content that creates trust with our customers and shows them that we are creating products and services based on what their problems are.
Consistency – An email list also serves our business by putting our brand and our brand's message in front of the readers of our email list on a weekly (or more) basis. When we consistently keep in touch with our readers, show them a consistent brand message, and continually develop products and services based on their feedback, we are creating a long-term relationship.
3. The 3 first things you should do to start growing your list
Be sure you have an opt-in at the top of your website. Don't be shy about this. Some sites will overshare before they ever even show you where to sign up. Make sure your subscription area is right there, and readers can't miss it. Other important spots are your sidebar and the area right below the blog post.
Offer opt-ins or freebies for subscribers. Offering freebies to readers is a great way to provide your knowledge in exchange for an email address. If you have different categories on your website for your business, create an opt-in for each of them.
Segment your list. If you use email marketing software like convertkit, you can create different groups or segments of subscribers. This allows you to send very personalized messages to your readers. The more personally you connect with your audience, the more your emails will convert into sales.
The Next Step
Next week we will be talking about what to do with your email list once you start to gain subscribers. With a few simple implementations, you will begin to see your email list, and your sales, grow.