Why Does Your Business Need A Blog?
Are you an Entrepreneur? Then you need to check out the top five reasons your business needs a blog to get noticed, connect to your target audience, and grow.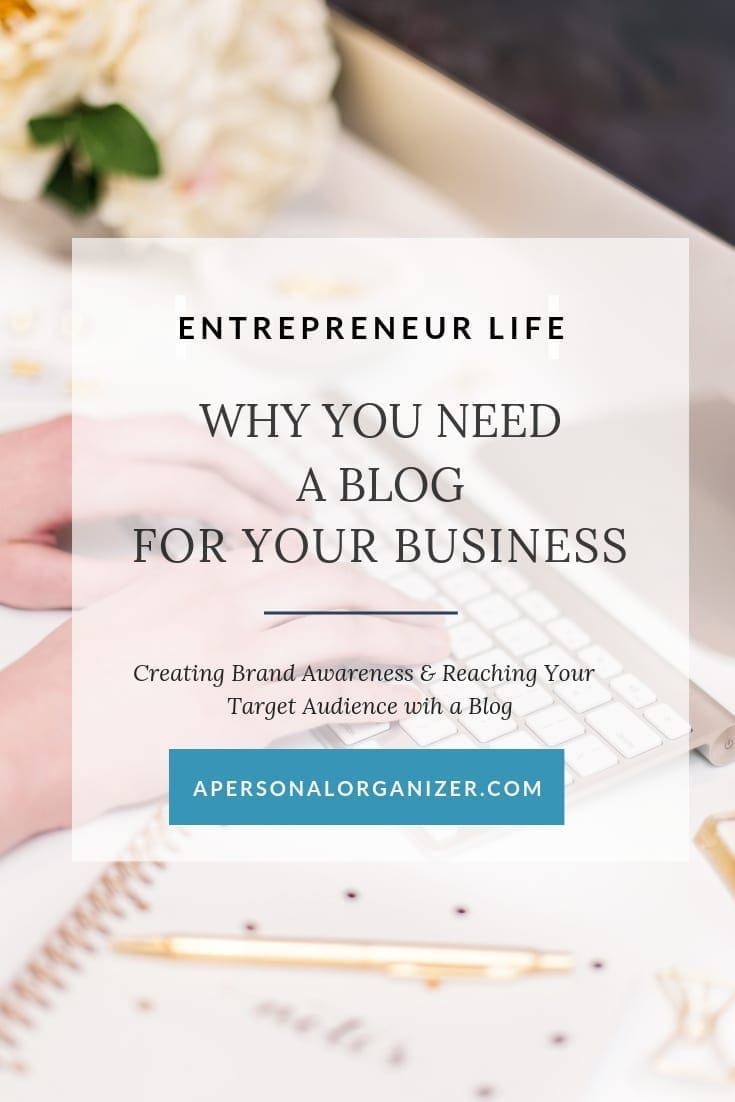 Wondering why you need a blog for your business?
Last week I shared with you some great tips on how to start a blog for your business in as little as one day. Today we will talk about why you need a blog for your business.
I know, I know… you hear that often but you're still not convinced and after all, starting a blog can seem like a daunting task and something that will take a lot of your -already scarce- time!
But believe me, of all steps you will take to grow and advance your business, starting a blog might be one of the most important things you can do.
I can tell you from personal experience that starting this blog way back in 2011-2012 was one of the best things I could have done for my organizing business.
It has opened so many doors; it brought me organizing clients every time the Navy moved us, it created so many professional connections! And on times when social media channels algorithms change on a whim, the last thing you want is to depend on someone else's land to build your reputation and your empire -no matter how big or small!
But, I want to make the case to you of why you need a blog for your business, so let me show you a few of the top reasons:
1. A Blog Sets Your Business Apart From The Crowd
A blog gives you great brand awareness online. The more people see your business; the more people will tend to contact you for services or products rather than a business which is less visible.
A blog lets you showcase your unique brand. In a sea of businesses in your field, a blog lets you make a mark and tell your audience how your business can fill their specific needs, solve their problems and answer their burning questions.
2. A Blog Creates an Online Presence For Your Business
Having a blog creates an ever so important presence for your business online. Everything moves so fast today; a blog helps you hold your ground and acts as a placeholder of sorts for your business when people are searching online for someone who provides the goods or services that your company does. Your blog posts are like a long term investment that keeps giving you high returns. For example, unlike a social media feed where all your posts disappear from your followers' feeds, your blog posts keep showing up on search results.
There will always be businesses that offer similar services or products to yours, but having a  blog gives you an immediate advantage over those businesses that do not have a blog when it comes to being recognized online and building a customer base.
3. A Blog Will Grow Your Business
A blog improves SEO and visibility of your business
 A blog for your business will get you new clients that you may have missed without the strong online presence a blog can give your business.
You need a blog for your business so you can connect with your exact audience, provide real solutions to your current clients, and share what you do with potential clients.
4. A Blog Will Make You An Authority In Your Field
  Your business blog lets you showcase all of the valuable things you know.
Through the process of sharing your knowledge on your business blog, you will become an authority in your field. You will become the person people want to go to for solutions.
  A blog gives you a clear platform to reach your customers with new and essential information that develops in your field
5. A Blog Creates New Opportunities
Selling online becomes a very viable way to make money once you have a blog for your business, helping you create multiple revenue sources for yourself.
Working with brands can add additional income to your business while simultaneously boosting your businesses visibility
A blog helps you to grows your email list, which is probably the most valuable ways to reach your customers. Social media is great, but you don't truly control the online visibility of your business, and the combination of a blog and an email list is one of the most powerful ways to stay in touch with your readers, build community and stay top of mind to your potential clients.
If you want to increase your brand awareness, grow your audience and customer base, and create an online presence that is loved and respected in your field, then you need a blog for your business. Ready to start your blog? Check out our post on how to start a blog in one day!