Packing For a Professional Conference
In about ten days, I'll be joining colleagues from around the world here in Illinois for the national convention of the National Association of Productivity and Organizing Professionals, and I know from experience that packing for a professional conference can be a challenge!
We all want to avoid a heavy suitcase, be comfortable to endure the long days and mile-long hallways, as well as go from breakfast to dinner while looking our best. Add to it an unpredictable and unforgiving weather like the one in the Chicago area, and you'll be confused on what to pack.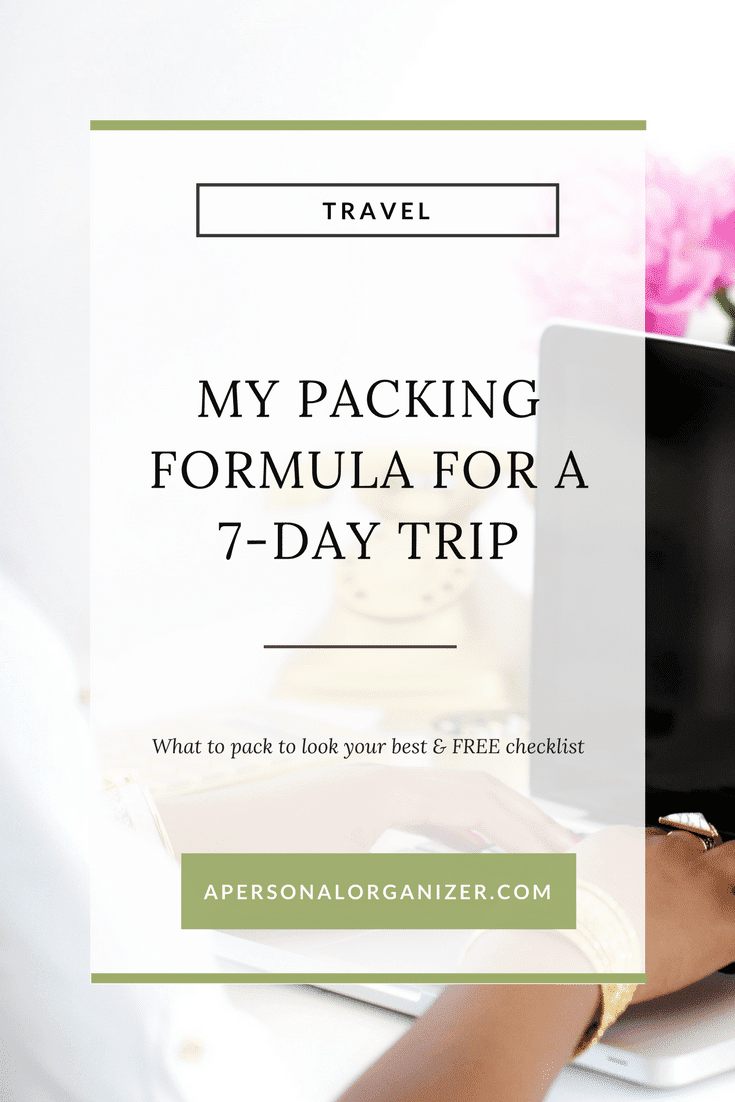 I have been packing professionally and personally for the last 30 years. I was a frequent flyer for work and since getting married and moving to the US, I have been packing the entire family for international trips and moves, so I learned to pack fast and light.
To look your best, stay warm and comfortable, here are my suggestions on what to bring to a professional conference in Chicago!
Winter Coat And All The Gear
I know it's spring but if you have plans of enjoying any time outdoors or visit the city I promise you will regret not bringing a winter coat and accessories to keep yourself warm and comfortable.

Pick a lightweight and versatile coat that can take you to a tour of the city without being a drag all day.
Add a beanie and a good pair of gloves and you'll be all set!
Staying Warm And Comfortable Everywhere
For a seven day trip, I like to pack 3 pants and I try to pair every pant with two or three tops, giving me a total of 9 tops max. This allows me to "rest" the pants after a day of use and also create a new outfit for a dinner, after a long day, for example.
I rarely bring dresses to a conference, except if it is summer or a special event. I like the flexibility pants and skirts offer us to mix and match.
So, my 7-day packing formula is: 3 pants + 6-9 tops + 2 sets of jewelry + 2 shoes + scarf
Staying On Your Tippytoes
When it comes to shoes, I keep it very easy by packing 1 "heel" and 2 flats. I usually travel wearing a tennis shoe that I will also use if I want to go for a walk or exercise.
Decorate
I love jewelry and I make use of them to change an outfit from day to night. I usually pack 2 to 3 sets and I look for earrings that can be used with 2 different necklaces or bracelets. Mixing and matching these baubles is one of my favorite things!
Before packing, make sure you're not picking your heavier pieces as they will add to the total weight of your luggage.
Rest & Restore
Finally, don't forget to pack a kit that will keep you comfortable at night. Jammies, slippers and travel size toiletries will help you get comfy and sleep well through the night.
If you have trouble sleeping in hotels, pack your favorite essential oil and download a white noise app. Mine favorite calming oil is lavender and I apply it to my wrists before going to bed.
These striped jammies and gray Ugg slippers are my favorites. They are super soft and will pack well in a corner of your suitcase. I love them!
Pack And Haul It

I hope these ideas help you pack everything you need for your professional conference with confidence!
What are you bringing to #NAPO2018?
Click on the image to download your packing checklist!