The Many Hats You Will Wear As An Entrepreneur
This week we'll be looking at the many hats you'll wear as an entrepreneur.
When you start your pro organizing business you will be playing many roles. I believe knowing is half the battle when you are starting something new, so let's take a look at some of the most important roles you will be playing as a professional organizer who is running her own business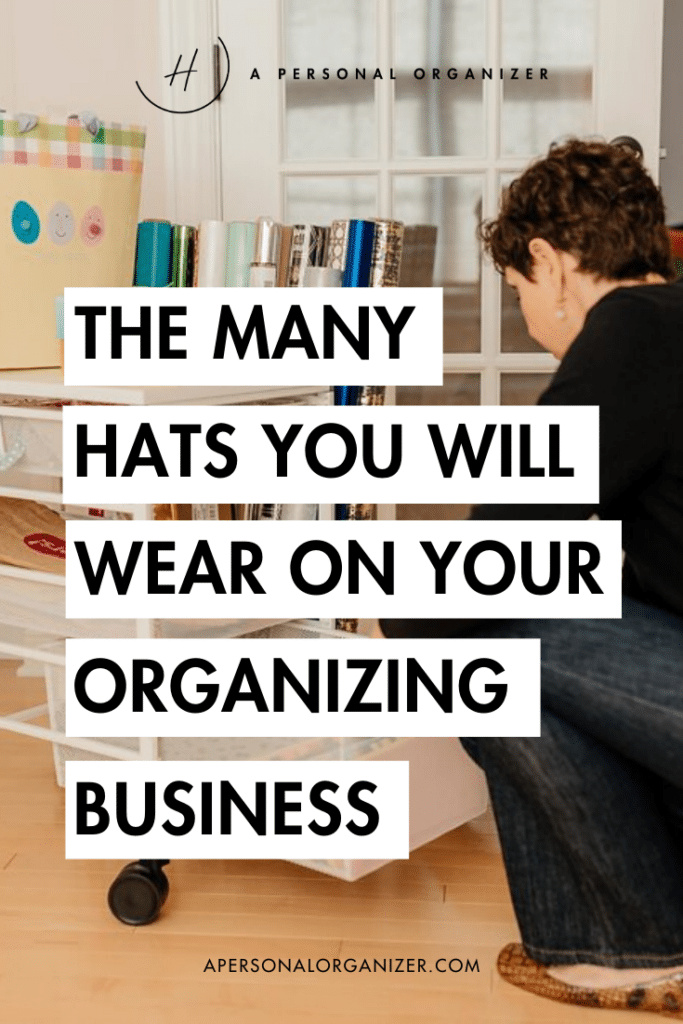 Visionary
Perhaps one of the most exciting parts of running your own business is thinking up all of the things you would like to do. Your role of visionary started at the very first time you thought of starting a professional organizing business and will continue all the way through your career. You will constantly have new ideas, be brainstorming, and turning your ideas into amazing products and services for your clients.
Decision Maker
Your role as the visionary is supported and enhanced by your role as a decision-maker. All of those ideas we just mentioned need to be sorted and managed- some to keep some to save for later, and some that may just look better on paper. You will also need to make decisions about every other part of your business, from finances to customer support.
Finances
You will have expenses and income to manage and report so you might as well do it right from the start. Also, you've heard the old saying "you have to spend money to make money" and it's true.
Along your journey to starting your own organizing business, you may consider spending money on buying a computer, outsourcing services, hiring sub-contractors, investing in your education, or buying products.
Finding a balance with business spending is key. You don't want to go overboard and spend all of the money you are making, but always remember that investing in yourself and your business is necessary if you want to grow.
Records Keeper
Good record keeping is an absolute must as a business owner. When you are getting started you may want to try a few different ways of keeping your business records.
Some people like to manage their records digitally, while others prefer a paper method. There are countless tools and methods for both. Your best bet when narrowing down your options is to keep it as simple as possible.
Whichever method you choose, find a system that works for you and aim to keep specific and detailed records right from the go.
You'll want records for tax purposes and to track your income and expenses. Having good records will save you time, money, and stress. I use Bench and you can check it here. (affiliate link)
Marketing & Sales
Once you start your business you'll need to sell your services. You'll want to develop a marketing strategy that speaks to your niche customer base.
Customer Service
Once you have customers, you will then take on a new role as customer service rep. Not always the easiest hat to wear! Customer service may not be every entrepreneur's favorite part of the job, but satisfied customers are crucial to any business.
Client Project Management
This is an essential skill for professional organizers. Knowing how to manage all the moving parts of each project so it runs smoothly and knowing how to manage your clients and their expectations is a huge part of your business.
As an entrepreneur, you will definitely be doing a little bit of everything, especially in the beginning. As you grow and expand your business you may want to consider hiring an assistant to help you with some of your day-to-day business tasks. But in the beginning, with good planning and scheduling, you'll do great! Plus, it's essential that you familiarize yourself with these areas so when you're outsourcing them, you know who to hire and don't waste time or money.
Resources
Are you as excited as I am for you? Because I see great things ahead and I know you will love this journey!
Let's get to work and I'll see you next week.