Christmas Decoration Tips for a Fun Season
Decorating for Christmas is one of the best things about the holidays and is a very special time here at home. We love watching our Christmas decoration come back to life as we open the storage boxes all over again.
The twinkling of lights, the sight of a perfectly trimmed tree and a perfectly placed wreath adorning your front door are all gentle reminders of the joyous Christmas season.
When decorating your home, you want the decor to reflect your own personal style while keeping the Christmas tradition always present.
A few tips can help make this holiday decorating season even brighter.
Christmas Decoration Tip #1: Lights out
With each year that passes, Christmas lights tend to burn out at some point. This year we have a full section of our tree that burnt out and we'll have to replace it. 🙁
Consider investing in a light tester, which will check each individual light and detect the one that needs replacing. These can be found with the Christmas supplies at most department stores.
Light Keeper Pro-The Complete Tool For Fixing Your Christmas Lights
Christmas Decoration Tip #2: Angels nearby
Whenever possible, decorate your tree with pictures of your children. I hang the wallet size photo of the boys every year and it's a great way to display their growth and our memories.
Christmas Decoration Tip #3: Be fruity
Use fruits in your decoration. Nothing smells like Christmas as much as an orange or a nice fruit combination.
Prepare a fruit-filled clear glass bowl as a centerpiece for your dining room table or go all the way and decorate your tree and garlands with studded oranges.
Christmas Decoration Tip #4: Add a personal touch
If you hang Christmas stockings, consider personalizing them with your name, your spouse's name and those of your children. These days, even pets have stockings, so don't forget to add Fido's name on a stocking.
You can easily personalize a traditional stocking using a glitter pen, preferably one that writes in silver or gold. A personalized stocking is a nice idea and a special added touch.
Christmas Decoration Tip #5: Play with new colors
Play with brand new colors! If you love Christmas decorating then you'll have loads of fun exploring brand new color palettes with whites, blues, purples and even pink and green.
Christmas Decoration Tip #6: Working with wreaths
Place a beautiful green wreath on the front door of your home. Make sure to add a gorgeous red bow for a brightening touch!
Artificial wreaths will last year after year, but real wreaths do have a wonderful scent and I love that gorgeous wintery scent at my front door.
If you want to add wreaths to the windows in your home, consider purchasing a magnetic wreath hanger. This type of hanger comes in two parts – one goes on the inside of your home and the piece with the hook will go on the outside. The magnets are so strong that they can work through doors and windows, which is ideal for hanging wreaths on the outside of your home without the fuss of a traditional metal or plastic wreath hanger, which drapes across the top of your door.
Christmas Decoration Tip #7: A perfect fit
When choosing a Christmas tree, make sure to measure the preferred location from side to side and from floor to roof. You need to make sure that perfect tree fits when you bring it home.
Artificial trees are easy to care, but a real tree requires plenty of water and you should add the height of the container to your tree, and still have plenty of room for your tree-topper.
Christmas Decoration Tip #8: It's all about tradition
It's nice to start a family tradition by decorating your tree on a certain day each year.
Here at home, we decorate it on the last day of November, maybe for your family, it will work well the day after Thanksgiving dinner when the whole family can spend the day dressing home for Santa.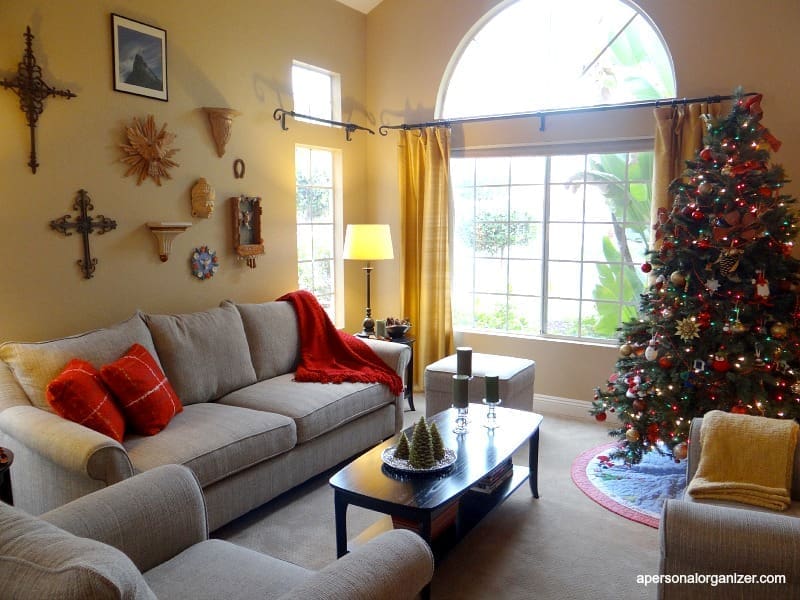 Christmas Decoration Tip #9: Say Cheese
Always remember to keep your camera charged. Now that you have the perfect Christmas decorations, don't forget to capture them and register for the future.
Here is the photo we took for our family and friends the day after Thanksgiving!