This post may contain affiliate links for your convenience. If you click on the link and purchase the item, A Personal Organizer, LLC. may receive a small commission at no extra cost to you. 
Use these must-have business tools to save money on your small business
Having the business tools, you need to make your daily activities run more smoothly saves you time and money. And when you are an entrepreneur and running your small business solo, anything that can lighten your task load is a welcome addition.
Here are my top picks for must-have money-saving business tools and habits for your organizing business.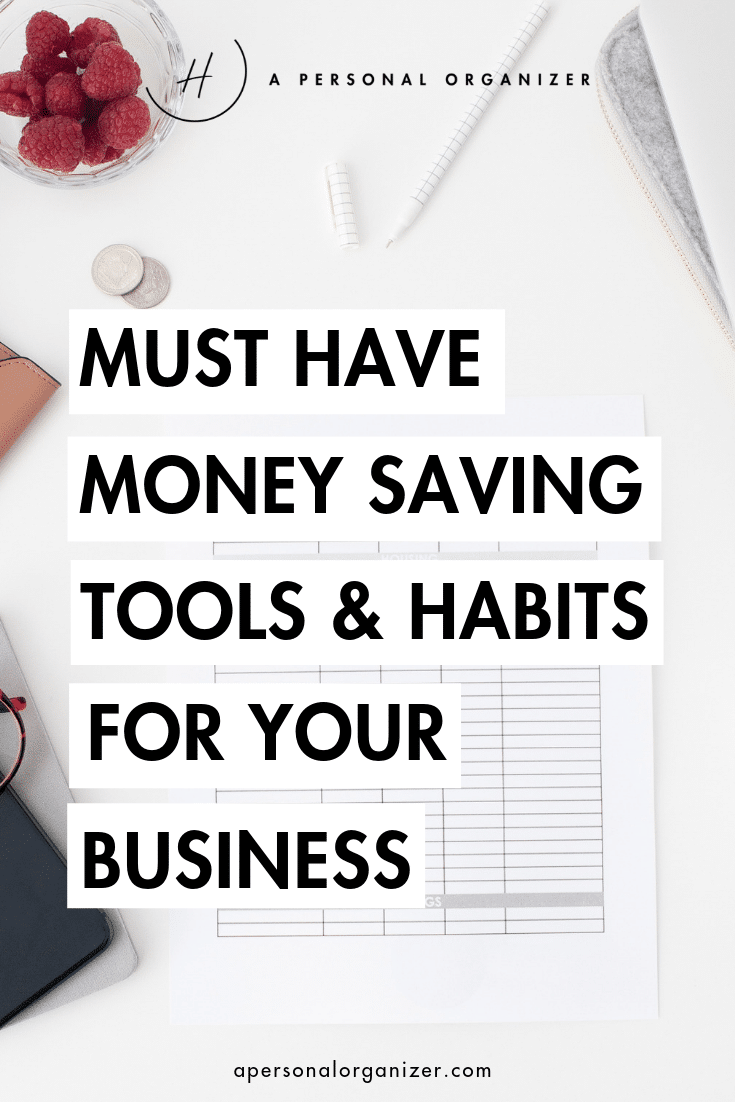 1. Must-Have Tool For Budgeting
When you started your business, you most likely made a budget that covered the expenses that you would need to grow and sustain your business.
It's a good idea to check in on your budget quarterly and see where your money is going in comparison to where you have plugged it into your budget.
Where you spend your money over time will change. Keeping track of these shifts will keep your budget on track.
2. Must-Have Bookkeeping Tools
Great bookkeeping software is an absolute lifesaver and must-have tool for anyone who owns a small business.
There are a lot of software programs and apps out there to choose from; we love Bench as it is primarily geared toward small business needs.
Keeping track of your finances will save you money in your business because you can see what you are spending on what. Of course, it will also save you time and stress when it comes time to do your taxes!
3. Must-Have Habit: Check-in on your monthly subscriptions
You will be surprised how your monthly business subscriptions can creep up on you. An app here, a trial you never canceled there. The next thing you know, you are dropping $100 a month on tools you don't even use or know you have!
Make it a habit to check in on all of your active subscriptions a few times a year.
Are there apps that can do double duty instead of paying for two separate programs? For example, Tailwind allows you to schedule multiple social media channels, including Pinterest, so you don't need to use different tools.
Consider what still serves you, keep your essentials, and cancel the rest.
4. Must-Have Habit: Think Beyond Cash
You may find yourself short on cash at some point in your business, especially when you are first starting or going through a growth phase or transition.
Don't let this stop you from getting the things you need for your business.
You may want to consider bartering your services or goods in trade for what you need. You will be surprised how many businesses will be happy to trade services or goods with you.
5. Review Business Expenses
Small businesses have all kinds of expenses, which often go unaccounted for. Make it a habit to keep track of all of the things you spend money on for your business as you go along.
Then, choose a few times a year to check-in and realign your budget. Downloading an app to your phone connected to your bookkeeping software is a great way to make a quick note of on-the-go expenses.
Bonus Tip:
Even though most of your business info may be electronic, you will still have paperwork you need to keep organized.
Tax documents, contracts, client info, order forms, inventories, all of these things need to be sorted and organized so you can easily access them when needed.
Time is money, don't waste it digging around endlessly for missing paperwork.
The container store has excellent office storage options so you can keep your home office running smoothly.
Conclusion
Saving money in your small business is essentially like paying yourself more money, and who doesn't want that?
By taking the time to set up these tools and systems in your business that will help you keep track of spending, you are investing valuable time in the success, sustainability, and growth of your business.