6 Cords Organizing Tools and Hacks
Do you feel that no matter how beautiful and organized your space is organizing the cords is an impossible mission? Then this post is for you!
So you have a beautiful workspace. You've got your papers and files neatly organized, your office accessories in order and have enough storage space for all work-related items. You've even organized all your work in digital workspaces in order to prevent or reduce clutter on your desk.
We all have gadgets that make our work and personal lives easier, but they come with a clutter creator – cords!
They get tangled up with other cords, take up space or just get crammed all together in drawers. Sometimes, we don't even know which cord or cable wire goes where! (confess you also have a box filled with them! 🙂
I've had my share of cord nightmares – from chargers to headphones to power cords and more. If you have kids who have their own gadgets, dealing with all those electronic cords can get downright unruly.
Organizing the cords can be tricky, but thankfully, there are great tools we can use to organize them and bring order to the chaos.
I've put together a list to help you tackle your cord situation with these awesome cord organization products!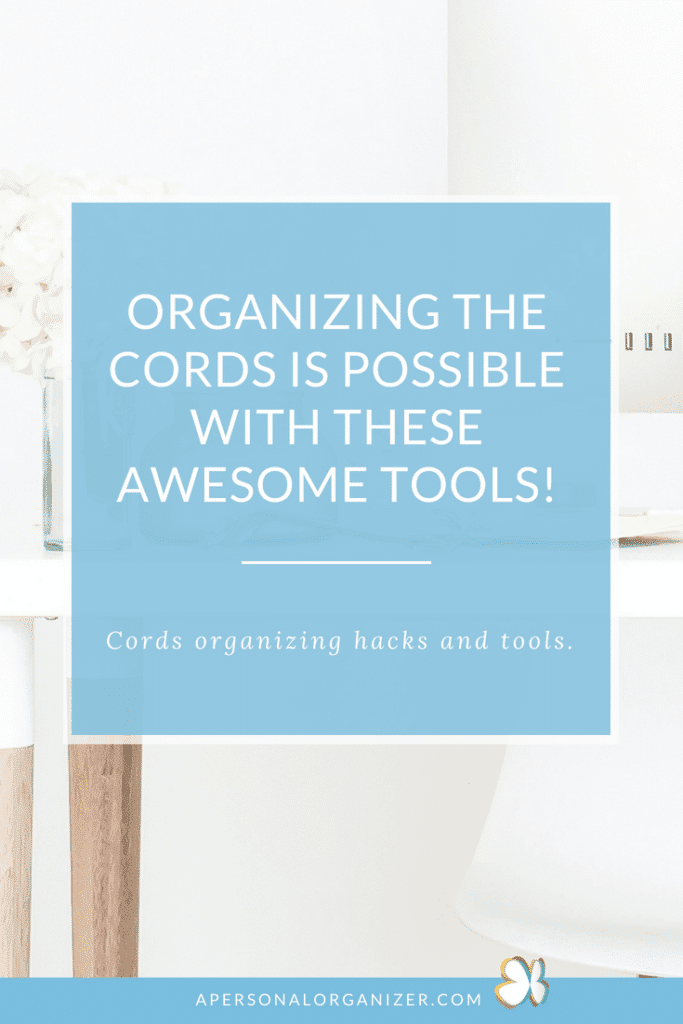 Note: There are affiliate links below and I'll receive a commission at no cost to you if you act on them or decide to purchase.
Cord Organizing Solutions
1. The Desk Cable Clip
It's common for us to have our laptops, tablets, and phones on our desks – sometimes plugged in and charging all at the same time! The cords can create a mess, but here's one genius tool that can solve this problem – the desk cable clip.
To keep cords organized, all you need to do is to attach it to the edge of your desk or table. It's small and flexible – it can hold three cords securely, keeping them in place even when you unplug and go!
2. Colored Cable Ties
If you're the type of person who fumbles with the cords and gets confused most of the time, (I mean, they're almost always all white or all black. How can you tell which is which?), fret not! Colored cable ties allow you to easily identify all your cords and cables. Whether the cord is yours or of a family member, you can make your lives much easier with colored cable ties!
3. Cable Zipper
If you cannot stand the sight of disorganized cable wires, I'm pretty sure you will love the Cable Zipper. When it comes to containing cords and cables, this is definitely a lifesaver! All you have to do is to "lock those bothersome cables into the Zip Clip then "zip" them into the Cable Zipper"! The best part is, you can mount this to the wall or under your desk to keep it out of sight. No more wires!
4. Protective Sleeve Charging Cable
If you have teenagers like me, you know they love being on their phones while lounging in bed. But that can mean the iPhone cord is being bent and it will eventually be broken beyond repair. Before you have to fork another $20 for a new cable, here is a solution – an Anti-Breaking Protective Sleeve Charging Cable!
5. Cable Box
Who hasn't charged several gadgets at the same time and fumbled with the cords at some point? Untidy power strips and excess cords can make any desk look disorganized, so keep them neat and tidy with a cable box. This genius box enables you to slip the cords and cables neatly through openings in the box, separating the wires, and therefore preventing entanglements!
6. Floor Cable Protector
Finally, it's not just the cords of our phones' or tablets' chargers that can create a mess. You may have a well-organized desk, but when you look under the table, cable wires can be in disarray! Get your cables under control under your desk with a floor cable protector. This simple solution allows you to keep cable wires safe AND in order.
What I love about all these cool tools is that they're simple, sleek and handy. More importantly, tidying up with a little cord organization will make it easier to sit down and work efficiently. Surely, it will be such a relief once you've organized your cords!