Being a professional organizer, I do what I love most: organizing homes and offices of busy moms trying to balance work and life. But, I also have to learn and juggle a myriad of tools, systems, and skills that help me make my professional organizing business successful and profitable.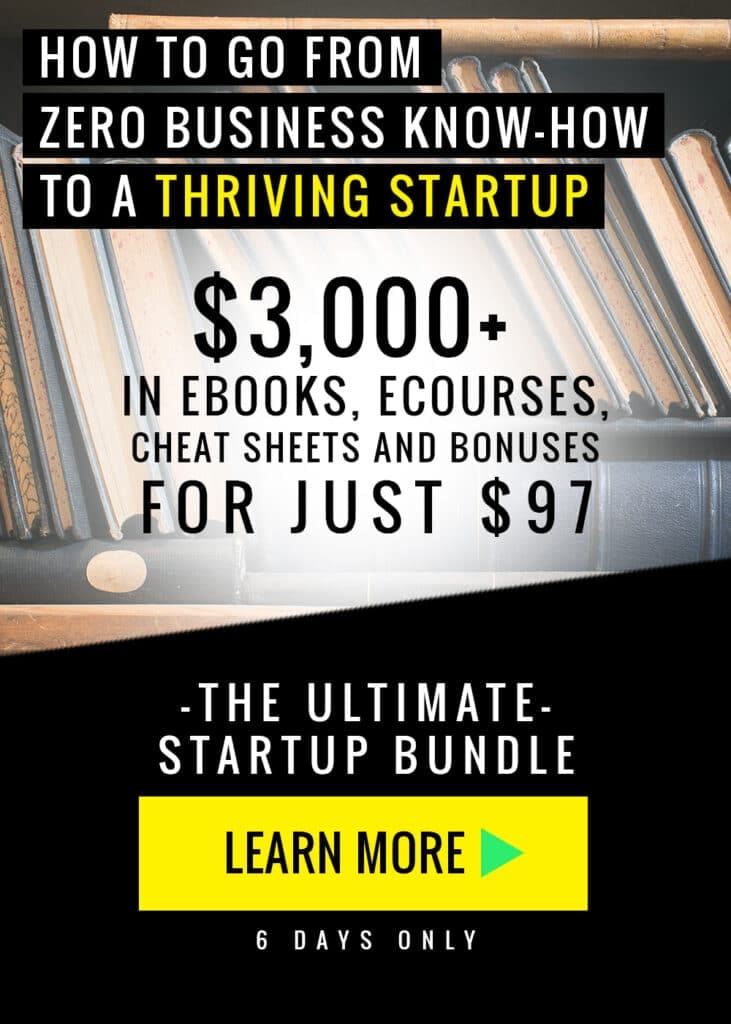 That's why I get so excited when I come across quality materials and training programs that will help me shorten the learning curve and take me straight to the finish line. However, as you know, these classes and programs can become really costly, even more so when you're just starting out.
So imagine my excitement when I saw the Ultimate Startup Business Bundle with a list of amazing resources, classes and courses, all bundled up and ready for you at an unbelievable price of $97.00!
This Ultimate Bundle is made of 58 eBooks, 12 eCourses, and 5 bonuses.
Check here all the resources you'll receive when purchasing the Ultimate Startup Business Bundle, a complete library of business and startup resources on all the topics you need to round out your business and avoid crucial mistakes along the way.
It contains 58 eBooks and 12 eCourses, all created by experienced business owners who've been there, done that, and really know their stuff.
These hand-picked resources are designed to address each part of your startup journey with all the right tactics, tools, strategies and business help to guide you on the road to success.
Including resources like Hooked (Nir Eyal), The Growth Hacker's Guide to the Galaxy (Jeff Goldenberg and Mark Hayes), The Lean Brand (Jeremiah Gardner), Born to Win (Zig Ziglar), and Booked (Josh Turner), it covers everything you need to know about:
Getting Started
Lead Generation
Mindset
Marketing
Getting Sales
Copywriting
Product Creation Finance
Productivity
Scaling
With a product value of over $3,300, it's the full meal deal and was carefully curated to give entrepreneurs like you an edge as you build your business.
In fact, it's the sort of thing I only wish had been around when I launched my professional organizing business.
At just $97 for the entire bundle, it's a far cry less than you'll pay for many monthly membership sites (often $50-$100 per month), online business courses (typically $999-$5,000), and let's not even talk about the tens or hundreds of thousands you can spend on a traditional business degree.
With content from over 60 top authors, it's a robust library of business resources that covers the A to Z of creating, marketing and scaling a successful startup.
But you've got to act now because the Ultimate Startup Bundle is only around for a few days, and then the team that created it loses their license to make this incredible library available.
Many of the authors and publishers have taken a big risk to make this happen for you, and in return, they've agreed to keep it to just 6 days.
As an added bonus, along with the products in the bundle, you'll receive free access to premium online software services to support your business, like ConvertKit, ClickFunnels, SamCart, and Thinkific, worth over $900, which makes the small investment of $97 even more of a no-brainer.
Don't just survive the startup journey. Get the roadmap and guidance you need to make your business thrive. Click here to learn more Ultimate Startup Bundle or get your Ultimate Startup Business Bundle.