What Can You Freeze?
If lots of cooking and baking are on your horizon what about simplifying and freezing what you can ahead of time?
I'm a big fan of batching and freezing on a weekly basis to always have something yummy for dinner!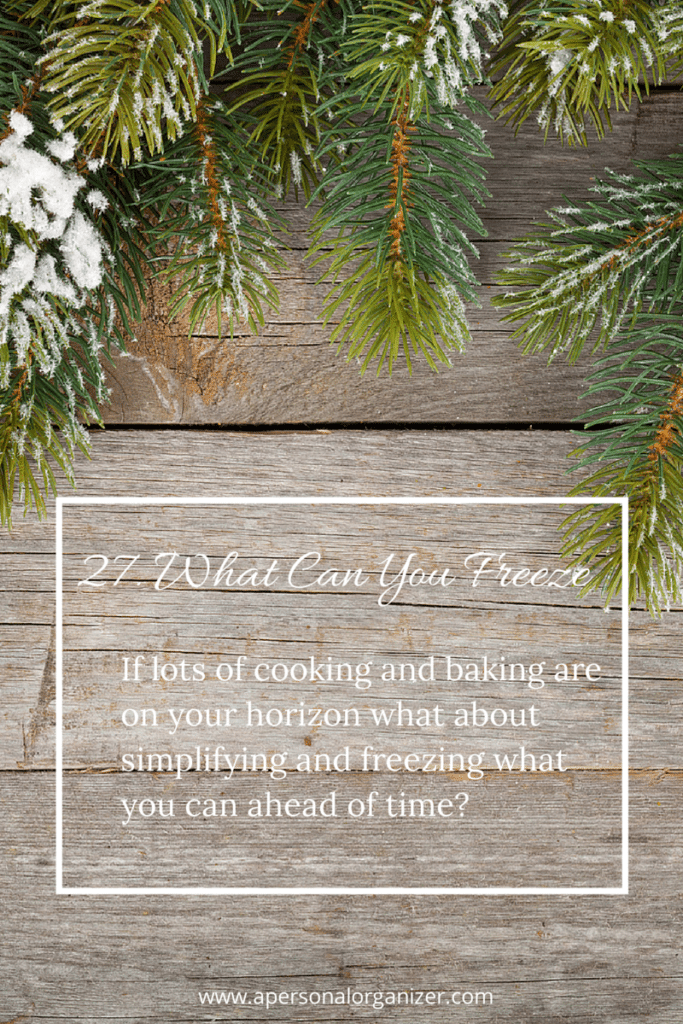 There a list of foods you can cook and freeze ahead of time. Check below my favorite cooking book (ever!) to see what freezes well or not.
Take a look at your holiday meal plan and make a list of the items you can make ahead of time.
You may be able to cook and freeze some recipes or ingredients weeks before the big holiday meal.
Clean Out Your Freezer
Make room for all the items you'll be cooking and freezing ahead of time.
Decide Which Items You'll Be Freezing
Pie dough, bread, and homemade chicken stock are easily made ahead of time, frozen and defrosted just before the holidays.
Turn Your Attention To The Fridge
Once the freezer has been organized, clean out your refrigerator. If necessary, adjust shelves to make room for large items like the turkey.
Make a Cook-ahead Schedule
Decide when you'll be cooking specific items from your holiday menu. Pies and other desserts, as well as side dishes like mashed potatoes, can be made ahead of time and stored in airtight containers in the refrigerator.
Do as much as you can ahead of time to avoid stress during the big day. The less time you spend in your kitchen, the more time you can spend with your loved ones.
Thanksgiving dishes – From appetizers to cheesecakes, there's something you can make ahead in this list of recipes.
Check here a collection of things you can cook and freeze ahead of time and my favorite cooking book (ever!) Williams-Sonoma The Weeknight Cook: Fresh & Simple Recipes for Good Food Everyday
Kitchen & Pantry Organizing Products
SimpleHuman Wide Pullout Drawers

These are my favorite pull out drawers! They have great quality and come with a divider, helping you group like items together. They also have a flat surface, easy to clean and that won't allow items to fall through.

SimpleHuman Pullout Drawers

Maximize all the space in your pantry by using this narrow pullout drawer. Turn narrow, deep shelves into easy to use drawers.

Bakeware Organizer

Avoid hard to reach and tumbling baking sheets on your cabinets. With this organizer you can neatly file your baking pans.
Shelf Risers

A must have in cabinets! Increase your vertical storage and make better use of the space under the sink with this versatile gadget.

Gravity Can Feeder

Stock all your cans in this handy organizing tool and have all stored in one place.

Handled Baskets

I love these handled baskets for high shelves! I have them in almost every pantry I organized.
| | | |
| --- | --- | --- |
| Tiered Shelf | Cutlery Organizer | Utensils Organizer |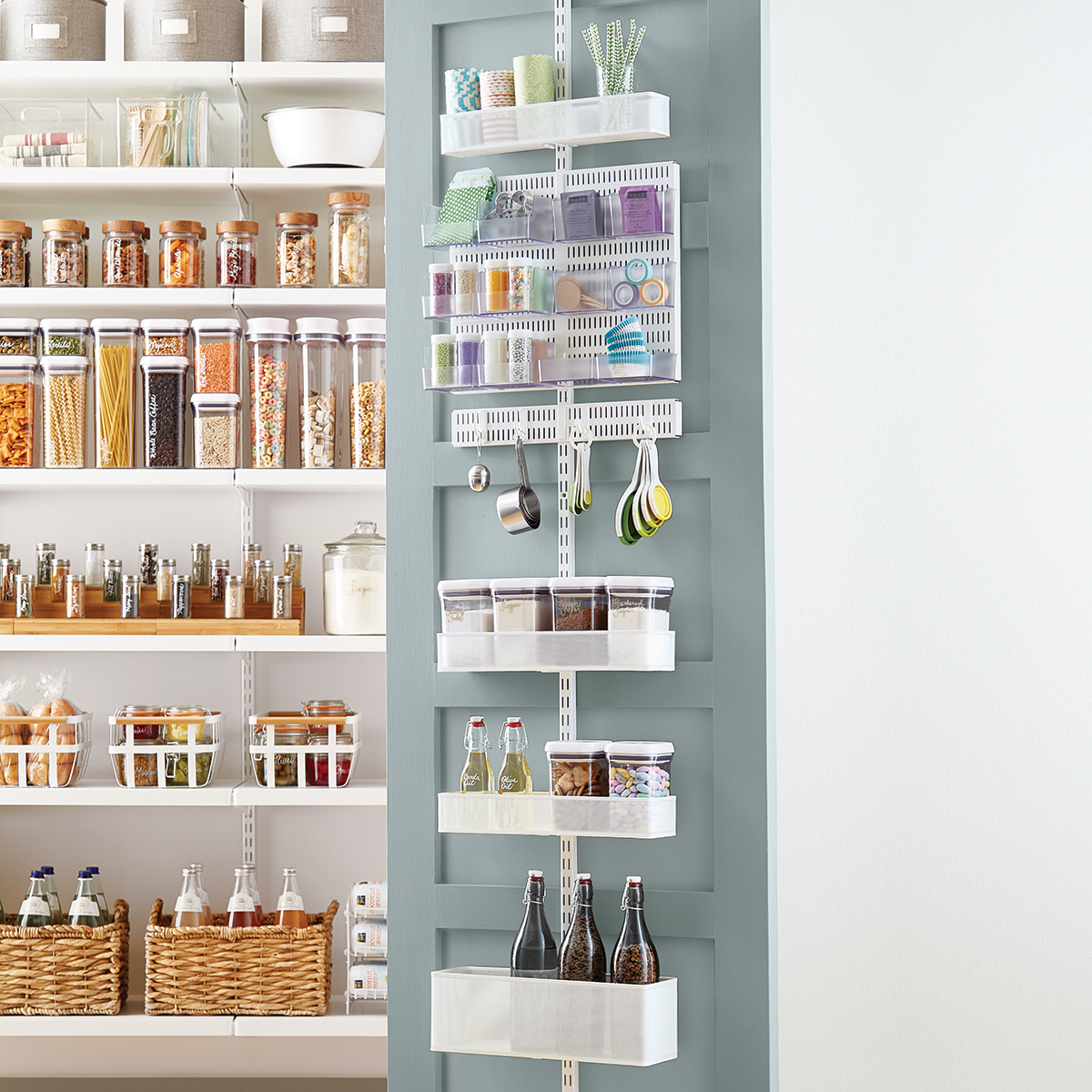 Elfa System Door RackI
love this system! It creates storage in unused areas and with baskets in several widths and depths you'll be able to store from cans and bottles to canisters here.
Elfa Mesh Drawers Narrow (Deep or Shallow)
Great to store the "multiples", like Tupperware and lids, baby bottles, sippy-cups, portable cups and disposable dishes and silverware.
Elfa Mesh Drawers Narrow Deep
In several widths and depths these drawers are a great addition. Make sure to measure your cabinet to buy the size that maximizes your space.
Turntables

In several sizes, some large enough to hold heavy items, like beverage, in awkward corners in lower shelves and cabinets, turntables are very versatile and bring function to daily life. (10″ to 19″)

Stacking Canisters

These beauties come in several stacking sizes and in Blue, Green and Red. See through containers make you a better manager of your pantry!

Teabag Container

From the pantry to the table this box is a favorite of mine (and neighbors!). In clear material, you can always see how low you are on your favorite tea.
Grocery Bag Container

Keep this handy organizing tool under the sink and store your grocery/plastic bags here.

Large Recycling Bin

Create a recycling station in your garage or kitchen with these super sturdy bins. Green, White or Gray. Small and Large sizes available.

Small Recycling Bin

Create a recycling station in your garage or kitchen with these super sturdy bins. Green, White or Gray
Enjoy all the tips on the 31 Days of Holiday Organizing Tips Series below!