An entrepreneur's guide to creating a social media strategy for small business
Social media is a vital part of your small business. As an entrepreneur you are using it to sell to your customers, connect with your audience, and grow your brand awareness. Have you been trying to use social media to achieve your business goals but seem to keep missing the mark on sales, engagement, and growth? A well-planned social media strategy may be what's missing. Read on for our best tips on how to create a social media strategy that works for your small business.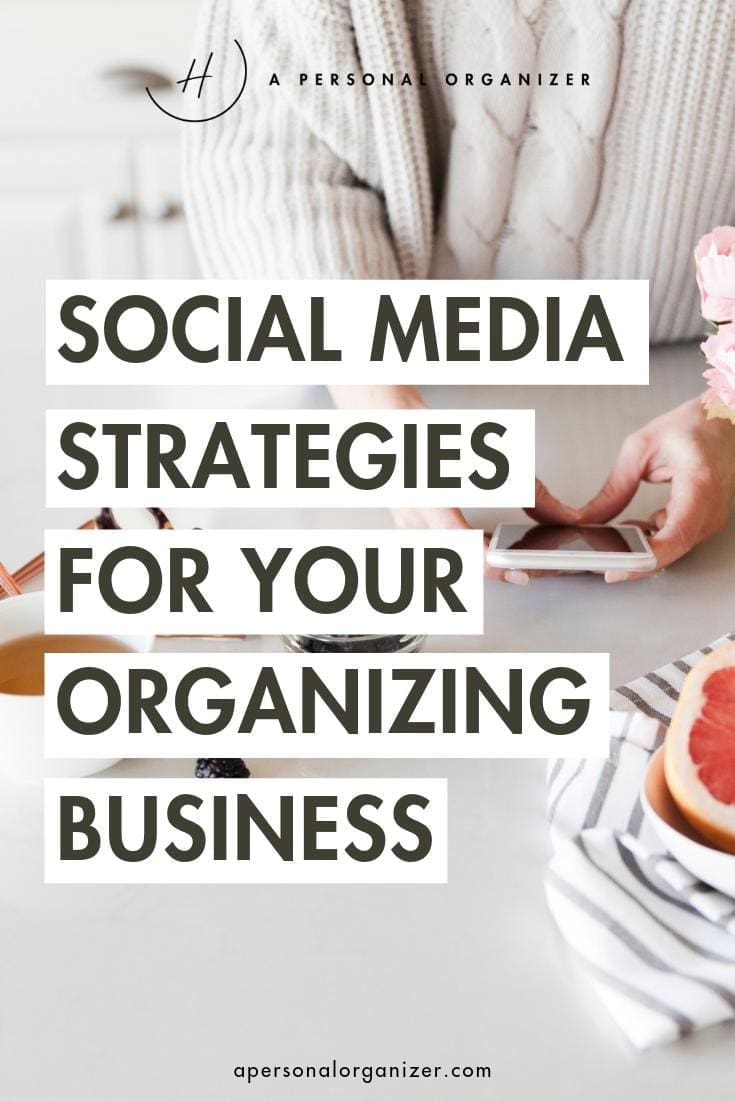 The best way to implement a social media strategy as an entrepreneur running an organizing business
Social media strategies are dependent on many different factors, and one of the big components is the size and scale of your pro organizing business. An effective social media strategy will look very different for a business that is sharing to an audience of a few hundred or thousand to one that is sharing to an audience of 100 thousand, or 2 million. Use these tips as a guide to create and implement an effective social media strategy.
1. Identify your target audience
The best way to identify your target audience is to create a client avatar. To do this you will basically be creating a character profile who has all of the characteristics of your ideal client.
Ask yourself these questions when creating your avatar:
How old is my client?
Where do they live?
What problems are they trying to solve?
How much are they willing to invest in solving these problems?
What questions do they have about what I do?
You will want to add descriptors to this list according to what your knowledge of your customer base has taught you. Continue to add and adjust your customer avatar as your business changes and grows.
2. Clarify your message
Once you know your ideal client you can now clarify what you are saying to them.
Whenever you make any moves in your business: sell a product, launch a course, create a blog challenge, or start a new social media campaign, remember to make decisions as if you are doing them for or talking directly to the client avatar you created.
This will give your business clarity and focus which is huge when it comes to creating new customers.
3. Clarify your visuals
When you begin to think about a social media strategy, it is smart to work within the guidelines of your established brand kit.
If you don't already have a brand kit to work with, consider creating one on an app like Canva where you can easily grab and save all the images, colors, templates, fonts, and messaging that makes up the visual message of your brand.
Staying consistent is key, so having a brand kit is crucial to keeping everything on-brand in your social media strategy.
4. Make a plan
Now that you have an idea of what you want to share and who you are sharing it with, you will need a strategic and consistent plan for putting your content out there into the land of social media. First, you will want to start by creating a content calendar. You can do this on paper or on an app, or in something like google drive. Whichever method you choose, set a clear goal for the month and then record what you plan to share. Plan to share content that will move you towards your business goal for that month. You will want to include any text, links, video, graphics, or images in your planning to use.
Next, you will want to schedule out your posts. Having your posts scheduled in advance makes social media easier and more efficient as a business growth tool. There are many tools you can use to schedule your social media. I like Tailwind for Pinterest and Planoly for Instagram.
5. Re-purpose content
Creating quality content is a very important part of any good social media strategy. Creating content yourself can be extremely time consuming and hiring it out can get expensive if you need large amounts of content. When deciding whether to create content yourself, hire someone, or a mix of both, remember to consider the time it takes you to create the content, how much you "make" an hour and how much you would need to pay someone.
You may find it is actually cheaper with that consideration to have a freelancer or an agency create content for you.
Because having good content to share is so important, its a very wise idea to always try to use each piece of content in as many ways as possible to get the most bang for your buck. If you take a long video, you can chop it up into smaller posts to be shared on different channels.
You can do one branding shoot and have images that you can use and over on multiple channels for different uses. Always try to create a good amount of evergreen content in your plan.
6. Don't forget to be social on social
Here's something we all as business owners seem to forget when we are using social media for our businesses- the social part of social media! Posting content is only the beginning. The real wins happen when you encourage people to engage with questions, challenges, personal stories-anything that makes people connect with you. To truly grow your brand and build trust with your audience, you need to be interactive with comments and encourage your followers to do the same.
Conclusion
Now you are ready to create and implement a social media strategy that will be truly effective for your small business. If you follow these steps, you will have a great foundation for reaching new customers and building that brand trust that turns followers into loyal customers. What social media strategies have you tried in the past that have worked for you? What are your major concerns when it comes to creating a social media strategy for your small business? I'd love to discuss in the comments!