This post may contain affiliate links for your convenience. If you click on the link and purchase the item, A Personal Organizer, LLC. may receive a small commission at no extra cost to you. 
Organizing Tips: A Shoe Rack for all Your Babes!
If you love shoes you'll never think you have too many of them, but we all know when we see it: piles of shoes on the floor, baskets in a corner with a messy jumble of shoes and of course, under the bed, on the hallway closet, you name it!
No worries, for every pair of shoes you have we will find a home and you'll see that there's a shoe rack to fit all your needs. And, we'll explore nice ways of organizing all your shoes so you can finally find their match.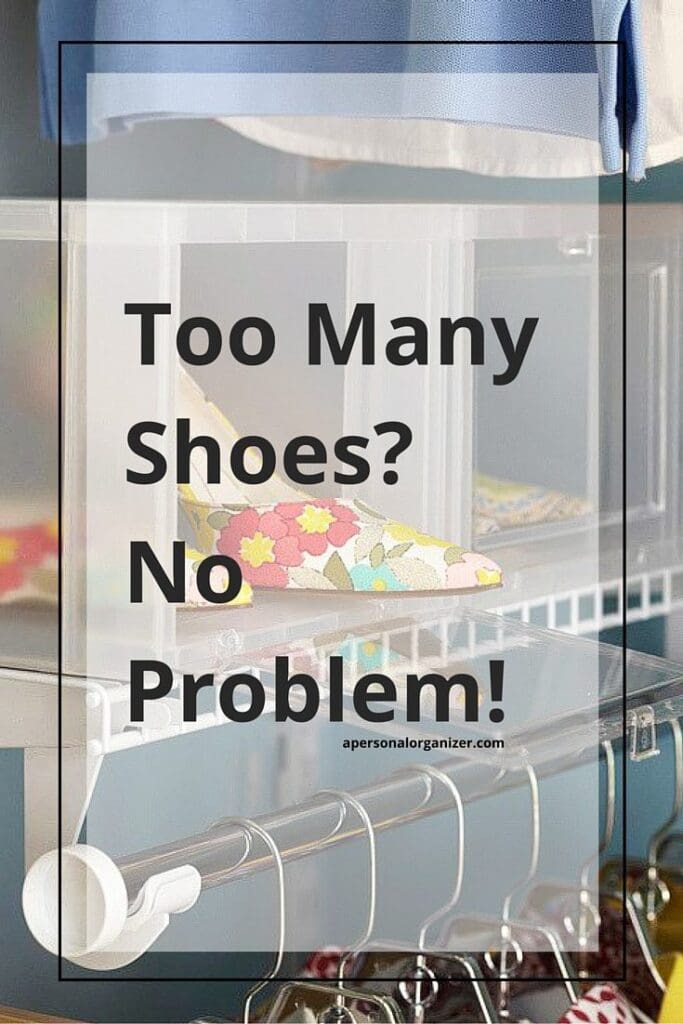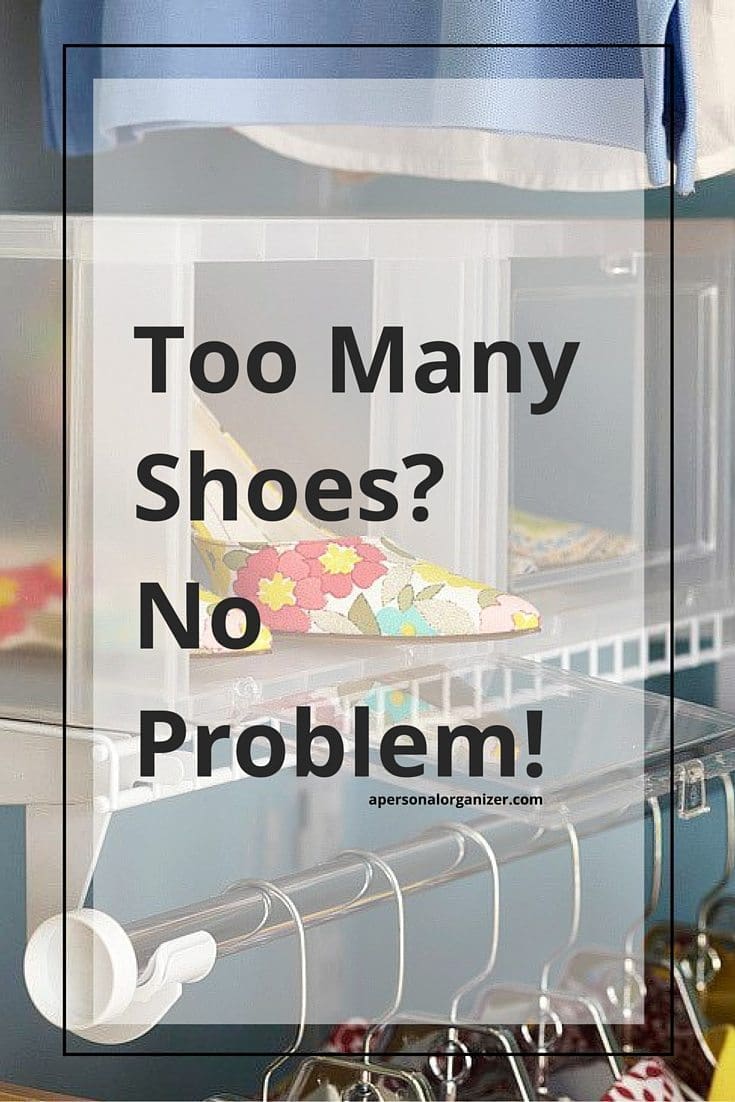 Let's start with the basics and work first on "curating" your shoe collection:
Shoe Organizing
Bring all your shoes to the center of the room and line them all up.
Start creating groups by type: sandals, flats, loafers, then move to low heels, again separating them by type like open toes, closed toes, etc.
When you have all your shoes lined up side by side, by type, start looking for damaged shoes, uncomfortable shoes, never worn shoes, and finally, "my mom gave me" shoes and "spring clean" them from your collection!
Take out of your collection anything that you know you won't wear; you have multiples of the same or are just looking too bad and will ruin any outfit.
Now that you have done some quality control let's organize your shoes by color following this sequence: red, orange, yellow, green, blue, indigo, and violet. Then group your white, black, brown, and grays together.
After you have curated and then sorted your shoes by type and color, it's time for us to address storage – and here we go!
Shoe Rack & Shoe Storage Options
For your best shoes, your best seat! Use high-quality storage boxes to hold your most expensive shoes and the least used ones.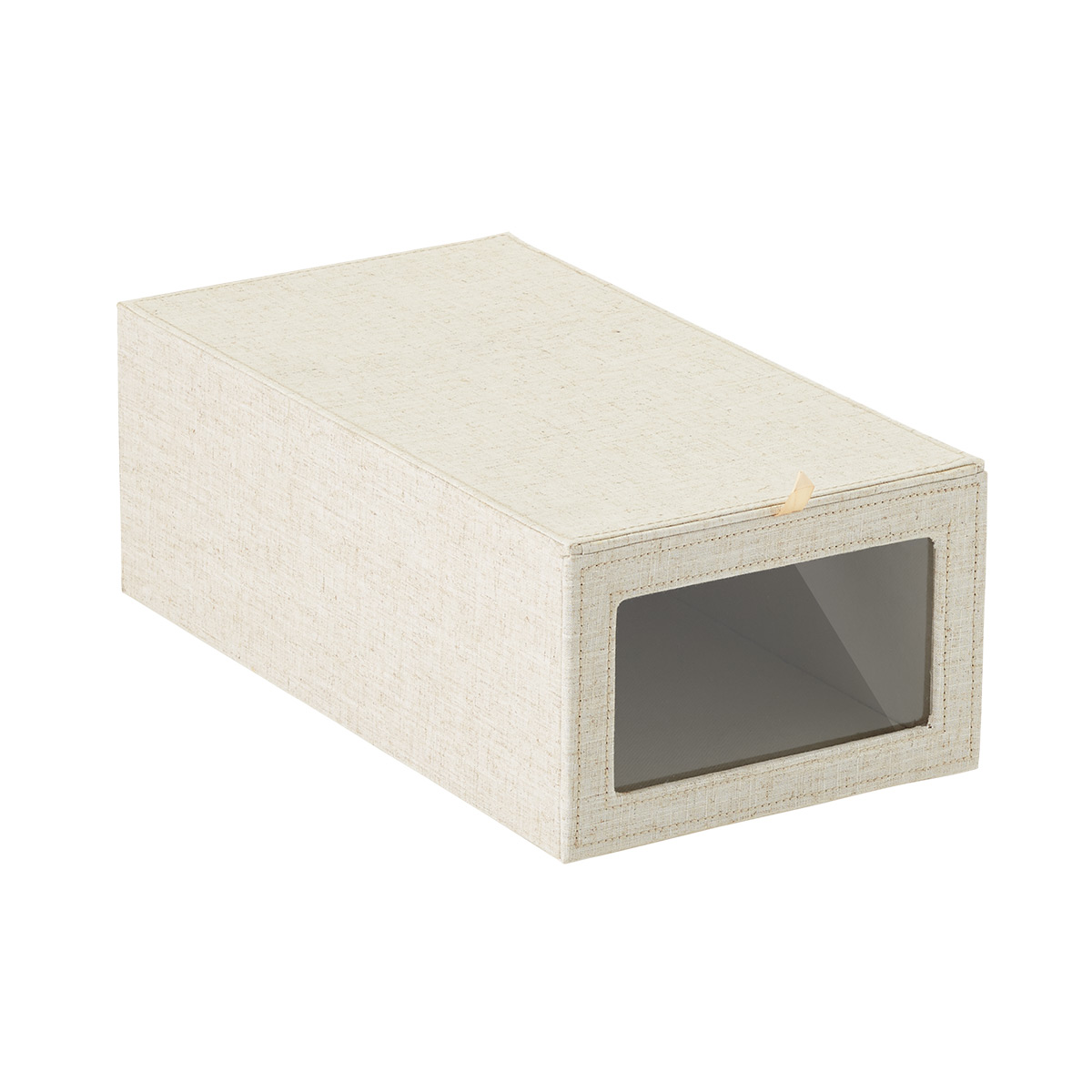 Taking a picture of the shoe, printing it, and labeling each box will allow you to easily retrieve them.
It is a great way to start your day, isn't it!?
For more frequently used shoes, you can use clear storage boxes like this one to make it easy to see what you have and to store it back after a long day of work – or a long night dancing!
If you have a reach-in closet, you can use a clear pocket shoe storage like this one. You can still use shelves to store your least-used shoes and out-of-season ones.
Another way of stretching your storage space is using under-the-bed storage.
While I do my best to help my clients NOT TO DO IT, I'll look for the best solutions available for their needs and requests. I really like this one that looks so finished, is easy to use, and also keeps the space under the bed clean.
A much easier to find and get in place to use right away is this beautiful -with wheels- under-the-bed shoe storage from Pottery Barn.
I absolutely love this shoe rack. It's stylish, and you can build and add on as you need.
A smaller version of the shoe rack shown above, this one could also be a great storage solution when organizing a narrow entry.
A great and sturdy addition to your storage options, this shoe rack organizer from The Container Store will hold over 30 pairs of shoes and also fits shoe boxes.
Looking for added storage and also extra seating in your bedroom or closet area? I love this ottoman.
I loved this idea, and while organizing a young Marketing professional's closet, I suggested she display her favorite darlings (read, shoes!) in this IKEA armoire. She loved it, and it looks great!
Another great shoe storage product from IKEA and super "narrow spaces" friendly is this chest of drawers. It fits tons of shoes, and it takes no space!
And finally, if you'd like to go all the way, here is a beautiful closet to get you inspired! This one I found on Pinterest, and Mariah Carrey is the lucky owner!
And there you have it. A simple step-by-step way of organizing your shoes and also examples of shoe rack & storage solutions that can fit your closet space and your home. Be creative, make it work for you and your budget, and remember, we can only wear so many shoes!
If you enjoyed this post, pin it, share it, and let's tackle that closet!