Fall in Love with Your Life Again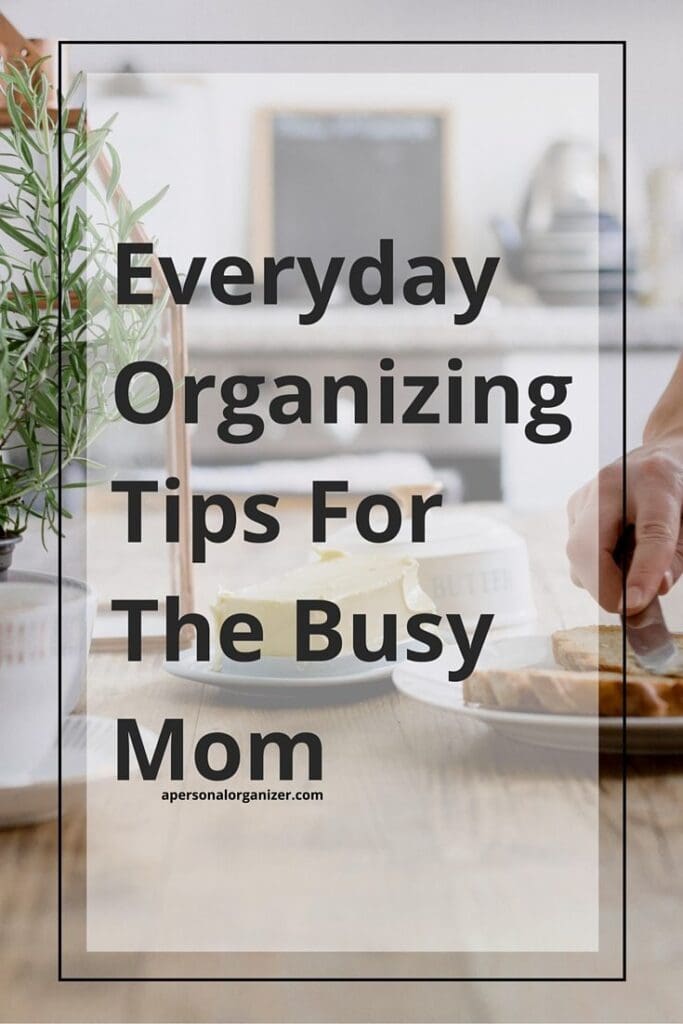 Are you a working mom or dad and your days start in utter stress trying to get everyone out of the house? While at work do you keep thinking of all that needs to get done when you get back home? The kids Valentines candy needs to be bought, the papers for school field trips need to be sent in, the laundry is like a monster, not to talk about the grocery shopping with all the kids on Saturday – or worse Sunday! Would some tested organizing ideas come in handy?
How would it feel to have more time back to yourself? How about having some structure in place and a feeling that everything is under control. Wouldn't that be nice?
I am not promising you won't have to run errands or cook anymore, but I guarantee that getting the next steps in place will help you with the main time-suckers of busy parent's lives:
morning and evening routines,
grocery shopping,
cleaning and
cooking.
Organizing Ideas for Families
1. Get the Full Picture
To regain control and never again be surprised by a "need XYZ for tomorrow morning" request make it a point to sit every Sunday and check everyone's calendar. I like to do this every 1s Sunday of the month, then every week. One hour here will get you a full week of sanity.
2. Conquer the Pantry
Shopping and cooking take a lot of our time. Make sure you know what you need by having a list. Here is how: 1. Write your favorite recipes on the left side of a page (see download below), on the right side enter the main ingredients. This will be the grocery list of the "basics" you need to cover your dinner for 2 weeks. Try to go for 21 recipes which will cover 1 month as we all have leftovers, pizza night etc.
3. One Stone, Two Birds
Save time by cooking in batches. Spaghetti sauce and other yummy, easy dishes freeze well and you will LOVE to open the freezer in the morning knowing dinner will be ready at night. My favorite book of all is the William Sonoma's Weeknight cooking binder that gives you all the batching recipes for weekly meals. If you cook at least half your recipes in batches, that means half of the month you don't have to cook! Wine anyone?!
4. Delivery Services
If it fits in your budget, consider delivery of fresh groceries, ($10/delivery usually) and of dry cleaning. For items like toilet paper, paper towel, diapers consider the Amazon Subscribe & Save
 program. Cross it off your list and gain about 2 hours a week!
5. Tame the Laundry
Schedule a minimum of 2 laundry days. This is what works for me, try to adjust to your schedule and test what WORKS for you!
I like Sat + Wed. I get the laundry in when I'm leaving to pick up the kids, then I dry during homework/dinner hours, get it out of the dryer and fold while watching the news in my bed. Hubby helps too. Then another one on Saturday first thing in the morning, to get it out of the way.
6. Cleaning the Nest
If you can afford, hire help. It's the biggest peace of mind and you'll have the energy to focus on family and work. If you can't, what I did for many years was to have a cleaning kit in every bathroom and one in the kitchen. I'd clean as we used. I'd spend more on wipes, but all worth it. The key is to CLEAN AS YOU USE, so it never becomes a mess.
I really hope these organizing ideas come in handy because I know the difference it will make in your daily life to have a schedule and support system in place. I want you to find pockets of time in your daily routine to enjoy your family, read a book and enjoy more of life!
I would love to hear from you. How to you organize your family? What are the biggest time suckers in your life? Leave your comments below.
Did you like this post? Share it and spread the joy of living a more organized life!
Organize your life with the Home Management Binder