Organize the Entryway – First impressions
Clean and decorate the front of your house, your front porch and immediate area by the entrance. A simple clean up and a fresh new doormat can make all the difference.
Even if you don't organize anywhere else in your home, organize the entryway! Make sure the front of your house, your front porch and the immediate area around the entrance are sparkly clean and decorated.
Check if you need to power wash anything if you have to change a light fixture (ours was 25 years old last time I checked!) and even just changing the doormat will bring some fresh color to the front door.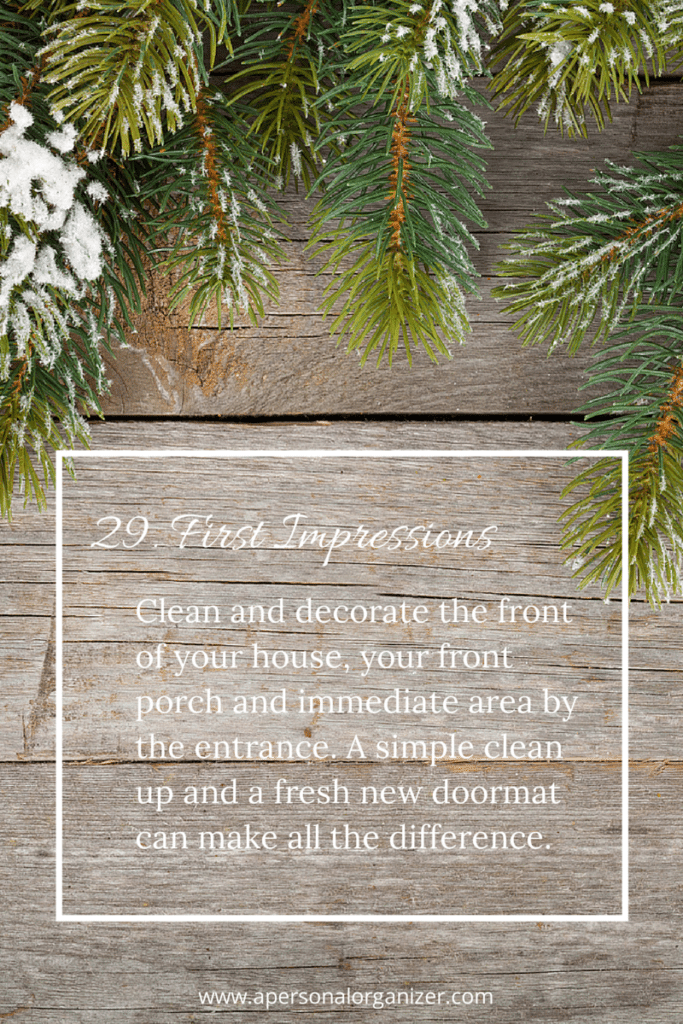 Curb appeal isn't just for individuals looking to sell their home. First impressions make a big difference for holiday parties as well. Ensure your guests get a beautiful curbside view of your house by decorating your home's exterior.
Clean the entrance. Wipe down your exterior door and clean the windows. Sweep your front porch to remove any debris like fallen leaves.
Choose a holiday doormat. Greet your guests with your favorite seasonal doormat.
Add holiday décor. For Thanksgiving, opt for a rustic, harvest theme with lots of fall colors. Later in the year, some simple pieces of garland and a few strands of holiday lights will brighten your home and make your entryway feel welcoming.
Decide on parking. If you aren't able to fit all of your guests' cars into your driveway, instruct guests on where they should park.
Make room for coats. If your entryway closet doesn't have enough room, designate another space in your home for guests' belongings.
Enjoy all the tips on the 31 Days of Holiday Organizing Tips Series below!