This post may contain affiliate links for your convenience. If you click on the link and purchase the item, A Personal Organizer, LLC. may receive a small commission at no extra cost to you. 
How A Facelift Transformed Our Dysfunctional Laundry Room Into An Awesome Mudroom/Laundry Room Combo
If you have been following the blog for some time, you know I have lived with a tight, walk-through laundry room in every home we lived in the last 16 years.
Our laundry rooms were either tight or they were outside of the house (think Southern California), without any type of structure or organizing system to support the activity it's meant to.
I'm sure you know what I am talking about as we all have seen them: laundry rooms that sit in tight corners, dark basements, cold garages, closets or in a passage between the kitchen and the garage.
It's hard to tackle the laundry when the space you're working in doesn't offer much comfort. Even more when it comes to doing the laundry which isn't my favorite chore around the house, to begin with.
So, when we moved to our new home, I was looking forward to having a laundry area that would be both functional, comfortable to work in and of course, pretty!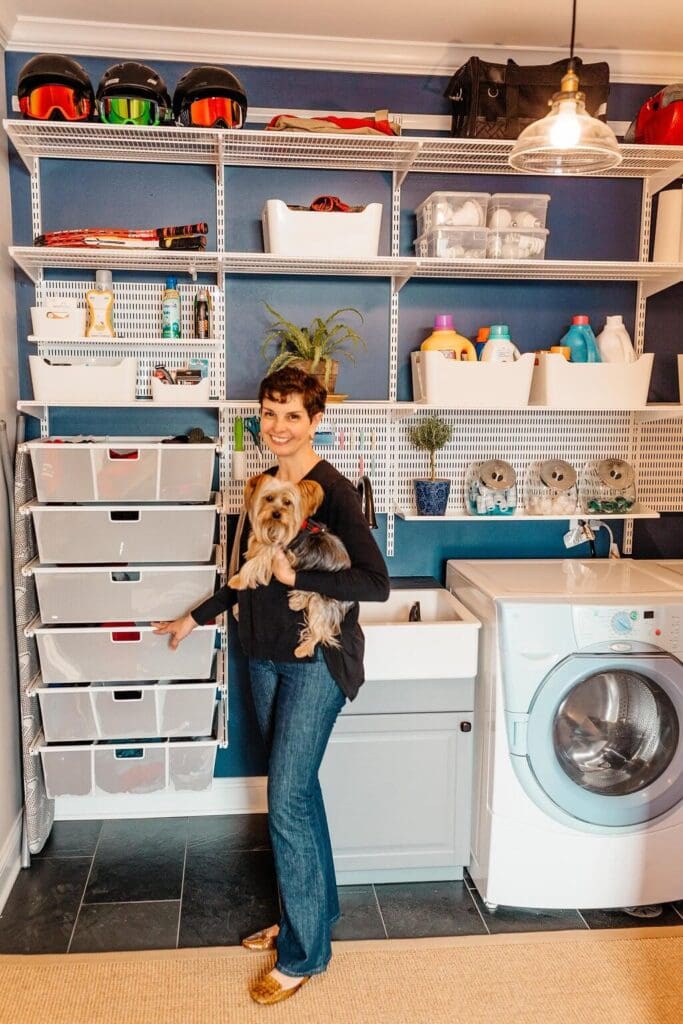 The laundry here at home has a good size, however, it also works as a passage to the garage – yes, I know, again! and it's also connected to the side of the house through a hallway forming an L-shape space.
We come through the garage from school, groceries, travels and like every family, we have our stuff and we need a place to store them.
We also use the side door daily when we go for walks, to take the trash out, to care for the yard etc.
In summary, this tight area gets A LOT of traffic and it has to hold A LOT of stuff.
And since we're no longer living in sunny San Diego and are now dealing with extreme winters in Illinois, we have muddy boots and wet jackets that need a place to dry which means we needed a mudroom.
After we painted the entire house, inside and out, we wanted to take a well-deserved break from anything house related for a while.
The holidays were coming up, winter was showing its face again and we wanted to enjoy the season in our new home. So it was only in March of this year that we took a full breath and decided to get some work in the laundry room done.
We knew we didn't want a full renovation, moving plumbing around, installing cabinetry or replacing the washer and dryer, so we asked our awesome contractor to work with us on a "facelift".
Just enough work to make the room new, shake off the bad layout and install organizing systems that would work for our family.
The Plan For The Laundry Room
Change flooring
Paint ceiling and walls
Move cabinets to garage
Add trim and baseboards
Change sink (big enough to wash Tuff)
Install hooks
Install a bench
Install storage
Add lighting
Change hardware
Creating Temporary Solutions In The Mudroom
As I said, the room has an L-shape, being one leg the mudroom and the other the entrance from the garage and laundry area.
In the mudroom space, there were large kitchen cabinets that were taking the entire area, leaving a narrow passage to the side door.
There weren't hooks or a space for coats, making our arrival in the house a mess, even more, when we had wet coats or jackets. And since there was no lighting on this side of the room, it always looked cold and drab no matter how much I cleaned or decluttered it.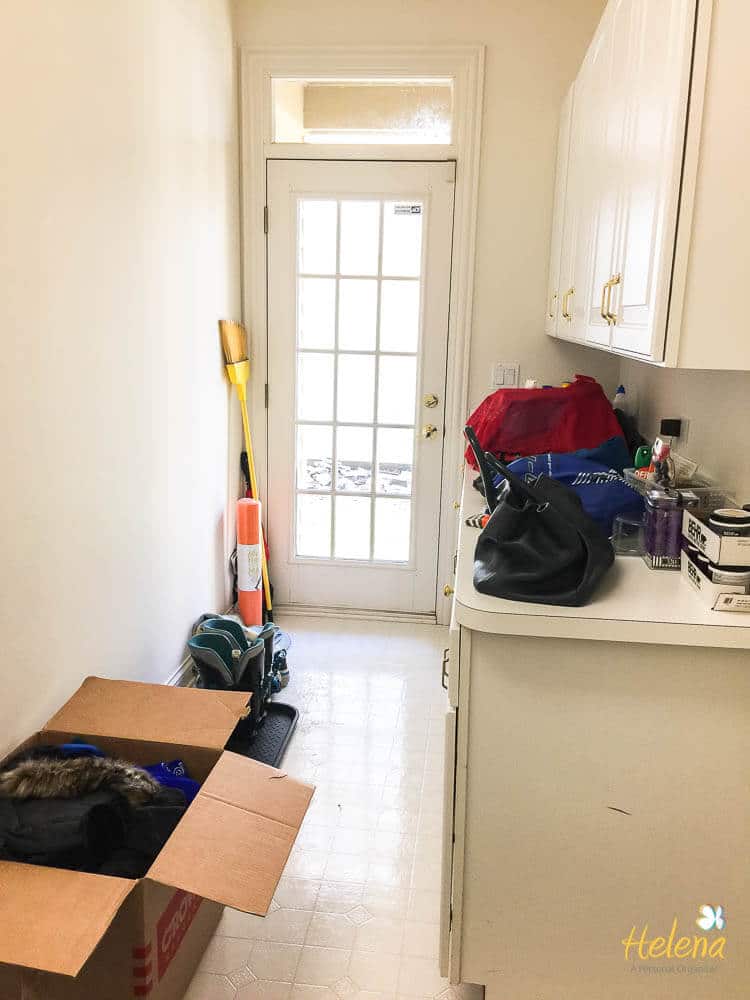 To create a temporary storage solution for the jackets all I did was to install Command hooks. It drove me nuts to look at it but it saved the day for several months.
I actually have a bag full of these hooks, in several sizes and they have been a life-saver over the years. In every new home, until we figure out the use of the space, they're a great organizing solution.
A Word On Cabinets As A Storage Solution
One would think that having all those cabinets would keep this space free of clutter but what I learned about cabinets, at least for my family, is that they make it harder to organize and keep things organized.
They require storage solutions (a.k.a. bins, boxes etc) that fit perfectly inside their space, that match their drawers and shelf sizes and it can become hard to find them, not to mention costly and time-consuming.
Having a counter-top also gives us a place to leave everything "for later" which many days results in the clutter you're seeing in this photo.
So, for that reason I became a huge fan of storage solutions like Elfa from The Container Store which offers the flexibility I need to keep everything organized, easily accessible, and ready to use.
Here is how the mudroom is looking like without the cabinets and with new lighting.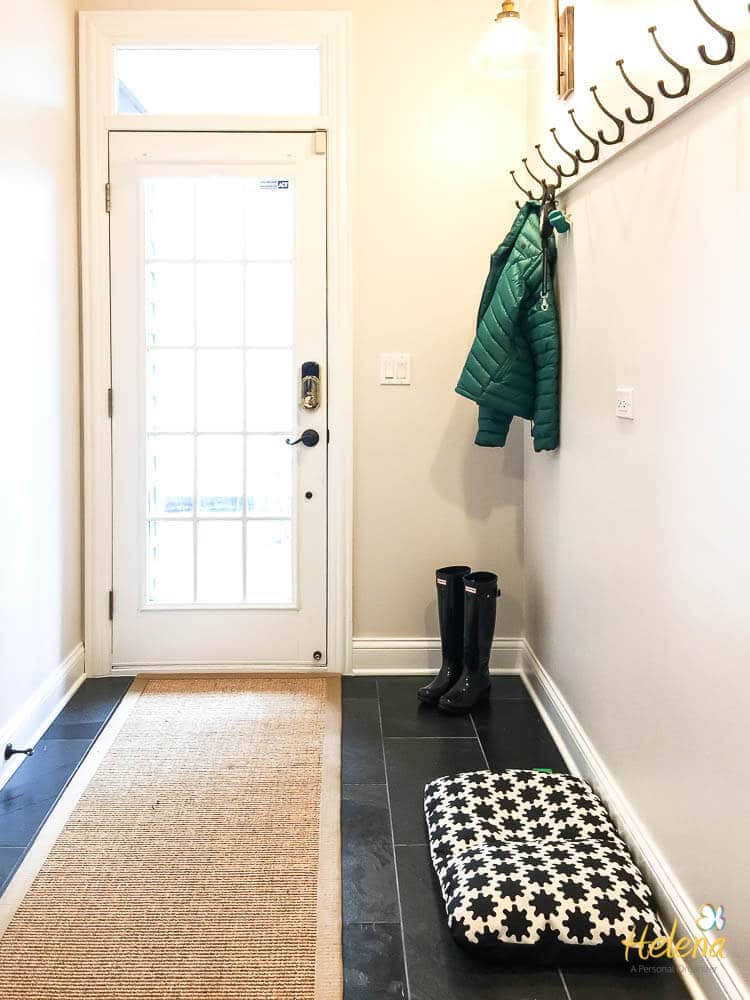 A wooden bench was built and painted for the mudroom and will soon be installed. It's high enough for the boys to kick their shoes off and deep enough for us to sit even if their backpacks are around.
Fun Alkhas' Mudroom Fact:

With a house full of "guys" that don't really care if things are organized or how I decorate the house, I'm used to not hear from them on the changes I make, but this room earned a WOW from each of them when they first entered it. Even Tuff elected it as his new nap room!
The Laundry Room
As you can see below, this side of the room had nothing but a sink, washer, and dryer.
It lacked a surface to store laundry supplies, hold the laundry and the baskets, and the narrow area next to the sink quickly became a pile of shoes from the five of us.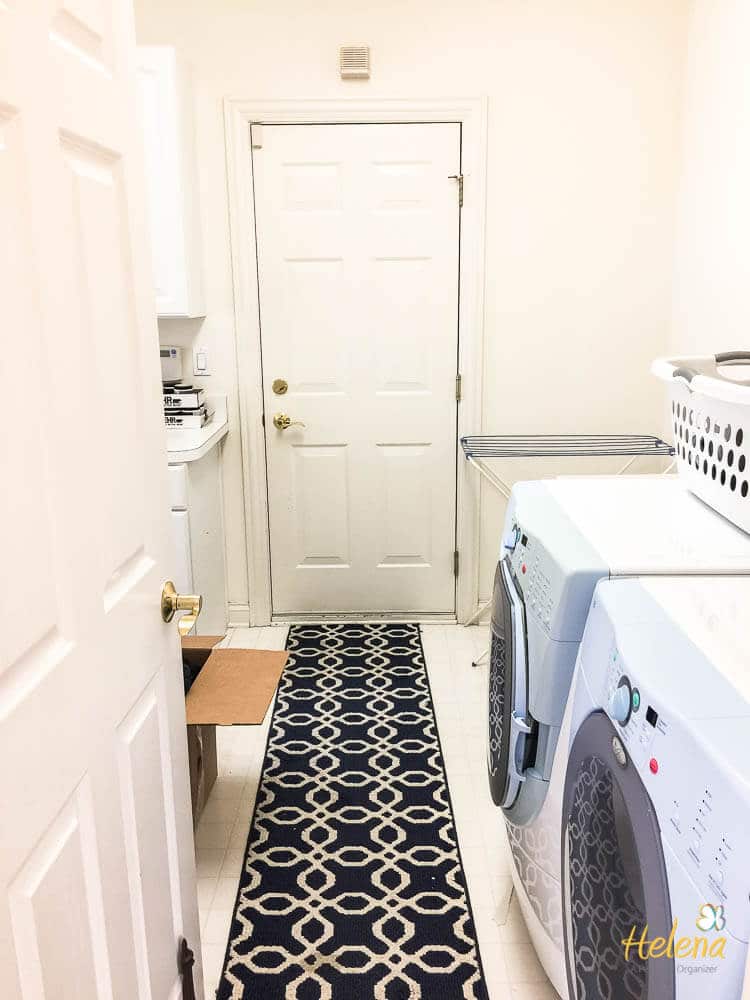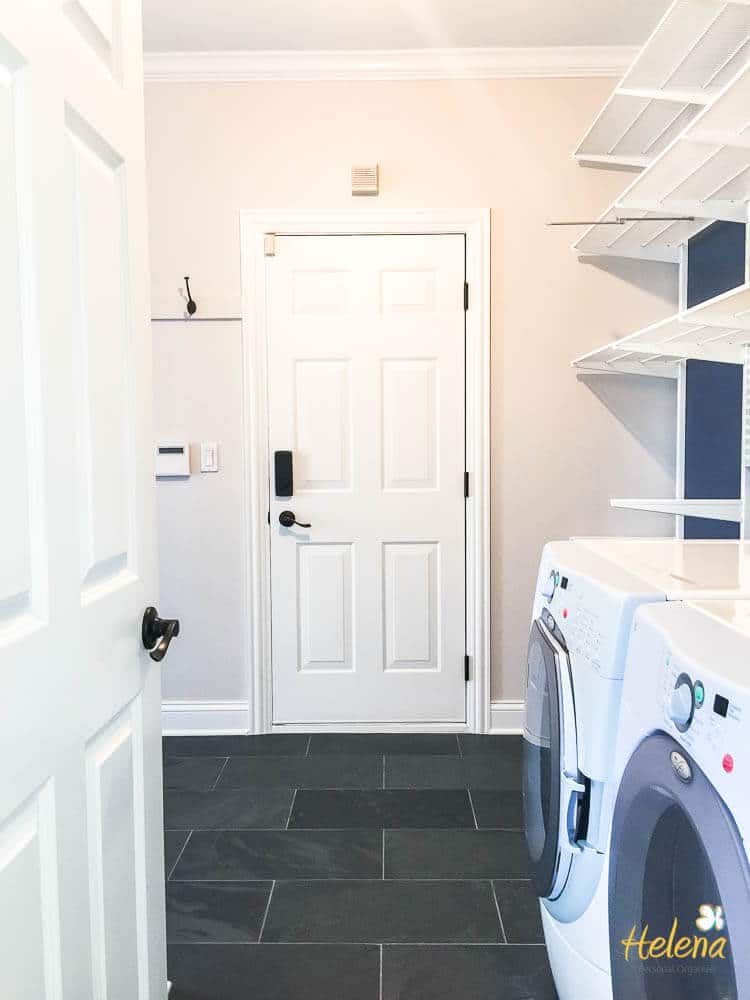 I wanted to make this space look like it was a part of the house.
I wanted it to be easy to clean, keep organized and have everything we needed to come in and out of the house in the crazy Chicago weather, but also wanted to use the colors we used in the other areas of the house.
From the months we spent in our rental home, the first house we lived here in Illinois, I knew everything of personal use we needed would fit in 5 drawers, so I just needed to add storage for laundry supplies, paper towels, and the laundry baskets.
Since Addie is a runner and likes to keep his running gear here, I added a couple of drawers for him. This simplified a lot the laundry process of his running gear and my life too! Win, Win.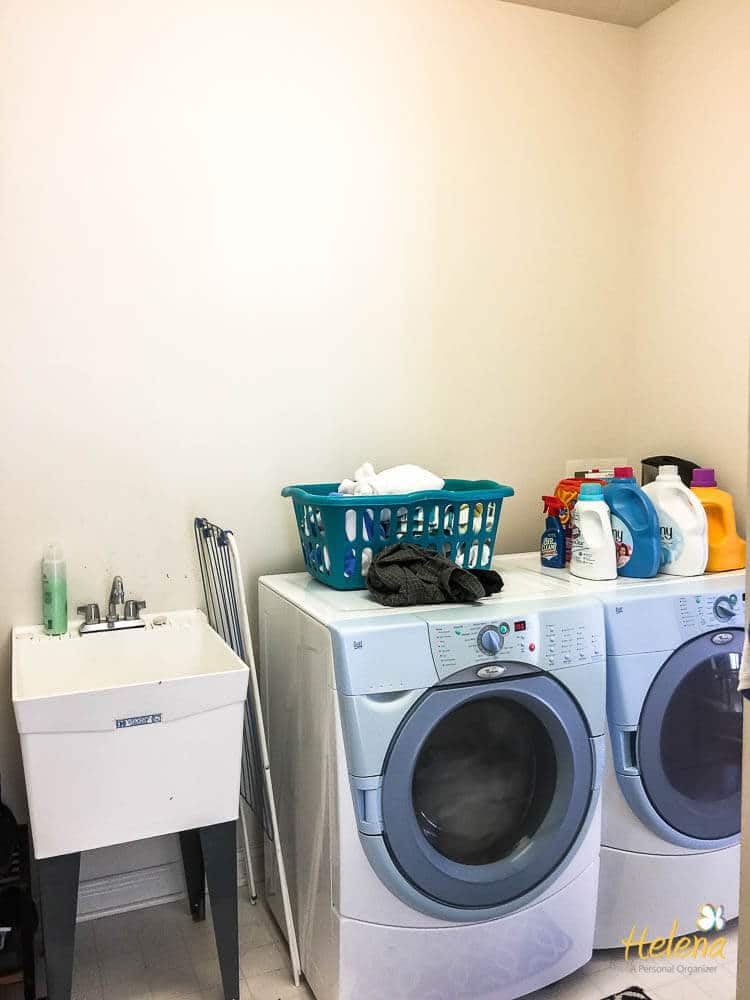 Tip: If your laundry is close to the door your family uses most consider keeping socks and daily used sports gearhere. One less load for you to carry to the bedrooms! 😉
Planning Storage For The Laundry Room
Armed with measurements and photos of the space, I went to The Container Store to plan the storage for our laundry room area.
The initial Elfa design we did, actually didn't have drawers, but shelves.
I was planning on using baskets like the one I used in our powder room closet to hold our beanies, gloves etc. but after I came home and started thinking things through, I realized they weren't going to be as practical as having drawers.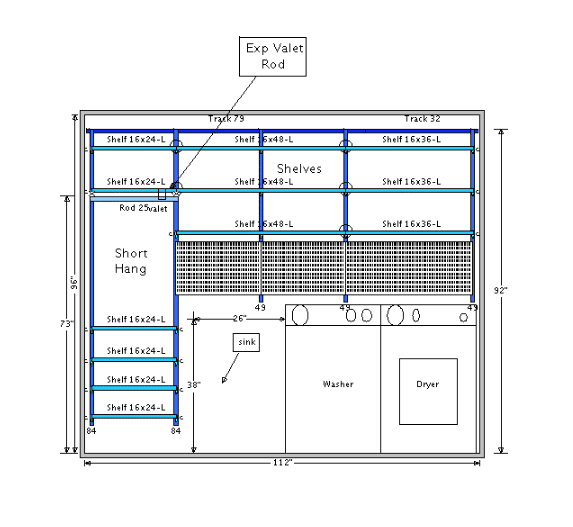 So before installation day, I went back to the store and we redesigned it to fit drawers instead.
Another important change was the space above the drawers where you see "Short Hang" on the design above and a valet rod. The truth is, we don't wash any delicate items that need to be hung to dry.
I have created a wardrobe for daily use that only has machine washable items and Addie's work clothes go to the dry cleaner, so it's really not the best use of space for us.
Tip: plan your space to work for your family needs. A rod with hangers may look great in a catalog but if you won't use why buy it?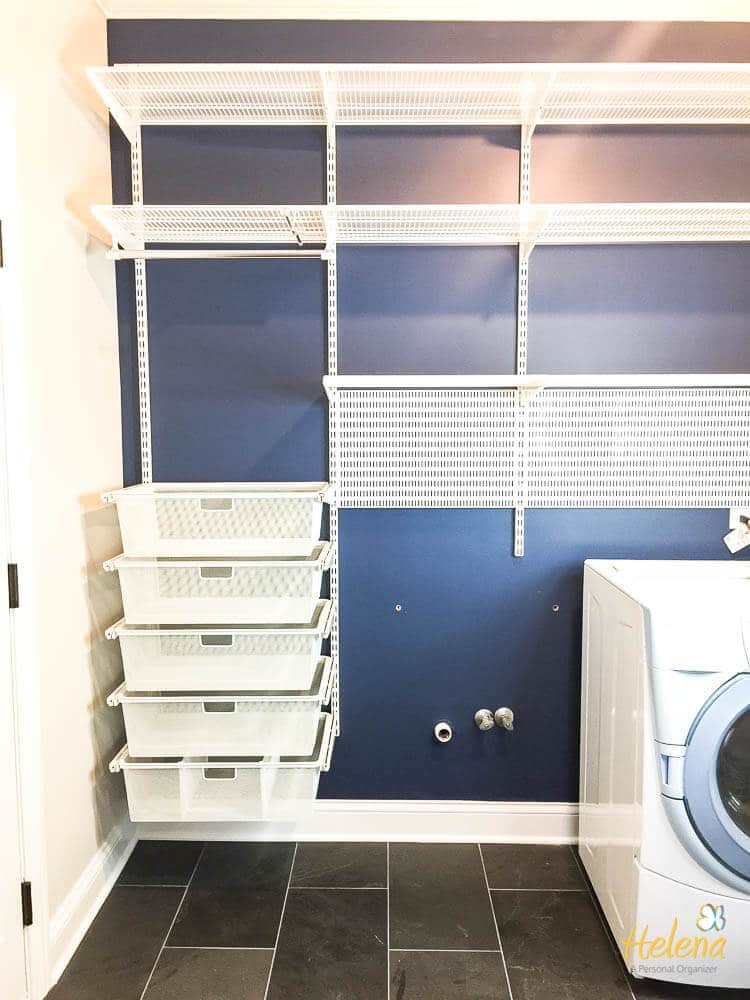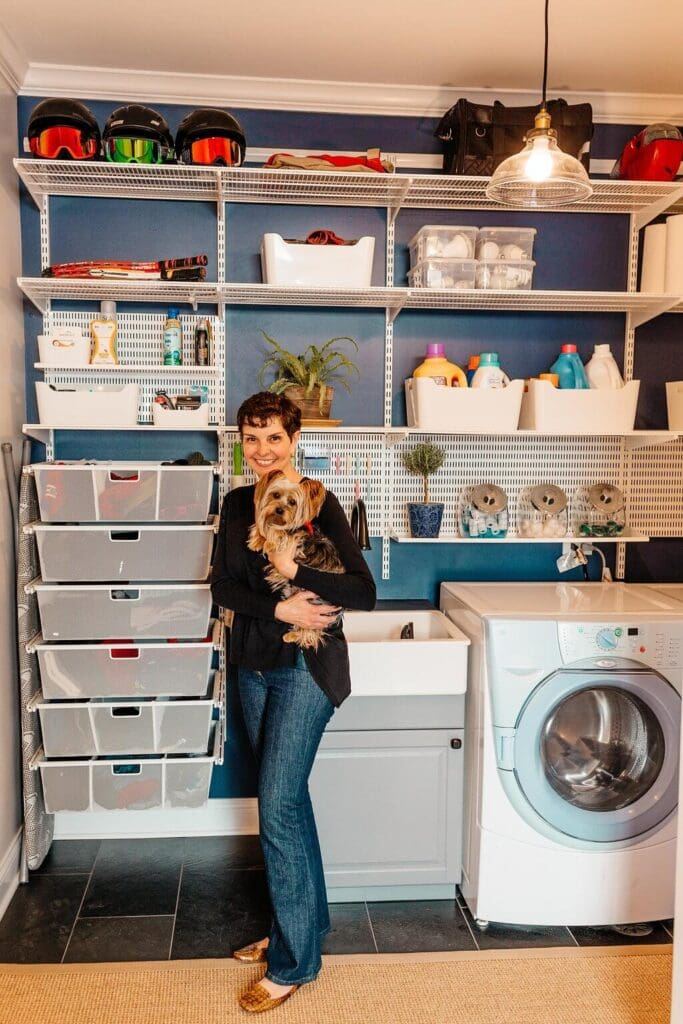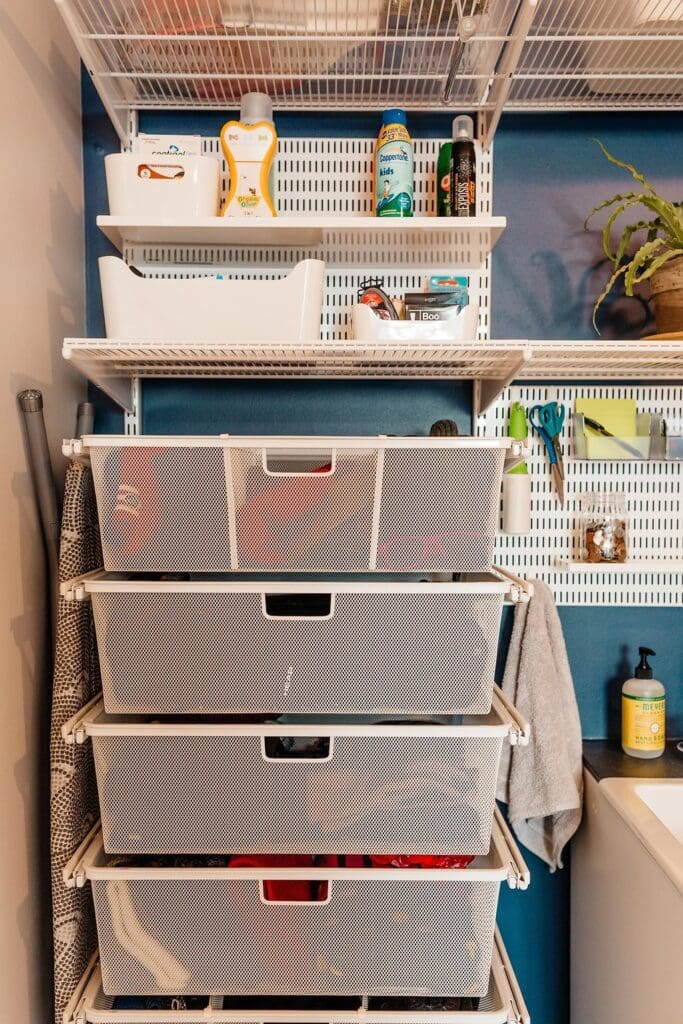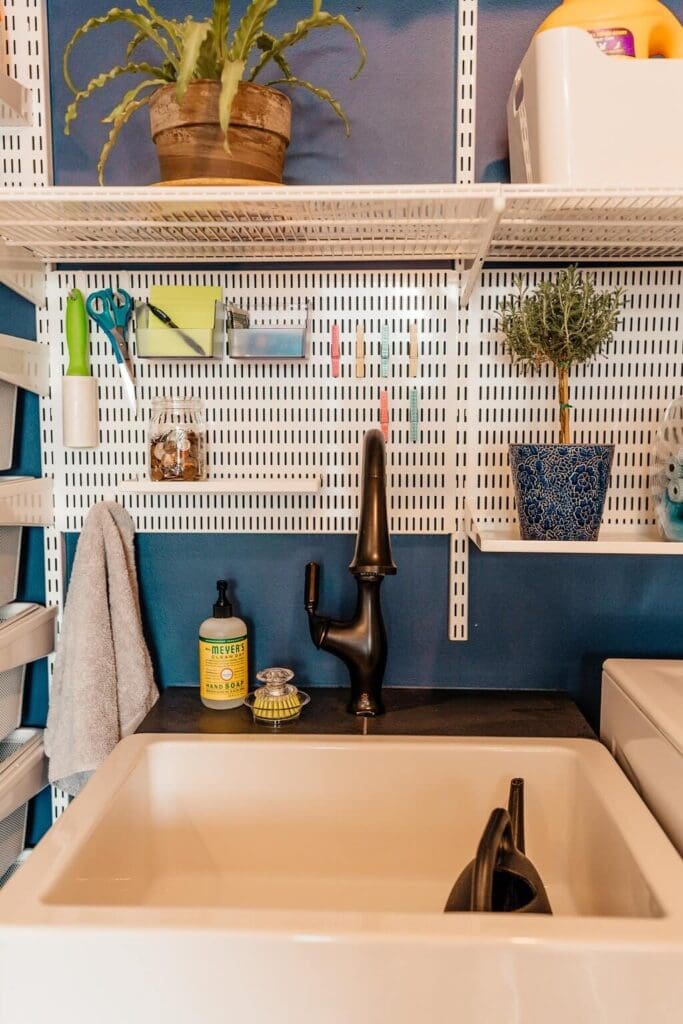 Now we have everything we use on a daily basis organized in this room.
From gloves, beanies, and scarfs, to running gear, hooks for jackets and a floor that is easy (and pretty!) to maintain our laundry/mudroom combo is a winner.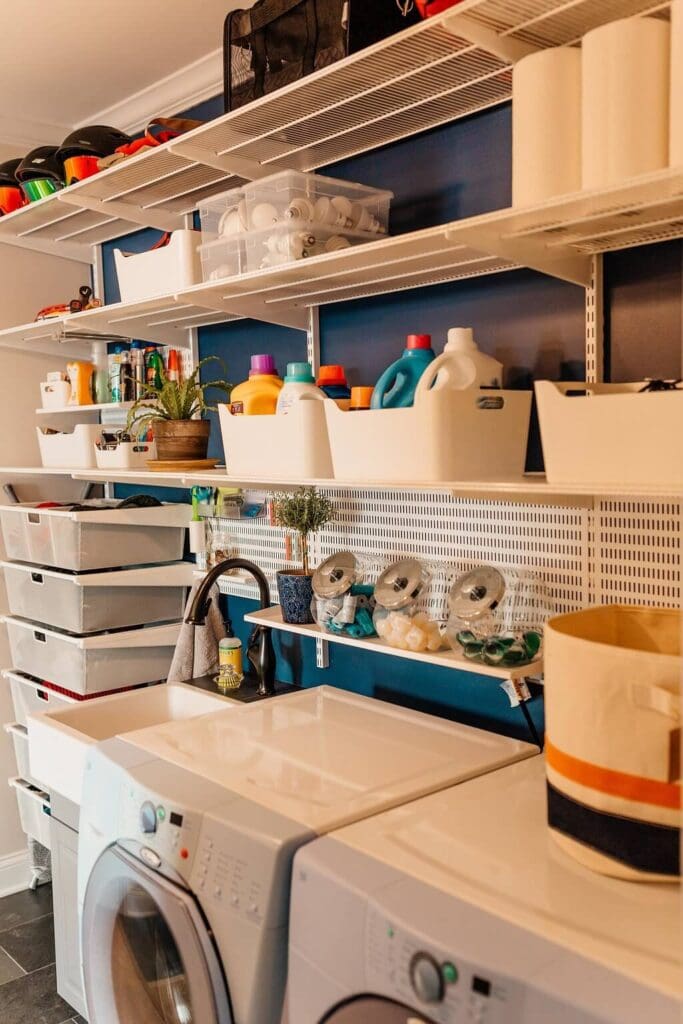 Items we seldom use also got a home. Things like Tuff's travel bag, the kids ski helmets and goggles are now safely stored and out of the way.
I am so happy with this room that I am almost liking laundry day a bit more!
I truly hope our laundry room makeover gives you ideas on how to organize and improve your laundry and mudroom areas. Have a comment or a question? Leave them below.
Until next time!