This post may contain affiliate links for your convenience. If you click on the link and purchase the item, A Personal Organizer, LLC. may receive a small commission at no extra cost to you. 
Holiday Pictures – Say Cheese!
It's the holidays and we all want to record our moments with loved ones, family, and friends on beautiful holiday pictures. This means you'll take pictures, lots of them.
Make sure you have enough storage on your card and that you keep extra batteries tucked in your camera bag.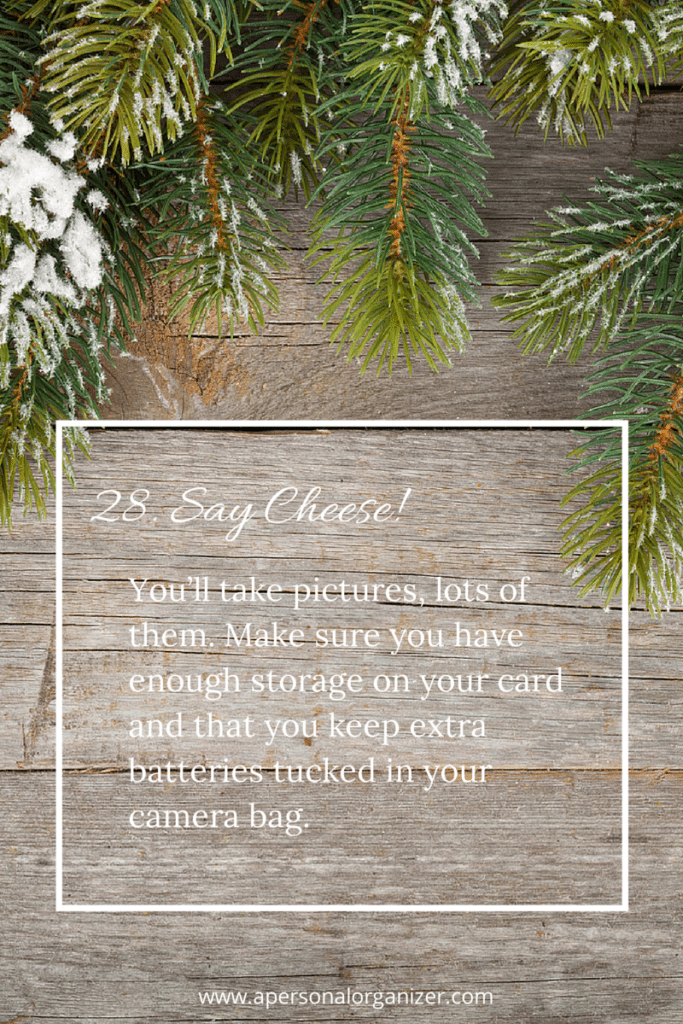 The holidays are sometimes the only time you see particular friends and family, so you'll want to take plenty of pictures. Here are a few easy ways to prepare your camera for all the special moments you'll want to capture.
Download photos from your camera
Transfer photos from your camera's memory card onto your computer. To ensure your photos are never lost, use my recommended double backup system by using cloud storage like Carbonite and Dropbox, but never skipping on using a local storage as well.
Purchase extra memory cards
Don't miss a picture-perfect moment because you ran out of room on your camera's memory card.
Stock up on batteries
Keep extra batteries or battery packs in your camera bag. If your camera uses rechargeable batteries, make sure they're charged before your big holiday party.
Buy a wireless remote
Don't you hate it when one person is always missing from the photo because he or she was the one taking it? This year, include everyone with a wireless remote. You'll be able to take the photo without being anywhere near the camera.
Do you have a favorite tip for picture-perfect holiday pictures? Share with us!
Enjoy all the tips on the 31 Days of Holiday Organizing Tips Series below!